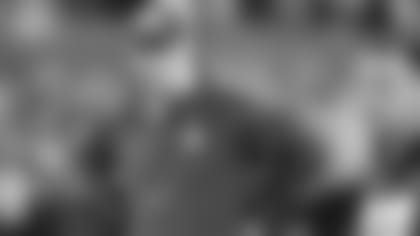 ---
Now that you have had a couple days to observe, do you sense a different feeling among the players after the Monday night victory over Minnesota?
"Matter of fact, the last couple weeks around here, they've been real good. The reinforcement for winning - I like the attitude, because you know what, we expect to win. And we won."
The defense has not allowed a touchdown in six consecutive quarters. I don't know if turning a corner is the right phrase, but have you seen improvement in the defense since halftime of the Chicago game?
"Well, we've been pretty good against the run. The test that's out there for us is, yes, we hit the quarterback a bunch the other day, a bunch, but the test is out there for us. Something like this against (Michael) Vick, with the receivers that he has (in Philadelphia, where the Giants play on Sunday), that will be the test. You'll have to see how we are in all phases. Can we defend, can we contest every ball? But let's face it, we've done a hell of a job against the run. Some of the greatest backs, the MVP of the league (Adrian Peterson, who was held to 28 yards Monday), and that's terrific and we are physical and we're getting more physical all the time. That's a terrific thing, because if we can play like that defensively, it certainly is going to help our team all the way around. The idea of playing from the lead is something we haven't really done much."
Not too long ago you were the "Road Warriors" and you had tremendous success on the road. How can you get that back?
"Go win. The inspiration, the discussions, all those things are basically the same. They're piggy-backing on those successful situations. But we've been in games, we've been there. Like so many times before, we've got to finish, we've got to play four quarters, we've got to be the most physical team and we've got to win the fourth quarter. You do that, and we've got a chance to get back into that mindset."
---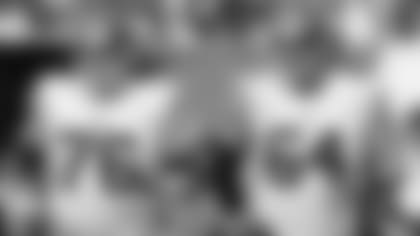 ---
David Baas joined Chris Snee on injured reserve this week, leaving you without two veteran offensive linemen. Any discussion about the line includes questions about the unit's cohesiveness and chemistry. Has that been affected by all the players going in and out?
"It can't help but be. It's a communication thing. It's split-second, it's knowing each other even when there are no words, it's looking at each other. They certainly have worked at it, and they're trying hard."
With Chris and David sidelined, how important is it to have David Diehl and the attitude he brings every day?
"Well, the attitude part, there's no question about. Diehl is the one that keeps them up. He's an energetic, vocal kind of a guy in a positive way, all positive. But Kevin Boothe's presence is very sound, very strong and very important."
And you have said that Jim Cordle has been doing a good job at center…
"He has been doing a nice job. He'll fight. He fought that big nose tackle (Dontari Poe) in Kansas City, which, by the way, that isn't a bad defense, is it? They're 7-0, and they're not giving up many points."
Last week you discussed how many responsibilities running backs here have to take on. Given that, how impressive was Peyton Hillis' performance against Minnesota?
"It was. He didn't make any mental errors the other night. He got to the right people, he probably cut too much but he knew who to block, where to go, he knew what the calls meant. That was really good stuff."
And it was just five days after he arrived here...
"He didn't even know how to get to the building. He had to have a car bring him here. It's like what I said to (Jon) Beason, 'Jon, have you thought about where you're going to stay?' He said, 'Coach, I don't even know where the heck I am now.'"
In your career, have you ever had a veteran come in who immediately commanded his teammates' respect, became a leader and contributed on the field like Beason?
"We've had some guys that have been like that…this is a young man whose presence has been felt since the time he got here. One is because of his personality. He's outgoing, he's aggressive, he loves football and he does greet people and he's respectful, carries himself with dignity, all of the things we like. He's a good player and he has a good reputation in the league."
The Giants have allowed three punt return touchdowns this season, which is unusual for this team. How do you tighten that up? Is it a scheme issue?
"(The Vikings) had a nice scheme. They held us up, they did a nice job holding us up. They loaded up a side, they all got shoulder to shoulder, there was no place to escape. You had to stand in there. That was on the front side. The backside didn't get across the field even though the ball was punted outside the numbers. I thought it was a good punt. This guy (Marcus Sherels) gave us every chance to catch him, too, because he went peek-a-boo behind people, and we're still wondering where the first guy is going to come from. It was not pretty."
---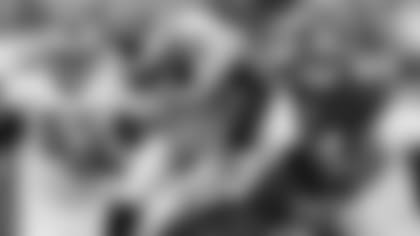 ---
There was so much talk before you played the Eagles the first time about their offense. What did you learn about that offense playing them three weeks ago?
"It's explosive, the concept of it is a very good one, it does force you to prepare in different ways. I thought the tempo of the game, we handled and responded to very well. You've got a lot of people to stop over there, that's the problem. But I think mechanically, hopefully, we can be in position."
They have Vick, LeSean McCoy, DeSean Jackson - in your mind does it start with the quarterback?
"(Riley) Cooper had two huge plays against Tampa Bay. He's played well."
But can you focus on one? Do you have to stop the quarterback first? You did a good job with McCoy (the NFL rushing leader who was held to 46 yards) in the first game.
"You've got to start with that. You've got to start with the run. The No. 1 rushing team in the league, you have to start with it. You have to do that. Of course, Vick had 79 yards in the first half."
Is Connor Barwin now the leader of their defense?
"He's the one that's emerged, but how do you not recognize Trent Cole with the effort the gives? But you know what they've done, they're playing well, and the three key backup defensive linemen are playing like 25 plays a game. You're seeing a whole lot of (Brandon) Graham, you're seeing (Vinny) Curry. Curry has emerged, he's got a great motor, he jumps around there and gets inside. (Bennie) Logan has two sacks. They're fresh. But their linebackers are good, too. I think DeMeco Ryans is playing very well, very physical."Click Here for Know Your Opponent: Eagles Roster >>