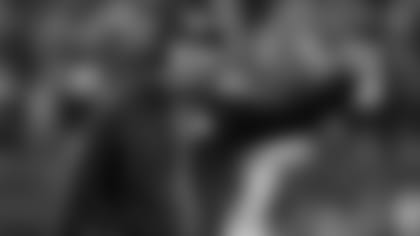 ---
After the Thursday night game, you urged the players to get away from football for a couple of days. Your personality is to work 24 hours a day until the team wins a game, but did you step back and take a couple of days off?
"I told you, I took a long walk. I set my own deal. I wasn't going to turn a football game on until Saturday with the college games at 4, which I did. And then I end up settling on Michigan-Penn State, because it was a closer game, but I started out thinking Florida-LSU would be a good game. Baylor-Kansas State. And then I watched baseball Saturday night. And I had my iPad with me, so I did some special teams work. I went to mass Sunday morning, I went to watch my grandsons play soccer and came back really ready to go."
When you did get back in here on Monday did you think the break was helpful to you?
"Oh yeah. I was anxious to get here. That was the whole deal. And I had all this stuff with me, but come Sunday night I only watched a half (of the Dallas-Washington game) and I was ready for bed. I'm up at 4:40."
When you go through as challenging a period as this team has you can stay the course and try to improve at what you've been doing or you can try to change things up. Where do you stand on that? Is it a mixture of the two?
"There are subtle things that you're not going to see, probably. As a staff, each guy was challenged to give some deep thought to the circumstance we were in and what could we do to help. The whole objective for me was for us to really look at our personnel and find a way to help our players be the best that they can be. That's exactly what we spent our time scratching our head over. As far as radical changes, no, I don't know how you do that. You're dealing with a system, you can tweak it but you're not going to… as I say, there are things that we do, the scope is of a wide range anyway, so when you do decide to do certain things, the term I use is you 'tighten up.' You zoom in on things, you zoom in on trying to make people understand what it is they have to do to be better."
There seems to be no fractures or division among the players. Are you at least pleased with how they've reacted to the tough start and their determination to get through this?
"I am pleased with their attitudes. I say it over and over, but it's true, the day after a game, any loss, is not an easy day. But then we, because of the quality of the people, the character of the men, we start to rise back up as we focus in on what the next opponent offers and what we have to do to have the opportunity to be in the position in the fourth quarter to win the game. There's been good energy and good response. Yesterday was a good day, today should bring the same."
I know you're not someone who reaches out to other coaches, but you are admired and respected in the business. At a time like this, do you hear from other coaches, and if so, is it good to at least get support from people who have been through this?
"I don't know that people have been through it, but I do get a text here and there, guys offering different sentiments. I do receive those kinds of texts, and it's nice, it's nice to hear from them."
From people in the business?
"Yes, people who know what the business is all about. It's an encouraging sentiment is what it is."
When training camp opened your top four running backs were David Wilson, Andre Brown, Da'Rel Scott and Ryan Torain. None of them are available and/or on the roster now. Is what you've had to do at that position an example of how adaptable and flexible you have to be as a coach, because you bring guys like Brandon Jacobs and Peyton Hillis in and you have to get them up to speed?
"That's something that, at any position, is not an easy thing to deal with. At that spot, because of the nature and the many-pronged responsibilities that occur there… people who don't know the profession would think that you bring a guy in as a runner and he runs. That's not what he does. It's a part of what he does, but there are other parts that are very, very important. The system, the ability to learn and handle the multiplicity of the assignments is critical.
"The one area that people never talk about is the balance on special teams. Look at Brandon Jacobs when he first came in. He was a backup on the punt team and he was on the kickoff return team. Guys have got to fulfill obligations on the special teams aspect of it. Everybody's looked at from that standpoint, because you've got to be able to put quality athletes out there against what we're playing. Look at the outstanding returners we've played against."
---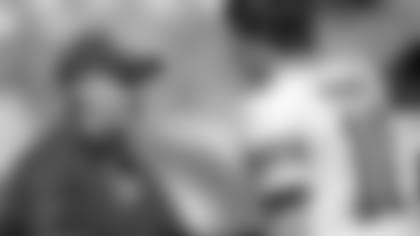 ---
Eli Manning has been asked about his confidence in the wake of the current losing streak. After 10 years and all he's done, do you feel the conversations you have with Eli can be just about the game plan, what you have to do to beat an opponent, or do you ever have to deal with the mental stuff with Eli?
"Well, I think it's important for everybody, I don't care who you are, I don't care what you've accomplished. You're still a human being and you're subject to different emotions, so it's important for Eli to hear from me the things that I believe. It's all encouragement. And as I said, and yes, is it tough to answer those questions in a polite and dignified manner each time they're asked of him or anyone else. Yeah, it's tough, certainly it is. I could think of 100 things I'd rather have asked of me than those kinds of things. But that's kind of the circumstance that we're in. Everybody needs a pat on the back, everybody needs assurance and what I said is what I believe. When we win, Eli will be the man that leads us to the victory. What can I tell you? He's done it many, many times before, why wouldn't he do it now?"
Jon Beason came in here and played like he's been here a long time. Is he a guy that you have admired for a while?
"Absolutely, from the time he came out (of college in 2007). He's one of those kinds of guys that play with great energy, he brings great energy to the table, he's confident, he has one of those deep voices, he's sincere. To see him come in here in a week's time and even know the signal system, that's pretty good. He picked it all up because you have a verbal and then you have this (waves his hands as if signaling in a defense) going on, so hopefully people aren't in tune with what's happening. He's really done a nice job with that."
Will Hill came off a four-game suspension and has probably played more than expected in the two games for which he's suited up. Can you talk about his contribution, because he's playing a big role on the team now?
"As soon as he came back, there was no doubt about it because of the nature of the people we were playing. Will Hill is a physical football player. He's been able to come back right to the field. He's smart, he studied while this was all going on, he was in the meeting room every day and he prepared himself for the opportunity when it came and really he's gone off. The first time he was back here he played an awful lot of plays, to be honest with you, special teams and from down and distance and did a nice job with that. He was physically ready for that. He had conditioned and, of course, we take him out with the strength coaches and they would work him. He's in good shape."
Do you anticipate Minnesota's offense looking a little different with Josh Freeman starting at quarterback Monday night?
"Don't forget that Freeman does have the ability to maneuver and he does run the nakeds (bootlegs) and so on and so forth. So from that standpoint, the original offense that they came in with for (Christian) Ponder, they can certainly utilize those aspects of what they do. And he's a dropback passer with a strong arm. We've seen evidence in that. They have an outstanding receiving corps, they will run the football, that's what they do. And they do have a nice mix in terms of run and pass. I don't know that their offense will change dramatically at all."
---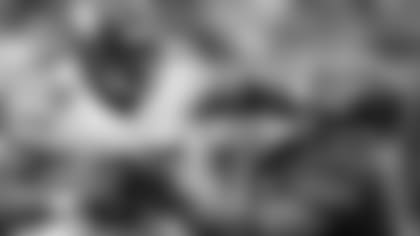 ---
When you look at Adrian Peterson on tape, what do you notice first?
"I think the acceleration and speed in which he hits the hole. You take the size of the athlete and the speed of the athlete combined with the physical aspect and nature of his game and you understand the difference-maker."
Defensively, is Jared Allen the guy that jumps out?
"The guy on the other side, (Brian) Robison. They're both high-motor players. But you have a lot of players there now. You have (Chad) Greenway, you have Jared Allen, you have Kevin Williams, you have Robison, you've got (Erin) Henderson in the middle there. They have a lot of physical contributors. And they have outstanding team speed."
Cordarrelle Patterson is averaging 33.8 yards a kickoff return and has a 105-yard touchdown. You must be used to playing against great returner specialists by now.
"Yes, but it doesn't make it any easier. You've got different styles, different strategies, different emphasis in the return game and they certainly have the personnel involved and they're a good special teams team. The rookie punter (Jeff Locke) has done a hell of a job, the kicker (Blair Walsh) made the Pro Bowl a year ago. Last year he was 10-for-10 over 50 (yards), this year he's two-for-two and he booms the ball. And you have the returner. Again, the linebacker depth, the safety depth, the speed with which their team has been built, that's how you see some of the things they've been able to accomplish on special teams."