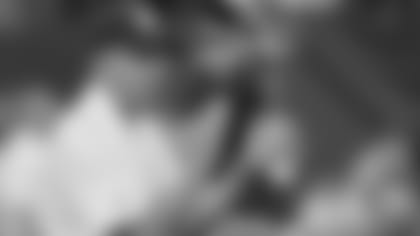 ---
After committing six turnovers in the game in Dallas the other night, a lot of people with the team and in the media expected you to really lace into the players. But you were somewhat measured in your comments…
"I thought I was pretty wild in the pressroom. I was better with the team."
You always carefully plan what you're going to say to the team in your meetings on Wednesday and the night before a game. You obviously can't do that after a game. Is that more of a gut reaction?
"It's gut. A lot of it is damage control. I'm trying to be as spontaneous as I can. I'm trying to be as honest and as open as I can, but I'm trying to be as optimistic as I can me. Those were very difficult circumstances because, if I'm about anything, it's about the opposite of what you saw. Maybe we don't always do as well as we should do, but for the most part, we are pretty ball-security conscious. We do take care of the football and to have that team in that circumstance, knowing how important that game was, to play like that and do that to themselves - not only just that, but the (two) touchdowns off of them - I was almost in a state of shock. But still trying to find a way, to acknowledge their heart, their resiliency, their toughness, their mental toughness, their ability to hang in there under the most difficult circumstances, supporting one another, those are the things that I try to reach for.
"The number one thing that I don't stay away from telling them – you will never win minus-five (turnover differential), you're not going to do it. Somewhere, that's all written down. You're not going to win under those circumstances. We lost a game in preseason and we were plus-four. Figure that one out. But I still thought we were going to drive it and win the game. Minus-four or five, 30-24, and it ends up being the worst series of the game."
One of the good things was that you did have three receivers with at least 100 yards…
"I'm sure it's the first time in history."
It's the first time in our history. Is that an indication of what this passing game can be when it gets going?
"That's the indication of one part of it. We've got to get the other part going, too. We've got to be more physical up front offensively. Man oh man. I thought we were going to make the short yardage play (a third-and-one in the third quarter) because we did have it wired in terms of how we wanted to do it. They showed up in the look we were looking for. He was just short on that one. It was Da'Rel Scott. But we've got to do a much better job in those situations, goal line and short yardage, we've got to."
The big story line this week is Eli vs. Peyton. Every time he's been asked how much he wants to beat his older brother for the first time, Eli's answer has been about the team being 0-1 and needing a victory. Is that what you would expect from him?
"Without even talking to him, it's what I said yesterday if you remember. I said, 'Look, I'm telling you right now that Eli's more concerned about the improvement of our team than he is about (the Peyton matchup). I think that, based on last weekend, that's where his focus is. (Wednesday's) practice was really an exercise in mental toughness and the power of the will. He stayed focused the whole time. He never batted an eye. It was 100 degrees out. But he just stayed zoomed in on what he was trying to get done, he never wavered from that and that's what I'm hoping is happening."
This week the big issue is David Wilson's fumbles. In another week it could be a kicker missing field goal attempts or a corner letting receivers run free…
"It's always something. If you lose, it's always something."
You've been coaching a long time. When you have a situation like this, how do you deal with the player?
"You have to define exactly what you want and you have to make sure that there is no time when the player deviates from the exact technique that you're looking for. Right now, at the expense of maybe speed, he'll have two hands on the ball when he runs with the ball. Period. He's got to prove that part, because he's a marked man."
---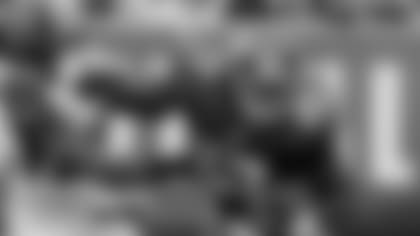 ---
You brought Brandon Jacobs in this week. Was one of the reasons to provide a veteran mentor for the young running backs?
"That's not why he's here. He's here because we need a running back. When Andre (Brown) was hurt (in the preseason finale) the man with the body size that you would like to have was lost for a while. And so we have a very young back in Michael Cox, young and as inexperienced as anybody you've ever been around. We have a veteran in Da'Rel Scott, who has quite frankly has had ups and downs throughout his career – he only made a little push at the end of preseason here, played well against Dallas, did a good job in that, and David Wilson. David is a talented kid, we need David to play well, we need him to secure the football. But we also need to have some depth there, some depth that we think there's a possibility that we can rotate even if, in Brandon, it's short yardage and goal line, just like he was when he first got here."
"I was pleased with the fact that they only had five big plays, three of them were runs. I wasn't happy about that, but it ended up not being much yardage, 83 yards or something like that. I'm not going to speculate for them. They had the game going one way and they weren't going to screw it up, they didn't want to turn it over so they played like that."
Justin Tuck spoke pretty honestly in the offseason about how disappointed he was in last year and how he was committed this year to playing as he did in the past. Did you see signs of that in Dallas?
"He played well. He played well and he gave good effort. He ran and chased the ball, he set a good example. I think, no doubt, he did, he played better. He's got to do it, how many more times, 15 plus four? There's a long way to go."
Justin Pugh started his first game as a rookie in a hostile environment…
"Good for him, it's good for him. He hung in there, he had his good and his bad, did some good things and did some bad things. He needs to be a little more physical like I keep saying, but I thought he handled the circumstances and the situation well for a young guy."
Is (Trindon) Holliday (Denver's 5-5 return specialist) a unique weapon in the NFL?
"I just took the game apart, the playoff game (between Denver and Baltimore last year). He scored 14 points out of the 35 (on punt and kickoff returns). When he makes a cut he's all by himself. He is dan-ger-ous. He makes one guy miss and he is something else. Wow."
Is he really hard to find sometimes because of his size? Or is it just because he's so fast?
"I think it's harder to catch up with him and grab a hold of him. I think you're running down there like a wild man because you think, 'If I hit that guy, one part's going this way and one part's going that way.' But, of course. he's running all over the place."
Offensively, the Broncos have a lot of running backs and receivers. Is this a very deep offensive team?
"Oh yes. Especially with the emergence of the tight end (Julius Thomas) playing so well the other day. He had two touchdowns, he looked really good in the part of the game they feature him in, which is the pass game. But yes, the second runner to come in, (Ronnie) Hillman, he's good, he's quick, he's a good receiver out of the backfield. They've got some people they can play. They don't have a lot of backfield, though, they really don't. Numbers-wise, they're all good. The starters are good. They're really good. The one guy (Demaryius Thomas) is in a different dimension though with his size and his speed."
The standard question about Peyton when you're playing him is what does the defense do when he's going through his pre-snap movement and gestures? Do you need to be patient as a defense?
"You need poise, you need to make sure that you're aligned properly, that the communication is good, that you're ready to go. He's looking for a weakness, but if you're lined up properly and ready, then there's no apparent weakness. It's going to give you at least a pre-snap opportunity to be in the right spot. If you're running around like a crazy person and expending all this nervous energy, not poised, not lined up, wondering, 'What's the signal,' then he has the advantage."