EAST RUTHERFORD, N.J. – Although Tom Coughlin is immersed in the task of preparing for the NFL Draft and the 2007 season, his Jay Fund Foundation is never far from the coach's thoughts. So Coughlin recently traveled to Jacksonville for the Fund's annual Valentine's Day party and the third annual Jay Fund Wine Tasting Gala, which were both huge successes.
Coughlin always draws strength from visiting the children at the Nemours Children's Clinic at Wolfson Children's Hospital, as he did at this year's party for young cancer patients and their families. And more than $100,000 was raised during the two days of events that comprised the wine tasting gala.
Coughlin founded the Jay Fund in 1996 in honor of Jay McGillis, a former player of his at Boston College who died of leukemia at the age of 21.  Since then, the Jay Fund has contributed approximately $1.6 million to pediatric leukemia patients and other childhood cancer patients and their families.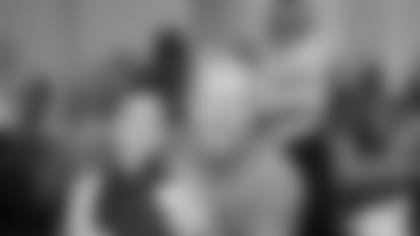 Coughlin hosted the Jay Fund's annual Valentine's Day Party in Jacksonville, Fl.
The mission of the Tom Coughlin Jay Fund Foundation is to assist children with leukemia and other cancers and their families by providing emotional and financial support to help reduce the stress associated with treatment and improve their quality of life.

Coughlin is intimately involved with all aspects of the Jay Fund, which he expanded into the New York/New Jersey metropolitan area after becoming the Giants' coach. He hosts an annual dinner/golf tournament every May in Jacksonville that is the foundation's largest annual fundraiser. Coughlin headlines other events, such as the wine tasting gala. And whenever possible, he visits with the children and their families in the hospital.

"What I like to do is to have an opportunity to go to the hospital and see the social workers and the doctors and then the patients and their families that are there," Coughlin said. "I always come away with more than I could possibly ever bring to the child or his family. You see such tremendous devotion in the parents that literally live in the room with the child. And then, as always, my mind wanders to try to understand what these parents of the child are going through with the treatments and the pain and the hours of devotion that encompass these hospital overnights. And only, to be honest with you, in the last few years have I become aware of sometimes the difficulty that can be created to the other children in the family - because the sick child, naturally, gets all of the attention. So we have become more and more aware of that and there have been some things that we have tried to do to make that less of an issue with the children.

"But I always have a great sense of reality. These parents have slowed time down so much that the only thing that is important to them is that the child has maybe a few hours each day of happiness when they are not distressed, not in pain and trying to be more like a normal child. That strikes me each and every time. Planning for me is usually on a year-round basis, or six-month basis. And to look at circumstances such as this with a child who has leukemia or cancer and their parents and their family, they think in terms of day-to-day. And I think that when you realize what they are going through, the reality of it takes on a whole new perspective for you and what is important takes on a whole new perspective."

Last month, Coughlin and the Jay Fund hosted one of the several events that allow the Fund to provide relief to the families. For the first time, a Wine Makers Dinner for 100 guests was held at River City Brewing Company. Wine Maker and President of Markham Vineyards in Napa Valley, Bryan Del Bondio, presented a selection of specialty wines, which were accompanied by a five-course meal.

The following night, the Jay Fund hosted its third annual wine-tasting event, an idea that originated with Barry Zeidwig, a member of the Jay Fund's Board of Directors and the general manager of Southern Wines and Spirits – the company that arranges for all the wine that is donated for the tasting. Zeidwig also dedicates staff to help plan and run the event.

The wine tasting was held in the Florida Theater for two years. But Keli Coughlin, Tom's daughter and the Jay Fund's Executive Director, and Zeidwig believed they could attract more people to a larger venue. This year, it was held on the first and 11th floors of the Aetna Insurance building in Jacksonville. Almost 800 people enjoyed food from approximately 25 of Jacksonville's finest restaurants and perhaps 100 selections from many different wineries. Local sportscaster Dan Hicken, who has long been involved with the Jay Fund, did his daily report for the local news live from the event. There was live music, a silent auction and celebrity guests.

"We saw so many people from the community," Coughlin said. "We saw judges, we saw lawyers. The State Attorney was there.  And the great thing that I like about it, which I said many times, is we have a whole different demographic in terms of young people. The price is right, so we get young married couples, young couples dating. They all seem to enjoy this type of an evening. It was so well attended and so well administered. It was just so well done."

As the host to almost 800 people, Coughlin didn't have much opportunity to sample and enjoy the food and drink.

"For me, it is a constant flow of moving to recognize the restaurants, the wineries that are there, the people that are with us," he said. "It becomes one big long greeting line. And it is not even intended to be that way. But people just come forth and express themselves. We have a small program in which we had a couple that has a child with cancer who spoke about the significance of The Jay Fund in their lives. It's just a very, very humbling, yet satisfying experience."

The Jay Fund's annual Celebrity Golf Classic will be held on May 6-7 in Jacksonville.