EAST RUTHERFORD, NJ - Like millions of other newspaper readers, John Mara had followed the media-fueled speculation about Tom Coughlin's future. To Mara, it was essentially a waste of newsprint, because Coughlin was staying right where he is. And he made sure to deliver that message to his head coach.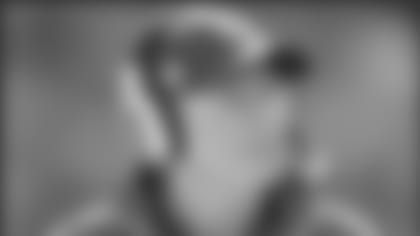 While so many others wondered what was in store for the Giants' head coach, Mara visited Coughlin and assured him he would return for an eighth season with the Giants.
"There was never any doubt that he was going to be back next season – never any doubt in my mind, never any doubt in Steve Tisch's mind, never any doubt in Jerry Reese's mind," Mara said Sunday.  "I told him that last week when I went in to see him and just expressed the support of ownership for him. I said, 'Don't listen to all of the nonsense that you're reading about in the paper, you're going to be back next year, we still believe in you, and we want you as our coach.' He knew that coming into this game – regardless of what happened, he was going to be back."
Mara spoke in the Giants' locker room following the team's season-ending 17-14 victory over the Washington Redskins. While responding to questions from approximately two dozen reporters, Mara talked about a decision that was news to the media but a foregone conclusion to him and Tisch.
The Giants finished 10-6, though they did not make the playoffs for the second consecutive season. But Mara's faith in Coughlin is as strong now as it was when the Giants won the Super Bowl three years ago.
"I believe in the guy, I believe in stability, and you can't build anything if you're constantly making changes and firing people," Mara said. "And that's just not our culture, it's not what we believe in and we know this guy is a good coach and we want him to lead us into next season.
"The players play hard for him and I think he's very organized – he's everything you want in a coach. I'm obviously disappointed that we didn't make the playoffs. Everybody in this locker room is disappointed, but that doesn't mean that you blow the whole thing up. I think we have a good, solid organization. I think that there are some things that we can improve on, but he's still the guy that we want as our head coach."
In seven seasons as the Giants' head coach, Coughlin is 65-47 in the regular season and 4-3 in four postseason appearances. The 65 victories place him third among Giants head coaches, behind only Steve Owen (153) and Bill Parcells (77).
Coughlin is 21st in NFL history in both regular season victories (133) and overall triumphs (141, including playoff games).  
With credentials like those, Mara said ownership and management never even considered asking Coughlin to clean out his office.
"We kept reading the headlines and the stories from all of the esteemed tabloids in New York, but it was never a decision," Mara said. "I know Steve Tisch felt just as strongly as I did and he expressed the same thoughts to Tom."
If he felt that strongly, why didn't Mara make a statement to let everyone outside the Timex Performance Center know?
"Because I don't feel like every time there is a headline or a speculation about somebody's job status that it is my job to step in and make public statements about it," Mara said. "That's not the way we run our business. We don't give weekly updates about the status of the team or about how we're feeling that particular week. We wait until the end of the season and then we comment on it. Once you start giving weekly status reports on the coach's job status or the quarterback's job status, I just think it's a bad precedent and it's just not the way we do business."
A year ago, Mara vented his displeasure after the Giants finished their season with two lopsided losses and an 8-8 record. The Giants will again be watching the playoffs, but Mara has a much more positive feeling about this season that goes beyond the two additional victories.
"Finishing the way we did last season was about as disappointing as it could be because when you feel like you're not competing, that's pretty tough to take," Mara said. "This year we competed all season long. It really came down to one bad half of a quarter for us, but I don't think that when that happens it means you have to blow the whole thing up. Again, stability is something we strive for here. I think that the only time you make a change is if it appears like the players are not responding to the head coach and that is just not the case."
Not after a season in which a 10-6 Giants team loses a postseason berth on a tiebreaker.
"Usually 10-6 gets you in, but four years ago we got in at 8-8 and probably didn't deserve it then," Mara said. "Things tend to even out over the years, but it's disappointing. We have nobody but ourselves to blame. We had that big lead (31-10) against the Eagles and let it go by and if we had played better in the last seven minutes of the fourth quarter in that game, it's a whole different story, but we didn't so we have nobody to blame but ourselves.
"I felt like we had a chance to make a run this year, but it just didn't work out that way. I'm proud of the way that the players battled through the injuries. We had a makeshift offensive line for most of the year, we're playing receivers that weren't even on the roster at the beginning of the season and they played hard and I think that's a testament to the coach. In this society, everybody wants to fire the coach all the time. If the Yankees get knocked off in the playoffs, everybody wants to fire the manager. Well, we don't do that here. He's going to be our coach."