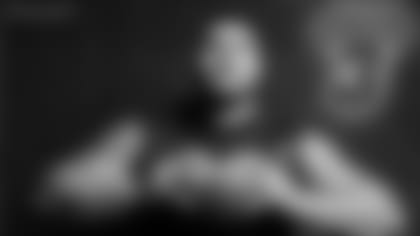 Giants writers give their most intriguing prospect out of the Giants 2018 NFL Draft class:
The 2018 NFL Draft is in the books.
The New York Giants came away with six picks in Dave Gettleman's first draft as the team's general manager. They were split evenly between offense and defense and, of course, began with the highest running back drafted in more than a decade. Our writers discuss the most intriguing pick in this year's class, but first a recap of the players taken:
Round 1 (2nd overall): RB Saquon Barkley, Penn State
Round 2 (34th): G Will Hernandez, UTEP
Round 3 (66th): LB Lorenzo Carter, Georgia
Round 3 (69th): DT B.J. Hill, N.C. State
Round 4 (108th): QB Kyle Lauletta, Richmond
Round 5 (139th): DT R.J. McIntosh, Miami
How can you not talk about the player with the highest grade in the draft class when you discuss intriguing players? Saquon Barkley is not just a running back. He is a weapon. We know the Giants are going to hand him the football, but it is the other stuff he does and how the Giants plan to utilize him that has me particularly intrigued.
In my opinion, Barkley's most valuable role will be as a third-down style back. I include the word "style" because that role is not limited to third-down plays. Whenever the Giants are in passing situations, Barkley should be on the field. He improved in pass protection and as a receiver throughout his time at Penn State. His 1.9 yards gained per routes run (a number very indicative of success as a receiver) was the third-best among running backs in the class.
Barkley averaged more than 10 yards per catch as a running back as a junior at Penn State. He also had nine catches of 20 yards or more, including catches of 43, 46, 85, 36 and 42 yards. He is not a check-down back. Barkley is someone who can be used as a matchup weapon out of the backfield or when put in motion and lined up outside. Someone like that can affect a defensive play-caller and help an offense decipher what type of coverage the defense is playing.
If I had to guess, the Giants are not just going to pound the rock and hand the ball to Barkley 25 times a game. He might be far more valuable getting 18 carries and adding five to eight touches as a receiver. Some people cite Ezekiel Elliott as a comparable player. I think Marshall Faulk. I think Thurman Thomas. I think Roger Craig. When Pat Shurmur was a head coach in Cleveland, rookie running back Trent Richardson had 51 catches for 367 yards, and Barkley is far more skilled in that area.
Did I mention his special teams play? Don't be surprised to see Barkley on the field handling kick returns late in close games. He is a weapon, and how the coaching staff chooses to use him intrigues the heck out of me.
I think it's safe to say this was the Giants' most important draft since 2004, and there are plenty of parallels between the two. Fourteen years ago, Ernie Accorsi had a conviction about a quarterback from Ole Miss who went on to become a two-time Super Bowl MVP. But let's not forget the other cornerstone the Giants picked up that year in the second round – guard Chris Snee. The Giants don't earn those two rings without the Ring of Honor inductee.
Fast-forward to 2018. Dave Gettleman, who began his first stint with the Giants under Accorsi in 1998, had the same conviction about Saquon Barkley and also gave him a better chance to succeed by providing another tough-as-nails guard in Will Hernandez of UTEP. Heck, both Hernandez and Snee were picked 34th overall in their respective drafts. That's why Hernandez is the most intriguing pick to me. He just seems to get it. He played on a 0-12 team in his final collegiate season and had the pride to go as hard in Game 12 as in Game 1. Pride doesn't show up in analytics these days, but it will go a long way in building the culture that Gettleman has talked about since taking over a 3-13 team. Hernandez also had almost a reverence for Manning when speaking on a conference call right after he was drafted.
"I saw him from afar, didn't get to meet him personally, but it was crazy to see him in person," Hernandez said of his pre-draft visit to the Giants facility. "He's an awesome player. Obviously, I know so much about him. I see him all the time and it was just crazy that I was in the same room with him. … It's so much responsibility [to protect him] and [I'm] ready to go, though. I got him, I got him 100 percent." That mindset goes a long way.
I think the most intriguing pick is Richmond quarterback Kyle Lauletta in the fourth round.  The Giants drafted Davis Webb in the third round in 2017, but that didn't stop them from adding another young signal caller this year to provide more competition to become Eli Manning's backup.  Lauletta was a three-year starter at Richmond, where he threw for a school record 10,464 yards and 73 touchdowns and completed 64 percent of his passes.  
Although he's an FCS product, Lauletta stood out at the Senior Bowl by throwing for 198 yards and three touchdowns en route being named the game's MVP.  He also posted impressive measurables at the combine.  What's even more impressive is how well he performed in 2017 after suffering a torn ACL toward the latter part of the 2016 season.  Lauletta has a strong arm, is mobile and will now have an opportunity to hone his skills while competing with Webb.  Although many will read into this pick about what it may mean for the other two quarterbacks on the roster, Dave Gettleman and Pat Shurmur both emphasized Lauletta was too good of a value to pass up on in the fourth round. As Shurmur said, "Picking Kyle has less to do about Eli and Davis and more to do about Kyle. We liked the player and we wanted to add him to our team and then just let them compete."  
Remember, the 2018 Draft isn't just about 2018.  It's about finding players who can potentially produce in the long run, not just flash for a season or two.  Lauletta may become Eli's successor. He may not, but at the end of the day, the more options you have to develop, the better chance you'll have in finding your next quarterback.