Not these Giants. No, not those Giants from San Francisco either. Think internationally; think "down under."
The Greater Western Sydney Football Club Giants, known colloquially as the GWS Giants, share more than a nickname with your beloved NFL team. Members of its front office have visited the training facility in East Rutherford in the past, and now, as the Aussie rules football team embarks on its inaugural season in the Australian Football League (AFL), have the support of the Super Bowl champs.
Assistant general manager Kevin Abrams told the GWS website, "Fans love a winner but I think they are willing to be patient with a hard working team that shows steady signs of improvement, potential and hope for success."
Here is the rest of the release offered on the team website:
[*GIANTS General Manager of Football Operations, Graeme Allan and National Recruitment and List Manager, Stephen Silvagni have spent time with Abrams during visits to New York.
The GWS GIANTS were quick to pass on their congratulations and Abrams responded with advice and encouragement as the GIANTS head into their first season of AFL.
"I've always gotten the sense that the Australian sporting culture is uniquely deep and genuine. I've also had the good fortune to spend time with many people in the AFL who have visited New York over the years to discuss best practices in our industry and without exception they are top shelf individuals.
"Along with the quality and excitement of the AFL game, I really believe that fans will be patient. Graeme Allen, Stephen Silvagni and the rest of the GWS staff will give them a club that they can be proud to support."
Abrams' Giants have moulded themselves into one of sport's most professional outfits and GWS are sure to pick up many of their qualities as they continue their rise.
"As a group, our players and coaches are a very focused, resilient and battle tested group," said Abrams.
"I think that a team takes on the personality of its head coach and that is certainly the case with this group.
"All year long we preached 'Finish' with respect to everything we do, be it practice, 4th quarters or the season and we were successful in doing so.
"We never varied from our plan and our beliefs. We stayed the course, even through some rough patches, which is much easier to do when there is trust throughout your program."]*
One week until the NFL Combine (Feb. 22-28, 2012)
More than 300 top prospects for the 2012 NFL Draft will be invited to participate at the combine in Lucas Oil Stadium in Indianapolis. This event is a vital step in athletes achieving their NFL dreams. Follow this event on NFL.com and NFL Network. **
Rolle looks back on championship run**
Antrel Rolle
opened up about the Giants Super Bowl XLVI victory and all it took to get there on "NFL Total Access."
"It felt better," Rolle said in the interview when asked if winning the Super Bowl felt the way he thought it would. "It feels just that much better knowing where you've come from in a season, knowing the ups and downs, the rollercoaster season you had all year long. And to put it together at the end and have that fantastic finish the way we did with a collective team attitude, it's magical."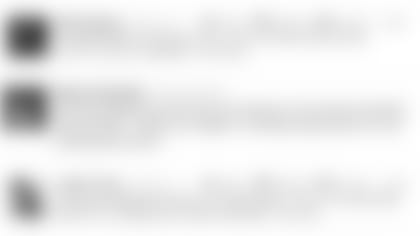 ROME — Sporting a Super Bowl champion New York Giants cap that he'll trade for a red cardinal's hat in three days, Archbishop Timothy Dolan yesterday played tour guide for his brother and family and declared the Eternal City his second love. [NY Post]
Elysburg (Pa.) supervisors name a street Boulevard for all to see. [The Daily Item]