EAST RUTHERFORD, N.J. – Daniel Jones can meet almost every physical job requirement of an NFL quarterback.
"I have no problem throwing or running or lifting or anything like that," Jones said today.
He does, however, have one critical limitation.
And that is an impenetrable barrier to returning to the field for an NFL game. Which is why the Giants placed Jones on injured reserve Monday, officially ending his season. He sprained his neck on Nov. 28 against Philadelphia. Jones was inactive the last three weeks as the Giants held out hope he would improve enough to return to the field. But given the nature of the injury, the team decided the prudent course of action was to shut down the third-year pro for the final three games.
Jones was unhappy with the decision but understood it.
"I think it's always tough to miss games and miss time," he said. "These last few weeks have been tough. Obviously, you want to be out there. You want to be playing. I was doing everything I could to give myself a chance to get back out there. Obviously, frustrating, but trying to find ways to help and help the quarterbacks, help our offense and contribute."
Jones missed two games due to injury both as a rookie in 2019 and again in 2020. He will sit out the final six games of the current season. The Giants are 4-10 and their season will end against Washington on Jan. 9. Jones believes if the team had been in a more advantageous position, so might he.
"I do think it was something that's going to take some time," he said. "I think if there was more time if it was earlier in the season – yeah if there was more time, I think I would have a better chance of coming, a good chance of coming back. Like I said, it's disappointing and frustrating to miss games, to miss any game, and certainly this many.
"I think initially when I got hurt, it was something I felt like I'd be able to get over fairly quickly. It didn't work out that way, so that's disappointing. When I spoke then and, in those weeks, I always had the expectation to come back and play. That part's disappointing but it didn't work out that way. Like I said, my job now is to contribute to help this offense prepare, help the quarterbacks prepare and get ready to play."
Mike Glennon started the last three weeks in losses to the Dolphins, Chargers and Cowboys. Head Coach Joe Judge has not announced if Glennon will remain in that role or Jake Fromm will make his first NFL start Sunday in Philadelphia against the 7-7 Eagles.
Jones finished his season with 232 completions in 361 attempts (a career-best 64.3%) for 2,428 yards 10 touchdowns and seven interceptions. But those are not the numbers Jones is interested in.
"We didn't win enough games," he said. "I think that's the most important thing as I evaluate myself going forward. I do feel like I improved as a player. I think I've made progress and played well at times and obviously not well enough plenty too because we didn't play well enough. We didn't win games. That's the most important thing I think as I evaluate myself and look to work on things going into the offseason."
Judge, a staunch supporter of Jones, restated Monday that he wants Jones to be the Giants' quarterback in 2022.
"I've seen enough growth from Daniel to tell us that he's a guy we want to go ahead and play with," Judge said.
The Giants and Jones are confident the neck injury is not a long-term issue and will have no bearing on his availability for next season. Jones said he has no concerns about how it affects his long-term outlook.
"I think from all conversations with doctors and our medical staff here, going forward I think it's something that's going to heal," he said. "It's just kind of like a timing thing and unfortunately, (I) kind of ran out of time this season. That's disappointing and frustrating, but it's part of this game and something I've got to deal with, but I don't have any concerns long term."
Rest and rehabilitation are expected to heal his neck, and Jones is grateful he does not need surgery.
"That's a huge relief," he said. "I think any time you're dealing with your neck or something like that, you want to be smart and cautious. Certainly, relieved there's no surgery."
Though he hasn't been playing, Jones has remained close to his teammates, participated in meetings, and advised and helped the other quarterbacks. He will continue to do that, despite being shut down.
"I don't think there's much more Daniel could have done than what he was already doing," Judge said. "My expectation for him is to continue on the path he's on of helping his teammates to stay mentally engaged and keep preparing. Obviously, through his rehab is where he's going to have to get his conditioning and some throwing and things of that nature. But he's done such a phenomenal job for us already. My expectation is just for him to continue doing what he's been doing."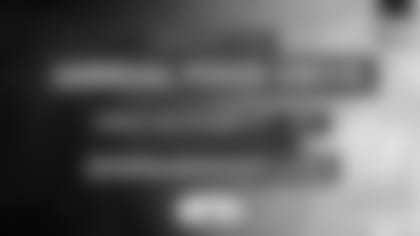 GIANTS FOOD DRIVE
Donate to Food Bank for New York City when shopping online at StopandShop.com