EAST RUTHERFORD, N.J. –** Tom Coughlin has never stepped foot in Dave Tollefson's home, but he did set the clocks there.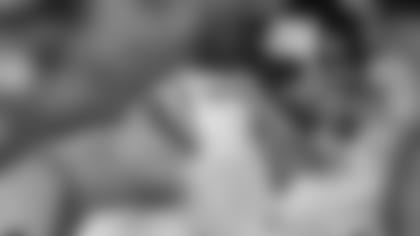 View Dave Tollefson career photos "All of our watches and our clocks in our house are five minutes fast, even my wife's," Tollefson said in a phone interview this week.
Coughlin, of course, has kept all of the Giants' clocks at that setting since his arrival as head coach 10 years ago. That Tollefson keeps the same time at his home in Omaha indicates how his five seasons with the Giants influenced his life.
The defensive end arrived in 2007 and left after the 2011 season, meaning he played on both the Super Bowl XLII and XLVI championship teams. After spending a final season in Oakland playing for his hometown Raiders, Tollefson was out of football in 2013. Today, he announced his retirement as a Giant, the team that employed him for the bulk of his career, gave him those two Super Bowl rings – and ensured he should never again be late for an appointment.
"I wanted to make sure Tom knew and the Maras and Tisches knew how much it meant to me," Tollefson said. "They gave me the shot. If it wasn't for what they did for me, who knows where I'd be now. I have three kids (including his third son, who is due in April) and a wife that I love. To be able to provide for them is something that I couldn't even imagine in my wildest dreams as far as the way we live our lives. I'm indebted to coach and the Maras and the Tisches for doing that for me."
Tollefson said Coughlin was a significant influence on his life.
"I didn't grow up with a dad, so I was lucky enough to have some men in my life that helped shaped me into the type of man that I am now," Tollefson said. "To say that I was already grown up when coach Coughlin got ahold of me is not quite right. The relationship that he and I had meant a lot to me, because I felt he was always honest with you, which I really liked. I always felt like he was a father figure and I really took to heart how he felt about the way I played football and the type of person I was."
Tollefson wasn't the most talented player on those Giants teams, but no one played harder or with more fervor or was more popular in the locker room. A two-time all-conference selection at out-of-the-way Northwest Missouri State, he was the 253rd player selected in the 2006 NFL Draft, by Green Bay. The Packers and Raiders both waived him before the start of the 2007 season and the Giants signed him off of Oakland's practice squad on Oct. 2 of that year.
The Giants' group of defensive ends included Hall of Famer Michael Strahan and Pro Bowlers Justin Tuck and Osi Umenyiora. That season, Tollefson played primarily on special teams in six regular-season games and all four postseason games. He had 3.5 sacks in 2008, 13 special teams tackles in 2010 and played in every game (and made his only two career starts) and finished with a career-high 5.0 sacks in 2011.
Tollefson was a free agent prior to that season. But after investigating his options, he re-signed with the Giants soon after training camp began, to the delight of his teammates, coaches and beat reporters, for whom Tollefson was always available with insight and humor.
Because of that, Tollefson had a predictable answer when asked what stands out about his Giants career.
"The relationships," he said. "You hear it all the time when guys retire, that they're not going to miss the game, they're going to miss the locker room. I know, for sure, I'm going to miss the locker room and those guys, but the great thing is the relationships I made playing with the Giants. I talk to those guys all the time. I talk to Osi and Tuck weekly, Strahan still, Eli (Manning). You build relationships that I've built with the Giants, they become lifetime deals, you know?"
So are those two Super Bowl rings.
"I'm sure that's what the roots are to the relationships with those guys," Tollefson said. "We went through those three seasons in-between Super Bowls, and that made the second one a little sweeter. It means a lot to me. I wasn't that accomplished in high school like a lot of guys, I lost the national championship in college. So to finally get that elusive ring at any level, for me personally, it meant quite a bit, nonetheless two. I'm one short. Megan is pregnant with our third boy, who is due in April. I might have to go coach and get another ring so the third one doesn't feel left out."
If he does, he'll no doubt tell his players to set their clocks five minutes fast. Beyond that, however, he has few specific plans for his retirement.
"I have a couple surgeries lined up," Tollefson said. "I have to get some stuff taken care of physically, but right now, it's kind of up in the air. I'm looking at it as a little bit of a halftime for me. I had this great game plan for the first half of my life and it worked out great, playing pro football and everything, but now the game has changed a little bit, so I have to re-adjust. I've taken this last year off and I'll probably take another year off, enjoy the time with the kids. I've been Mr. Mom, taking them to school and picking them up and doing that. I don't really know yet. I still have time to kind of figure that out. It's not only a new chapter but maybe a new book in the Tollefson story."