EAST RUTHERFORD, N.J. -** With David Diehl's retirement today, Eli Manning is not only losing a teammate and one of his closest friends, but his ride to MetLife Stadium.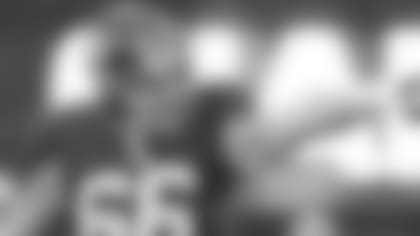 David Diehl's Career in Photos In 2004 – when Manning was a rookie and Diehl was an NFL sophomore – the young quarterback rode in Diehl's car to Giants Stadium, beginning a ritual that lasted for 10 years.
"It just kind of started," Manning said. "I think my first games at times my girlfriend - now my wife (Abby) - she was coming up to the game and so I wanted to leave her a car so she could drive to the stadium. I got to the hotel and I kind of said that I needed a ride to the stadium on game day. Diehl's the kind of guy who has been a friend, has been one of my close friends from the get-go, so I asked him for a ride and we just kind of kept the tradition going. Then we did it every week and it was kind of known that that was the plan."
The two players quickly hit it off and Manning soon began to appreciate Diehl's relentless enthusiasm.
"He's always upbeat," Manning said. "You ask him how the guy who he's facing that week is and he had the answer – 'Oh, this is what he likes to do, so I'm going to do this.' He had thought about it all and always had positive thinking on the outlook of games and life. Always excited about whatever was happening in his life, and enthusiastic. The attitude is contagious. If you see someone who is fired up and smiling and feeling good about things, that makes it a little easier for you to smile and kind of look forward to whatever's going on in your life."
Diehl discussed numerous subjects in a conversation prior to his retirement announcement. Here's a sampling:
On when he knew he decided to retire:
"I kind of had the feeling that this would probably be the last one going into this season," Diehl said. "Going into my 11th season, I wanted to make sure that I came back off of my (2012) knee injury to play the way I was capable of. But most importantly just to enjoy playing the game, enjoy being here.
"We've accomplished a lot around here, winning in 2011. Then I got hurt in 2012 and coming off of that, I wanted to rehab, I wanted to come back strong and I wanted to contribute to this football team."
On what he's most proud of from his 11-year career:
"Obviously you can sit here and say the two Super Bowl victories. I think starting as many games as I did (160 in the regular season) and playing as many games as I did (164). To be able to sit here and say I tied Phil Simms for 12th all-time on the (franchise's games-played) list, I mean that's crazy. Like I've always said, I was a fifth-round draft pick, I was no silver spoon. I'm a guy who is accountable, a dependable guy. I believe that if you work hard enough and set your mind to something you can accomplish anything you want so for me, granted playing in the Pro Bowl and winning the Super Bowls and all of those things.
"But for me, I like the start streak (the first 120 regular-season games of his career). I'm not an individual guy, so to be able to do that and play so many games for this organization and to fight through injuries and do everything, that's something that I'm most proud of, because as a football player it's all about accountability. I know over the last 11 years that everybody in this locker room, whether it came from the organization, the coaches, my teammates, I know that every one of them knows how much I love this game, how much I love this organization and most importantly, how much I love my teammates and being here. I would do anything for them. That's something that's definitely something to be very, very proud of."
Diehl missed the first four games of the season after undergoing thumb surgery in August and the game in Detroit last month with a knee injury. Could be play in 2014 if he wanted to?
"I know I could physically play this year," he said. "I have to get thumb surgery again. As an offensive lineman, your hands take the most grunt work. I played this whole season without being able to grab with my right hand, which isn't easy as an offensive lineman, let alone when D-linemen see a big cast on your hand they're going to chop away. I knew I didn't let it heal properly, I knew I probably came back too early but as a football player and as a teammate you want to compete. You want to be out there with your guys. When your team starts 0-1, 0-2, 0-3 and you're sitting there and you can't fight, it's gut-wrenching and it's something I'll never get used to. I came back early, got back out on the football field, but as the season wore down my thumb just got worse and worse."
On the bond he had with former linemates Kareem McKenzie, Rich Seubert, Shaun O'Hara and Chris Snee. That group started 38 consecutive regular-season games together from 2007-09.
"That was an unbelievable time," Diehl said. "It was a very, very special time. Playing with those guys and accomplishing what we accomplished as a group, we're brothers. Still to this day you get us together and it's like we never left. Guys are laughing, we're having fun, but that's just a testament to our group. In 2003 and '04 they were calling this the worst offensive line in the NFL. So for us, it was a mindset and a determination. Most importantly it was the blue-collar work ethic that we're going to turn things around and make things different around here
"Those times you never forget. To be able to block for two 1,000-yard rushers in one season (Brandon Jacobs and Derrick Ward in 2008), I think that's only been done five times in the history of the NFL. I can't say enough about those guys and coach (Pat) Flaherty. We've just had a very, very special group of guys in the offensive line group. Those are memories that I'll have forever of playing with them, fighting and accomplishing so much together."
On playing for the Giants for 11 seasons:
"To be drafted here and to be able to close out of career here over a decade later and to accomplish, not only what I've accomplished but more importantly to accomplish what we've accomplished as a football team. I honestly can look back and hold my head high and walk away from this game knowing that I've left everything that I've got. Physically, mentally, everything that I've got I've left on the football field. Each and every day physically I've given everything I've got. This was the team that believed in me, this was the team that gave me my opportunity. To have the special relationship that I've had with Wellington Mara after my dad passed away (in 2003), I wouldn't want to be any place else. I could never see myself wearing a different helmet or uniform. I'm a New York Giant. I've been so fortunate and happy and blessed to be one."