EAST RUTHERFORD, N.J. –** As the senior member of the Giants and the veteran leader of the offensive line, David Diehl believes it is important that he participate in practice. So today he said it was "killing" him to sit out because of a knee injury suffered last week vs. Seattle.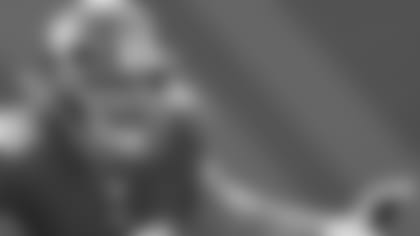 Know Your Opponent: Lions Diehl hopes to recover quickly enough to play Sunday, when the Giants meet the Detroit Lions in Ford Field.
"Sitting here not practicing is definitely something I'm not going to get used to," said Diehl, an 11-year veteran. "I'm going to continue to push myself harder to get better and see how it goes."
Diehl was one of 10 players to miss practice today. The list includes the Giants' left guard, James Brewer, who has an ankle injury. Diehl has started the last 10 games at right guard after missing the season's first four games following thumb surgery.
Diehl said he hurt his knee midway through the Seattle game and could feel it swelling up. But as long as he could stand, he was going to stay in the game.
"I'm sure I'm not the only one with aches and pains around here," Diehl said. "Just take the treatment, make sure I keep getting it better each and every day and doing everything I can to get back out there. I'm not a guy that's ever going to get comfortable, regardless of the circumstances of being on the injury report and not being able to practice with my guys. Hopefully, it keeps making progress like I'm making and I'll be rolling out Sunday just like normal."
That would provide a much-needed boost for the interior of the line, which must contend with Ndamukong Suh and Nick Fairley, arguably the NFL's finest defensive tackle tandem. Diehl acknowledged their presence increases his sense of urgency to play on Sunday.
"You're talking about a front that plays the run on the way to the quarterback," Diehl said. "They're gap-shooting, they're aggressive, they're penetrating, they're physical. All the different tackles for loss, they want to hit the quarterback, they want to be aggressive and these are the challenges that you get yourself up for.
"Being a guy who's an 11-year vet around here, you want to be out there fighting and protecting your guys and fighting with your teammates," Diehl said. "It's no different as an offensive lineman, that's your responsibility, to go out there and fight and protect your guys, especially when you're going on the road against a great group. It definitely plays into your mind."
And plays into Diehl's desire to suit up on Sunday.
In addition to Diehl and Brewer, the following Giants did not practice today: wide receiver Victor Cruz (concussion/knee), running back Peyton Hillis (concussion), defensive tackle Cullen Jenkins (shin/quad), wide receiver Jerrel Jernigan (knee), defensive end Jason Pierre-Paul (shoulder), safety Cooper Taylor (hamstring), and cornerbacks Trumaine McBride (groin) and Terrell Thomas (knee, normal rest day).
Washington Redskins linebacker London Fletcher announced today he is "99 percent certain" he will retire after this season, his 16th in the NFL. Fletcher has started 213 consecutive games, the NFL's longest active streak. Eli Manning is second with 149 starts in a row.
"London has been a tremendous player and a great competitor," Manning said, "a guy I loved going against twice a year in games, just because you know you're going to get a smart player and a guy that makes plays and just loves the game of football. You can see the passion just in the way he prepares and the way he plays the game. So (I have) a great respect for him and I guess you can be happy in a sense we won't be facing him twice a year for the next years. But he's one of the good guys in the NFL and a great competitor and I appreciate what he's done."
The Giants will host Washington in the season finale on Dec. 29. Beginning with the 2014 opener, Manning will be the NFL's newest iron man.
"Well, we'll see if we get there, right?" Manning said.
Pierre-Paul missed the last three games, but today he again deflected suggestions that he sit out the remainder of the season because the Giants are out of playoff contention.
"I'm a football player, man, that's what I do," Pierre-Paul said. "It's easy for me to sit out and just call it a season, but I've been fighting injuries since I got back. I'm not a quitter. Football, that's something that I love to do and I've got a passion for it. It's frustrating, but at the end of the day, you just think about it and it is what it is. I'm trying my best to get out there and be with my teammates and help them win the game."
Justin Tuck seems somewhat amused by all the attention being given to the possibility of inclement weather influencing Super Bowl XLVIII in MetLife Stadium on Feb. 2.
"I wouldn't care if it was a monsoon," Tuck said. "I would love playing in the Super Bowl. If you get the opportunity go play in the Super Bowl and you complain about the weather, I'll take your place."