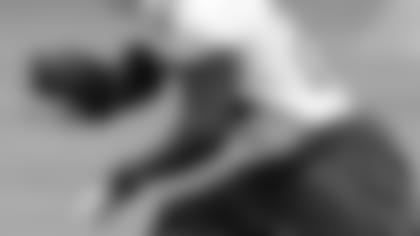 EAST RUTHERFORD, N.J. – David Wilson's ascension to the starting running back job has been shoved to the background because of the attention generated by Victor Cruz's and Hakeem Nicks' absences and Jason Pierre-Paul's surgery. But how well Wilson produces in his new role will be a critical determinant in whether the Giants enjoy a successful season in 2013.
Wilson takes over for Ahmad Bradshaw, who rushed for 1,015 yards last year. Bradshaw was released on Feb. 6. Wilson, who rushed for 358 yards and four touchdowns in limited duty as a rookie last season, is expected to share playing time with Andre Brown. But the 2012 first-round draft choice is the team's most dynamic player at that position.
The question has been asked the entire offseason: is Wilson ready to be the Giants' primary ballcarrier this year?
"I think he's in a position to compete to be the guy," running backs coach Jerald Ingram said. "He has the talent, has the speed, has a few plays from a year ago underneath his belt."
Wilson has been an everyday participant in the Giants' offseason conditioning program and organized team activities. He'll have a chance to secure the job when training camp begins in late July.
"Once we put the pads on, we'll see who is physical, who's determined to make plays out there," Ingram said. "I think he's grown. He has a fairly good understanding of the offense right now. He's definitely in position to be the guy, but I think just like what we've done in the past here, we're going to be a rotation type team and what certain backs do best, we'll play. I think he's a playmaker. He's definitely going to contribute and help us out. There are some goals that he has to accomplish for us. He's definitely on a better track than he was a year ago in understanding our protections and doing those kinds of things. I think we'll take advantage of his natural ability as much as we can, but everything will start with me as a coach. I've got to do a better job of coaching him and getting him ready to play, just like Andre Brown. We've got young guys here. We've got a tradition of great running backs here that have established themselves as leaders on this team and that's where he's got to be. He's got to be a guy that Eli (Manning) can trust in every situation possible and we'll go from there, but right now I think he's on track."
Protecting the franchise quarterback, not running the football, is the most important job for a Giants back. Perhaps the most important uncertainty about Wilson is whether he can handle that responsibility.
"I definitely see progress," Ingram said. "I think he's got a clear understanding as far as what our protections are, what is expected of him, but until you actually physically ask that individual to do that full speed and full gear, we're not exactly doing that right now. But I think when we go to camp, he knows what his goals are right now and what he has to accomplish to be a complete running back and contribute on our team. I think we'll get that out of him. He'll be a much improved player from that situation this year."
Ingram and the rest of the Giants' position coaches spoke to the media this week. What follows are excerpts of those conversations.
*Wide receivers coach Kevin M. Gilbride, on whether it will be "easy" for Cruz and Nicks to get up to speed when they report.
"I don't think anything is easy," Gilbride said. "I think it all takes work and timing and development of your individual skills, of your grasp of the offense and the detail. I don't think it's easy, but I think those two, Victor and Hakeem, have the ability and the mental capacity to step in and basically play catch up like we talked about and get caught up pretty quickly."
Gilbride was asked how the starters' absences have affected the other receivers, including Rueben Randle and Louis Murphy.
"It's been great for those guys," Gilbride said. "Those guys have now had an opportunity to continue to work on the skills, work on learning our offense in general and the detail with which we run our routes and that's really important for those young guys. Everybody knows through the course of the season there are injuries. When we have injuries what we've done a great job here with the receiving corps is having the next guy step up and do a great job taking over for the guy that was injured. So for these guys to get all the work out here it's been great for them."
*Tight ends coach Michael Pope on Adrien Robinson, a 2012 fourth-round draft choice who played briefly in just two games as a rookie last year:
"Adrien Robinson appears to have gone into the Land of the Believers and yes, he has been making some good progress," Pope said. "He is understanding assignment-wise – just in our most recent meeting. But the plays are still not the lines on the page that we give them for instruction. So he is doing a lot of the assignment things correctly. Now we have to get him to adjust to the way the defense is playing on each particular play and to make the best decisions based on how the defense is playing. But he is running well and he has his weight down some. The quarterback is starting to find him. He is hard to miss – he is the tallest tree in the forest out there. So he is a good target. But we are more than mildly pleased with the progress that he has made from an assignment standpoint."
*Offensive line coach Pat Flaherty on first-round draft choice Justin Pugh:
"He's working extremely hard," Flaherty said. "He comes to work every day. He's still finding some things out about the NFL, which he will continue to do for a long time. But he's conscientious, he gives good effort. He's guy that wants to learn football, wants to learn the techniques of the NFL as much as anyone."
Flaherty was asked about guard Chris Snee and center David Baas, who have not practiced this offseason as they continue to rehabilitate after offseason surgeries.
"I think they're going to be ready," Flaherty said. "They're out there. They're doing what they can do on the field right now. In the classroom they're doing everything they need to do. They're focused. They've seen all of the cutups. They've actually done extra work in the classroom when they couldn't be on the field. I anticipate them being ready for training camp."
*Defensive line coach Robert Nunn on whether Jason Pierre-Paul played in pain last season (JPP underwent surgery to repair a herniated disc in his back this week).
"There were times he communicated that with me – that he was having some issues," Nunn said. "We got to the offseason and tried to manage it. It wasn't working, so we still had time to do the surgery and hopefully have him back as soon as we can. Certainly, if it is up to me, we won't push him early. But we would certainly like to have back as soon as we can and move on from there."
Nunn was asked about veteran Mathias Kiwanuka, who is working with the starters at defensive right end.
"Kiwi is off to a great start," Nunn said. "We will be able, I think, to get him more focused on staying at defensive end. He is really doing a good job so far managing it. Moving him around a little bit, at both sides of defensive end. We really like where he is from the mental standpoint and the way he has approached it in the offseason. He looks solid right now."
*Linebackers coach Jim Herrmann was asked about his players. He lost Kiwanuka, Chase Blackburn and Michael Boley and added Dan Connor, Aaron Curry and Kyle Bosworth since last year. Mark Herzlich is playing first-team middle linebacker.
"This is basically a new group of guys," Herrmann said. "And I think the biggest thing right now is we are going out and learning what to do and competing. To me, the competition is going to keep going and keep going and keep going – which is going to make us all better. My biggest thing this is develop a unit, that no matter who is in there, I'm the MIKE, I'm the MIKE (middle linebacker). The expectations are for the MIKE position – not for the guy that is in there. To me, that is what you have to do. So we are trying to develop a unit that can go out – regardless of who goes out and plays – we are going to be pretty good. Right now they have done a good job. Every single guy is doing a good job at their position."
*Secondary/cornerbacks coach Peter Giunta, on whether he sees a determination in Corey Webster to improve after a subpar 2012 season.
"Definitely," Giunta said. "Finishing the way we did, everybody has a real sense of urgency this year to get back to playing the kind of football we did at the end of the 2011 season in that six-game stretch and playing that kind of defense. In his defense, he breaks his hand and it set him back a little bit not being able to use his hands up in press coverage. He struggled in the end when we didn't have a lot of continuity back there. He did have a tough year for himself."
*Secondary/safeties coach David Merritt on cornerback Terrell Thomas' belief that he can play safety:
"I think Terrell is correct when it comes to playing the low position, because he's played the nickel," Merritt said. "He's been in and out of those linebacker positions. But when it comes to playing in the center field, when it comes to playing in the half field or quarter technique, that's a totally different story as we've seen Antrel Rolle over the years trying to play back and hasn't played back too often, because we always had to move him back up to the nickel. Hopefully, we don't have to do that this year. Going back and having to back pedal and trying to play top down, that's the biggest difference. Trying to keep everything in front and inside and until you're in that position, it may be easier to say it right now as you're standing on the sideline, but until you're put in that position and you have speed running at you, you don't know how that feels. It's a lonely feeling. All of a sudden speed is running at you and you're in the back pedal. It's a big difference, but he should do well if he has to go back there."