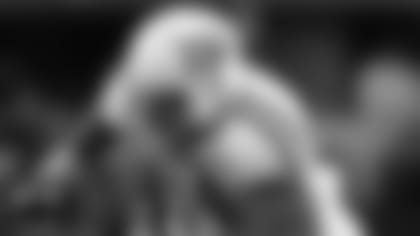 EAST RUTHERFORD, NJ - Although the Giants have a well-earned reputation for collecting pass-rushing defensive ends, they had emerged from the NFL Draft the previous two years without one. The streak ended tonight, when they selected Texas A&M's Damontre Moore on the third round of the 2013 draft, the 82nd overall selection.
He is the first defensive end chosen by the Giants since two-time Pro Bowler Jason Pierre-Paul in 2010.
"(Moore) has a tremendous upside," general manager Jerry Reese said. "He plays three years, he's a junior, so he can come in here with (defensive line coach) Robert Nunn, who does a tremendous job with our defensive line. He'll learn a lot right away. He's one of those kids that can play on your special teams. He's got a pretty unique skill set."
Each of the Giants' second-day selections was a defensive lineman. They chose Ohio State tackle Johnathan Hanks in the second round. Their first-round choice was Syracuse tackle Justin Pugh. All three players are juniors.
"It was a breathtaking moment," Moore said of getting the call from the Giants. "It will be something that I will always remember."
Can Hankins and Moore contribute to the Giants this year?
"Basically, they have to," coach Tom Coughlin said. "You have to bring them in and they have a lot to learn. They have to understand principles and values and how you do things. They are young, but the nature of the business in the game today is they have to help us."
Coughlin wouldn't compare Moore to any of the other Giants defensive ends he has coached. But he made it clear he believes Moore can be a productive pass rusher in the NFL.
"That is why we brought him in here," Coughlin said. "He has outstanding quickness. You look at his 40 time (reportedly 4.95 seconds) and you are going to say, 'Well, it is not what you would think.' But there was a big split in those times in Indianapolis and he does play faster than the time you are probably going to refer back to. But his quickness and his shuttles were outstanding. So from me to you, he is as quick as it is."
In his three years at Texas A&M, Moore played in 38 games with 23 starts – 13 at right defensive end and 10 at the hybrid Joker position. He was credited with 197 tackles (116 solo) and his 26.5 sacks for minus-158 yards ranked fifth among active NCAA Football Bowl Subdivision performers and also placed sixth on the school's career list. Moore had 45.0 tackles for losses of 205 yards.
Last season, Moore was selected to several All-America teams and was a first-team All-SEC selection. He started all 13 games and had 12.5 sacks, 21 tackles for losses of 93 yards and became just the third defensive lineman to lead the Aggies in tackles since 1970, and the first to do it since All-America Sam Adams in 1993; Moore registered 85 tackles (57 solo)
"You think about him in three years," Reese said. "He's an edge rusher with tremendous upside for us. His value was too good for us to pass up."
The Giants' sack total declined from 48 in 2011 to 33 last season. Osi Umenyiora, who was second on the team with 6.0 sacks, recently signed with the Atlanta Falcons. They still have Justin Tuck, Mathias Kiwanuka (who may return to full-time duty at defensive end) and Pierre-Paul.
"I'm looking forward to just coming in and learning from the best in the game," Moore said. "There are so many talented people there. I just want to come in closed-mouth and open-minded and let everything soak in, because they have such a successful history and so many talented people there."