Damontre Moore's shoulder injury set his rookie season back a bit, but the Giants' third-round draft choice is working his way up to speed.
---
RELATED NEWS
Postgame Reactions
Coach Coughlin and Giants players meet the media following the loss...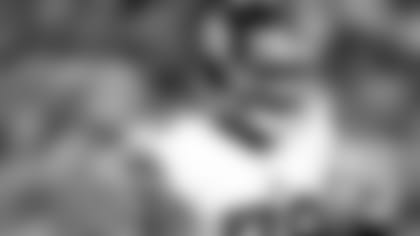 After blocking a punt against Pittsburgh in his preseason debut, the young defensive end missed the next four weeks, including the regular season opener in Dallas. He returned against Denver and recorded his first tackle on defense the next week against Carolina.
On Sunday against Kansas City, Moore was a force on special teams again, recording two tackles (including the opening kickoff) and getting a piece of Dustin Colquitt's punt in the first half that resulted in good field position for the Giants.
"It's difficult to be hurt and away from the game," Moore said after the 31-7 loss to the Chiefs. "But at the same time, I didn't try to think about it too much. I just tried to come in here, play to the best of my ability, and get all the mental reps I can so when it was my time or they called me to step up, I'll be right there and ready."
The Giants drafted him so he could do exactly that.
Moore has three NFL games under his belt now while the pass rush continues to struggle throughout the Giants' 0-4 start. Linebacker Spencer Paysinger recorded the only sack on Sunday, which means the defensive line has just one in the past three games.
But before Moore can factor into the defense, he must first find a way to carry over his presence on special teams. Former All-Pro linebacker Jessie Armstead and the veterans on the team are helping him do so.
"Just keep treating defense like I do special teams, study my film, listen to the coaches, listen to the older guys that keep giving advice," Moore said of his preparation. "All the older guys have been helpful. My mentor and big brother Jessie Armstead and T2 [Terrell Thomas] have been talking to me and trying to coach me up on how to be a gunner, just to continue to do the things that I'm doing and apply that to defense in the same way, the same fashion. And hopefully it transfers over."
**Click Here for Photos from Giants vs. Chiefs >>**