Q: Are you happy with the way things are going?
A: I think I'm happy the way the team is playing. Obviously there are some things we can get better at, but I'm very happy with the way the team's playing.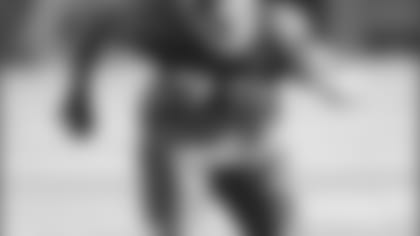 Q: How about the way you're playing?
A: I can get better. Some things I can get better.
Q: Do you generally feel good? The hip's alright and everything?
A: Yeah, yeah. Physically I feel fine. Physically I feel good. I have to get my timing back on a couple of things, but physically I feel good.
Q: It seems like you're very upbeat, very energized. You look like you're yourself again. Even coach was rather praise-worthy of you as well. Does that feel good? Is that an accurate description?
A: I'm happy. I'm just happy to be around everybody, around the guys. I love this team. I love these guys, and anytime I get a chance to go out there and do what it is that I like to do, I'm happy and I'm having fun.
Q: You're in all these different packages and all. Does that give you more of an opportunity to get on the field?
A: I hope so. Whatever it is that they ask me to do, whatever packages they want me to play in, that's what I'll come in and play on.
Q: You've taken a few of those snaps back at linebacker too. How do you like that?
A: I did that back in '05 when Tim Lewis was the (defensive) coordinator. I was doing that, but it's interesting. Something that I should be able to explore and use some of my speed and my athleticism and hopefully it'll work out for the best.
Q: What's it like when you're in the meetings and they're giving you all these different combinations?
A: Well it's a little difficult at first, but obviously if he (defensive coordinator Perry Fewell) didn't think we could handle it he wouldn't put us in that position. So it's just like any new defense that we're learning. We have to get adjusted to it and eventually we will become accustomed to it.
Q: Do you think it will work well?
A: Well I hope so. I hope so. He knows what he's doing so he's obviously done that before-maybe not with the same personnel but he's done it before. So I think we will be OK.
Q: There's also a lot of talent to get them on the field.
A: On paper. But everybody has to work well together and I think we have the opportunity to do that.
Q: You said you also want to get back to where you were a couple years ago. Do you feel like you're close to being ready to do that?
A: Well we'll just wait and see. You can never really tell. I felt that way last year so anything can happen. I just want to go out there and play.
Q: Last year you wanted to guard against the run. Do you feel like you're playing it better? A: No, not necessarily. It's just something I've been working on. It's something I have to continue to get better at. I'm not where I need to be, but I can get there. Everybody just needs to keep on working and focusing on what we need to focus on and we'll be alright.
--- ](http://www.nyg2010.com/)**