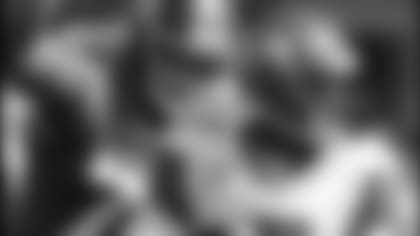 Osi Umenyiora has a new contract, but he still gets asked the same old questions.
No Giants player is queried about his frame of mind more than Umenyiora, who had at times expressed frustration before signing a restructured contract on June 1. But when he met the media today for the first time in training camp at the University at Albany, the first question directed at the two-time Pro Bowl defensive end was, "Are you happy here?"
Just for the record, Umenyiora said, "I'm happy to be here, I can say that. I don't derive all my happiness from football, but I'm happy to be here."
Umenyiora said whatever happiness he derived from receiving the contract will not affect his performance in uniform.
"I've never been one to focus on a contract situation when I'm actually out there on the football field," he said. "I played for pride and I play for my teammates and for this coaching staff, and I think that is going to be the exact same."
Defensive coordinator Perry Fewell said he's seen no difference in the 2012 version of Umenyiora.
"Osi has always been focused when he's out on the field and even in the meeting room," Fewell said. "We've never, since I've been here, had a problem with his focus on football. He's a professional, and all of the distractions outside of the football arena he was able to handle. Osi's been great for me."
And for the Giants. One of the NFL's best pass rushers, Umenyiora has 69.0 career regular-season sacks, which place him fourth on the Giants' official career list (since 1982, when sacks were first recognized). In the seven seasons from 2004-2010, Umenyiora owned or shared the team's sack lead six times (the exception was 2008, when he missed the entire season after undergoing knee surgery).
Umenyiora is the only player in Giants history with three touchdowns on fumble returns. In 2010, he tied an NFL record with 10 forced fumbles. Last year, he was limited to nine regular season games because of knee surgery and an ankle sprain but finished second on the team with 9.0 sacks. In the postseason, his 3.5 sacks tied Justin Tuck for the team lead.
Now preparing for his 10th season – he and David Diehl are the longest-tenured Giants - Umenyiora believes he is still at the top of his game.
"The sky's the limit, at least I hope so," he said. "I'm just going to go out there and going to perform to the best of my abilities and hopefully I'll be able to help this team win. I'm here, I'm in the building."
Umenyiora is more than just here. He feels good, which he hasn't been able to say much the last few years.
"Maybe before 2006," he said. "Maybe. Because '06 is when I had the little hip issue and since then it's just been one thing or another. So it's been maybe about six years.
"These last couple of years I've been playing with little things here and there, but now, for the first time in a while, I feel relatively healthy, and I hope I am just able to maintain that throughout the year."
If he can, Umenyiora believes that will make him a better player – not just because he'll feel better, but he won't miss as much practice time as he has in recent seasons.
"I think for me, practice is a big part of my game," he said. "I love to do it and that's why I get better, that's why I work on things that I'm going to execute in the game. As much practice as I can get, I want to do that. But these last couple of years I haven't been able to because they try to keep me out before the games. I don't think this would be a situation, obviously with the rotation that we have, where I'm going to be in there all the time. I don't think there will be a need for me to take days off of practice, unless I absolutely have to."
Umenyiora is a key player on what is arguably the NFL's best defensive line. The unit includes Jason Pierre-Paul, Tuck, Linval Joseph, Chris Canty (currently on the physically unable to perform list), Rocky Bernard, Shaun Rogers and Marvin Austin. Umenyiora is bullish on the line's prospects.
"I expect us to do well," he said. "Obviously, the talent that we have and the type of players that we have, where all of it looks good on paper, everybody has to come together. Linebackers and DBs have to tie into what it is that we're doing and we have to perform in order for them to perform.
"We're a team on defense and obviously we have the talent to be very, very good. But we have to wait to see what happens."
[
](http://www.gopjn.com/t/R0BKRklDSEBLRkVESEBISEtERw)