EAST RUTHERFORD, N.J. – Deon Grant wore four different uniforms in his 11-year NFL career. His last stop was here with the Giants, for whom he played fewer seasons and fewer games and had fewer tackles and interceptions than he did in his previous three stops. But when it came time to officially announce his retirement, Grant wanted to do so as a member of the Giants.
"I want to retire as a Giant," he said, "because I want to be a Giant for the rest of my life."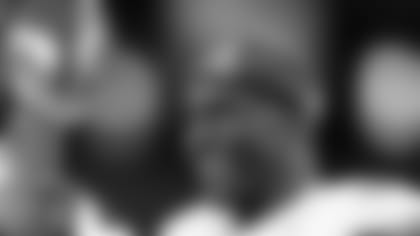 And so he will. The safety's final game was the Giants' victory over New England in Super Bowl XLVI. He had five tackles on defense and another on special teams.
"The Giants are a connection in my heart that I knew that I was supposed to be there," Grant said. "The last year that I signed there to go to the Super Bowl I could have signed with a bunch of teams, but I wanted to sign with the Giants. The way that the owners opened the doors and signed me back and the general manager (Jerry Reese) and the coaching staff … we did each other a favor, but it definitely solidified my career for me."
Grant did not play in 2012. He subsequently underwent surgeries on his shoulder, ankle and hand.
"I had an opportunity to play last year, a few teams called me up, but I always said, once I win a ring, I think I'm going to leave the game," Grant said. "My last year, I didn't have to do training camp (he was re-signed on Aug. 16), came in and finished the whole season without having any injuries. I feel like it couldn't get any more perfect than that. I had a couple of injuries that I had over the years that I never got fixed, that last year when I got the phone call from other teams I chose to get those injuries fixed. That solidified it for me, I didn't want to come back and play any more after that."
Grant entered the NFL as a second-round draft choice of the Carolina Panthers in 2000. After sitting out his rookie season with a hip injury, he played three years apiece for the Panthers, Jacksonville Jaguars and Seattle Seahawks. In those nine seasons, he started all 144 regular season and seven postseason games his teams played.
He joined the Giants in 2010 and in two years played in all 36 games, starting eight his first season and 12 (including three in the postseason) in 2011. Though it was his shortest tenure with any team, Grant enjoyed his time with the Giants more than he did at any of his three previous stops.
"I understood the game a lot more at that stage," Grant said. "When I went to the Super Bowl in Carolina (in 2003) I was so young, I was really - I'm not going to say taking it serious. But I was battling a hip injury, a (potential) career-ending injury and every year that went by I was just trying to last another year. But once I got to the point that I was at when I got to the Giants, I was a lot more comfortable. I knew how to enjoy the game instead of just taking it play-by-play or day-by-day. I really knew what to look forward to and I knew what my main focus and my main goal was."
Grant particularly enjoyed playing with Antrel Rolle and Kenny Phillips in a three-safety scheme devised by defensive coordinator Perry Fewell.
"It was awesome," Grant said. "Antrel and I, even though he's younger than me, we played over in the NFC West so when both of us signed, we already knew there was going to be something special there. It was rocky the first year for us, the pressure on coach Perry as far as how to get all of us on the field at the same time with the rest of the talent we had. But once he finally figured it out and put the trust in the three of us, it was dynamic. The record and what we accomplished showed all of that."
Grant splits his time between homes in Atlanta and New Jersey. He hopes to eventually return to football in another capacity.
"I still study the game a lot," he said. "I still talk to Antrel and Corey (Webster) sometimes. I study the game because I think that's going to be a place where I land on my feet as far as coaching. I do a lot of charity work, I have other businesses running for me, but my main thing right now is getting back into that whole football swing of things."