EAST RUTHERFORD, NJ - Quarterback Sage Rosenfels finished his 10th NFL season and first with the Giants, who acquired him in a trade with the Minnesota Vikings on Sept. 3. Rosenfels entered the NFL as a fourth-round draft choice of the Washington Redskins in 2001. The following year, he was traded to Miami, where he played four seasons before signing with Houston as a free agent in 2006. Rosenfels was traded to the Vikings in 2009 and spent one season in Minnesota. He has played in 38 career games with 12 starts.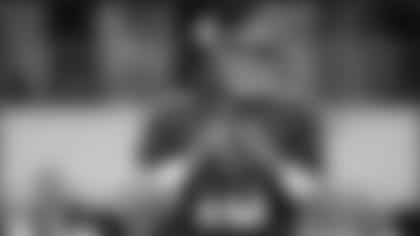 Q: Let's start with this…Sage is an unusual name. Is it a family name, are you named after somebody?
Rosenfels: "No. I have three older siblings and their names all begin with 'J.' My parents are Robert and Jamie, and so when they had me, they decided they wanted an 'R' word to match Robert and they were thinking of 'R' names, so they went to the dictionary, opened up to the 'S's' rather than the 'R's' and Sage was at the top of the page. They liked the sound of it. They read the definition, they liked it and the rest is history."
Q: Have you met other Sages?
Rosenfels: "I have. I've met a lot of them. Boys and girls, but mostly people who are younger, usually age 10 and down. So there are definitely some Sages in Iowa, that's for sure."
Q: You grew up in Maquoketa, Iowa – where exactly is that?
Rosenfels: "Maquoketa is in eastern Iowa, about 20 miles from the Mississippi River and it's located directly between Dubuque, Iowa and Davenport, Iowa. It's a town of about 6,000 people, a small farming, blue collar town."
Q: Do you have happy memories of growing up there?
Rosenfels: "I do. I grew up in the country on 10 acres. We weren't farmers, but we definitely had nice land and we had some woods and I had a great time having that space with my brothers. We never had to worry about a crime. My parents never had to worry about us dropping us up at the public pool and leaving us for four, five or six hours - never had to think twice about something happening to us. So it was a very great way to grow up, but it's also nice to have moved on and to see other parts of the country and parts of the world."
Q: Are you the youngest in the family?
Rosenfels: "I'm the fourth of five. I also have a younger sister, Sasha. My family is spread out around the country. My younger sister is in San Francisco. I have a brother in Denver, a sister in Iowa City, and a brother in Miami. And my parents live in Iowa City."
Q: When you were growing up, what did you parents do for a living?
Rosenfels: "My dad owned a wood-burning fireplace company in my hometown, and my mom was a midwife. So it definitely wasn't your standard youth that a lot of people had, but I loved the way my parents raised my siblings and I. And we traveled a lot. My dad is from Chicago originally, so being in big cities has never been a big deal to me. I've always loved cities, and New York is as good as they come."
Q: Did you always like sports?
Rosenfels: "I played a ton of sports when I was a kid. My two brothers, we all played at least four sports in high school. My senior I went out for five sports, but we loved them all. I think my parents also really enjoyed watching us compete in those sports, so that was pretty much our family activities. We were playing tennis or baseball or basketball from a very young age."
Q: Were you always a quarterback?
Rosenfels: "Ever since I was very young I was a quarterback, because my two older brothers wanted to play one-on-one against each other. So in the backyard Sage was the all-time quarterback and I tried to hit those guys."
Q: One was a receiver and one was a DB?
Rosenfels: "Yes, so the pressure of throwing in front of 80,000 fans is a lot, but the pressure of not giving a good pass to an older brother playing against your other older brother might be worse."
Q: Not many people letter in five sports, as you did as a high school senior.
Rosenfels: "I played four sports for my first three years and my senior year I decided to do two sports in the spring. Iowa has summer baseball so it allows you to have four seasons. So it's not totally uncommon to have an athlete go out for four sports, but my senior in the springtime I did track and tennis, when normally I had just done tennis."
Q: How big was your graduating class?
Rosenfels: "I think 144 were in my graduating class. We had about 600 in our high school. So it was a nice size high school. It wasn't too big where you felt like you could get lost, but it wasn't too small where everyone was always in your business."
Q: Were you a good student?
Rosenfels: "I was a pretty good student. I was always on the honor roll. I was National Honor Society when I was in school. Even though my parents loved sports, academics were always the priority for my siblings and me. Academically, my parents were very demanding. With athletics, they were more supporting."
Q: Were you on good teams in high school?
Rosenfels: "We were average. We had a great group of guys though, and we loved to play together and there are definitely some moments that I will cherish forever."
Q: When did college recruiters start coming around?
Rosenfels: "Probably my junior year. I was recruited a lot for basketball and some for baseball. Those were the sports I probably excelled at as much as anything, but in football, I think a lot of colleges saw the potential I had. They say, 'He's tall, he's athletic, he's got a good arm.' The rest of it you can mold into the type of player you want."
Q: Did you consider schools other than Iowa State?
Rosenfels: There were other places, but I loved (Coach) Dan McCarney's enthusiasm. I loved that I could stay in state and be close to home. The Big 12 conference was starting, so that was very exciting. And academically, Iowa State is a very, very good school. So it had a lot that I was looking for."
Q: How far from home is ISU?
Rosenfels: "It's about three hours from my hometown. Iowa is only about an hour and 15 minutes, so I would have had way too many of my mom's casseroles and desserts in my college dorm room refrigerator if I was in Iowa City."
Q: You helped build the program at Iowa State…
Rosenfels: "Dan McCarney took over a winless program, so it was a struggle our first few years. Our junior year we weren't over .500 but we were very, very competitive - we were 4-7, but easily (could have) been 7-4 or 8-3. And our senior year we really put it all together. We had a great senior class, a lot of leadership, and we found a way to win those close games. I think that experience taught me the fine line between having a successful and an unsuccessful season are those close games. And you had to find a way to win those, and in the NFL pretty much every game is a one-touchdown game. I think that helps as a player, realizing the importance of every play, where if I was at a school and we were winning by 50 all the time, maybe you'd take some of that for granted."
Q: Your team made some history as a senior.
Rosenfels: "We went to the Insight.com Bowl in Phoenix, Arizona. We played at Bank One Ballpark, where the Diamondbacks play, and it was a great game. We played the University of Pittsburgh. I think we ended up winning by about a touchdown, and it couldn't have been a more fulfilling experience to end my career with that game. It had been 22 years since Iowa State had been to a bowl game. They had never won a bowl game in school history, so for a lot of Iowa State fans, when they think of some of the great experiences they've had as a fan, it's that game. And as a player, it's definitely one of my favorite experiences."
Q: When did you start saying 'I might be able to play in the NFL?
Rosenfels: "I never really thought much of it, to be honest with you. I just wanted to have a successful college career and lead my team to a bowl game and after that, get a job and I think corporate America was my thought. After my junior year, people would tell me about my name being on some list of top prospects going into next year. And that was the first time I ever really even thought I could play in the NFL. My goal was to lead our team to a college bowl game and that was all that was on my mind."
Q: Did you go to the combine?
Rosenfels: "I went to the combine, had all of the workouts. People flew into Ames to work me out and I just tried to get into the best shape that I possibly could once my season ended. I also played in the Senior Bowl. So you don't have a lot of time to heal those injuries that you have during the season to try and get into the best shape you possibly can."
Q: What do you remember about the day the Redskins drafted you?
Rosenfels: "I was at home and all of the family was there. Rumor had it that I might be drafted in the third round, which in that time was on Saturday. A couple teams had hinted that there was a really good chance they might draft me in the third round. When that didn't happen, it was a tough night's sleep on Saturday night. I didn't get too much sleep, but luckily as I'm pulling into my parents' house on Sunday morning, I got a phone call from a couple teams that I'd be going early that morning. So it was exciting to hear from the Redskins, a very traditional NFC East team and a team with a great history. I actually came on a visit to the Giants before the draft. Jesse Palmer was also there and a couple of other guys that I think the team may have drafted. So who knows if the Redskins didn't draft me, maybe I would have been a Giant with Richie Seubert 10 years ago."
Q: What do you remember about your rookie year under Marty Schottenheimer?
Rosenfels: "We started off slow but we finished very strong and ended up 8-8. It was definitely the longest season of my life. I think every rookie usually says the same thing. You know most college seasons are pretty much done by Thanksgiving and then you just sort of practice until your bowl game, but those extra five games plus the preseason, training camp being as long as it was, it was a real grind and it was a real challenge. But I learned a lot about the toughness that it takes and the work that it takes to be an NFL quarterback and an NFL player from Marty and from his son, Brian Schottenheimer."
Q: Do you play at all as a rookie?
Rosenfels: "Didn't play one snap, which was probably a good thing. The NFL, not only the speed of it, but how advanced the game was, it took me a long time to learn. It's hard. You just can't do that all in your rookie year unless you came from a very advanced college system, which I didn't. So it was probably a blessing that I didn't play my rookie year and just got to sit back and - you're not sitting back, you're working everyday - but just try to learn as much as you can. And fortunately I had Brian Schottenheimer as my quarterbacks coach, who is a very good coach to learn from."
Q: Were you surprised when you were traded to Miami the next year?
Rosenfels: "After Marty got fired and Steve Spurrier came in the starting job was wide open. So we were all sort of competing from day one, but there were two University of Florida quarterbacks and Patrick Ramsey was a first round pick. So I was the odd man out. I thought I played very well in the preseason. I actually started the first game over in Osaka, Japan and played fairly well, but at the end of the preseason I was traded to Miami, my first of my three trades as an NFL player."
Q: How many players get traded three times?
Rosenfels: "I don't know if very many at all, especially in the NFL. But I haven't been cut. I am very proud of the fact that I have never been cut and I think of the 10 seasons I've had, I've had two losing seasons."
Q: You started two games in Miami – did you also learn a lot there?
Rosenfels: "I've been lucky enough to play for some of the best offensive minds in this league. I had Brian Schottenheimer my rookie year and then go in Miami, Norv Turner is my coordinator, Mike Shula is my quarterbacks coach and then after Norv leaves to go to Oakland, I get to play for Marc Trestman, who is head coach up at the Montreal Alouettes and is a very respected coordinator in this league. Then Scott Linehan and Jason Garrett as my coordinator and quarterbacks coach when Nick Saban came in. In Houston I got to play for Gary Kubiak and Mike Sherman and Kyle Shanahan. So I feel like I could run the majority of offenses in this league if I had to. And I usually have a pretty good feel on the scout team of what teams are trying to accomplish."
Q: What do you remember about your first start?
Rosenfels: "We were 4-11 in my third year (2004) in Miami. Coach (Dave) Wannstedt had already been fired and we go to Baltimore in Week 17 and they had Ray Lewis and Ed Reed and their defense was as good as they always were and they needed that win to make the playoffs. We started off with an 80-yard touchdown to Chris Chambers in the first play of the game and fought and battled, but it was a tough game but we didn't win. But I was proud of the effort that I put in the game and did the best I could."
Q: You played one more year in Miami before signing as a free agent with Houston…
Rosenfels: "Nick Saban came in and I was with Garrett and Linehan and played in a couple of games that year and played very, very well. Had one start and had two games when I came off the bench and we had comeback victories. One we're playing Buffalo, we're down 20 in the fourth quarter. Gus (Frerotte) gets a concussion and I came in and we came roaring back. I figured out we had nothing to lose and was slinging it around pretty well and threw a touchdown pass to Chris Chambers on the last play of the game – that is definitely one of my favorite NFL experiences. A couple weeks later against the Jets it was the same thing, Gus got hurt about halftime and I came in and led us to a victory. Based on that positive experience, I was a free agent and decided to go to Houston. That was a great opportunity. I had heard a ton of great things about Gary Kubiak from guys like Brian Griese and others who had played for him in Denver and I wanted to learn the West Coast offense, and thought it would be a great opportunity to do that."
Q: Did you sign with the expectation that you were going to be a starter?
Rosenfels: "No. David Carr was the starter and I signed knowing he had struggled previously there and that if I played well and could impress the coaches that maybe I could have a chance there. The Houston opportunity was interesting to me."
Q: You did start five games in 2007 and five in 2008. How do you look back at your time in Houston?
Rosenfels: "The most I've ever played was in those two seasons. The first year I started five games, but I think I played in eight or nine. When I was in Houston I realized I could start as an NFL quarterback - that the game wasn't above me mentally or physically - and I give a lot of credit to coach Kubiak for teaching me a lot about the game and coverages and route combinations that were good versus those coverages. And then all the other little aspects of just being a quarterback, and he's been around some great ones. He backed up (John) Elway for 10 years and then coached him and coached Steve Young. So I learned a lot from Gary about the little intricacies of just playing the position.
Q: When you were traded to Minnesota last year, did you expect to compete with Tarvaris Jackson for the starting job?
Rosenfels: "When I played well in Houston, Gary and I would talk in the offseason that I would love to have an opportunity to start in this league, and he understood that as a guy that played mostly as a backup for 10 years. And he knew that also Minnesota was a spot where they were looking for a guy to come in and compete. I asked him if I could - even though I was very happy in Houston – have that once in a lifetime opportunity to go in there and compete for the starting job. And we worked something out with Minnesota and decided to go up there and Tarvaris and I were having a great competition, and then Mr. Favre decided to come out of retirement - again. So that competition was over and I just did my best to try to support him and do whatever I could do to help a team in whatever that role may be. That Minnesota team had a ton of talent and I knew it was up to that point probably my best chance to go to the Super Bowl. I didn't feel like I was a disgruntled player, even though the position wasn't what I was expecting going there. I tried to be as a positive influence on the team and with Brett and did all I could to help out."
Q: Could you have started in Houston?
Rosenfels: "After David left, we had talked that maybe I'd have a chance maybe to compete the following year, but they had to give up a lot of compensation for Matt Schaub. And based on that, he was going to be the starter. I understand the NFL is a business, but I was still hoping for a chance to start. When that trade happened, I was still very happy to be there, but if there was a chance I could compete somewhere else, I would love that. And Coach Kubiak understood that and sure enough two years later, it did happen."
Q: What is it like to work with Favre?
Rosenfels: "He's a hard guy to describe to people unless you've played with him, especially as a quarterback and been in the same room as him. I really did think over the course of the year I started to figure out the way his mind thinks. He doesn't think like a prototypical offensive coordinator or quarterbacks coach or most quarterbacks. But he plays the game with great passion, with great enthusiasm, and he definitely plays the game mentally more than I had expected. He's very, very smart. The way he could manipulate the offensive line to pick up blitzes always baffled me. He can see blitzes coming that cause most quarterbacks headaches."
Q: If he's so smart, why does he throw so many bad interceptions?
Rosenfels: "I think one of his greatest strengths is that he makes plays and then one his greatest weaknesses is that he refuses to give up on the play. Like a lot of quarterbacks do, he feels like there's always a chance to make something happen, and sometimes no matter how much you try to think of it mentally or practice it, it's hard to give up on a play and throw it away. So when he makes his mistakes is when he continues because he's so competitive to try to make things happen and sometimes it backfires."
Q: Are your wife and three children here with you?
Rosenfels: "They're in Minneapolis. The kids had started school and it was just going to be difficult to totally change lives or totally pick up and start from scratch in the middle of the fall semester. Plus, I had an entire new offense to learn, one that I knew nothing about until I got here. So they've come out now three times. I went back there for the bye week. We Skype almost every night and we miss each other a lot, but we're making it work."
Q: You haven't gotten to play much, but have you enjoyed your time here?
Rosenfels: "I always loved New York City. I've always loved coming here as a visitor. Being in my 10th year, I have no doubts saying this has hands-down been my most enjoyable season. The way guys are in the locker room, the sarcasm of the offensive linemen and Eli, obviously we're having success so that always helps, but just the experience of being a New York Giant and the way things are done with this team from the trainers to the coaching staff to the front office to the equipment guys. It's everything you'd ever want as a professional athlete, and I really truly do hope that I'm here for a long, long time."