EAST RUTHERFORD, NJ - Osi Umenyiora's outlook continues to brighten and with it, so does that of the Giants.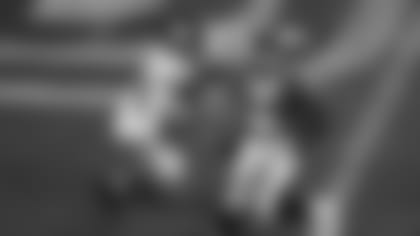 At a news conference in Florida during Super Bowl week, the Giants' eighth-year defensive end threatened to retire if he did not regain the starting job he lost for the season's final five games in 2009.
In June he backed off that threat, but delivered another one by saying, "the minute in my mind I'm playing the way I'm capable of playing and I'm not on the field, then of course, it's going to be a problem."
Today, in his first public comments at the Giants' training camp at the University at Albany, Umenyiora took a much more conciliatory tone. If everyone remains healthy, the Giants will have a deep and talented defensive line, one in which as many as eight players could get an opportunity to contribute each week. Umenyiora, a two-time Pro Bowler, can be an indispensible cog in the group, even as a reserve.
And that's a notion he's come to accept.
"I think they're going to use us to the best of our abilities," Umenyiora said. "I think there's enough out there for everybody. Obviously, I've been very selfish in the past with my demands and some of the things that I have wanted, but I don't really feel that way anymore right now. There's enough playing time for everybody. As soon as I get on that playing field I'm going to make plays, period. No matter where they put me, if I'm coming off the bench, I'm just going to be the best damn player ever, so whatever they require me to do, I think they're going to use me to the best of my abilities because this team wants to win. It's not a personal vendetta against me or anything that I've done in the past. I think that everybody needs to be a little bit less selfish and realize that there's enough playing time, there's enough money, there's enough everything out there for everybody, and I think we'll be good to go."
Moments later, Umenyiora was asked if he would be "cool" with Mathias Kiwanuka continuing to start at right end and him reprising the reserve role he had at the end of last season.
"Would I be cool with that?" Umenyiora said. "If they really felt like that was going to help this team win, then of course I would be cool with that. It would not affect my bottom line in any way."
For Umenyiora, it's a different spin than the one he put on his situation last season, during the winter and in the spring. Why the change of heart?
"I've been talking to the coaches and talking to everyone around," Umenyiora said, "and I realized that they probably really felt like what they were doing was in their best interests and it wasn't anything personal against me and that's just the way I have to roll with it."
The Giants are glad he will, because when he is active and engaged, few defensive ends are better at harassing quarterbacks. He has 48.5 career sacks, which place him fifth on the Giants' official career list (since 1982, when sacks were first recognized). Umenyiora has led the Giants in sacks in five of the last six seasons, missing only 2008, when he sat out the entire season after undergoing knee surgery. He was the team sack leader in four consecutive seasons with 7.0 in 2004, 14.5 in 2005, 6.0 in 2006 and 13.0 in 2007 and again with 7.0 in 2009 to become the first Giant to top the team in sacks four years in a row since Hall of Famer Lawrence Taylor led the team in five consecutive seasons from 1986-90. Umenyiora, a Pro Bowler in 2005 and 2007, is the only player in Giants history with three touchdowns on fumble returns.
But Umenyiora is dealing with another issue and it's one that dominated his meeting with reporters this morning. Since he missed five games with a strained hip flexor in 2006, Umenyiora has played with discomfort in his hip.
"It flares up every once in a while but it's nothing that I don't think I'll be able to handle," Umenyiora said. "It's something I've been managing for the last couple of years. It's something that I'm going to continue to manage."
But Umenyiora admitted the hip will require surgery at some point.
"It's something that will have to be dealt with eventually but hopefully I'll be able to push through it this year," he said. "Obviously, there's nothing about the warning that Dr Bryan Kelly and Ronnie Barnes haven't been telling me for the last couple of years, but I'm really not looking forward to getting cut open again (he had knee surgery two years ago). It's something I really don't want to do but at some point it's going to be necessary and at some point - if I feel like I need to prolong my career or something – that I'm going to have to do eventually."
Umenyiora said the sore hip will not affect his ability to compete for a starting job, stay on the field or perform at a Pro Bowl level.
"It doesn't affect it at all," he said. "It's something I've dealt with for a while now so it doesn't affect it at all. As far as me coming out here and competing, I'm going to compete and I'm going to play to the best of my ability and whatever happens after that happens.
"I've been playing with it since 2006 so obviously I've done a couple of good things since then, so I'm not going to point to that as an excuse why maybe I didn't perform at as high of a level as I wanted to. It is what it is. It's pain. It's something that I can deal with. It's something that everybody in the NFL is accustomed to dealing with and it's something that I'll continue to play with. I might not have that surgery after this year."
Umenyiora said the hip bothers him after games and practices but not when he's on the field. And he's not increasing his risk by staying on the field.
"They're saying that it's really not getting any worse," he said. "But at the end of the day it is what it is and it's something that I need to do, that I need to have taken care of if I want to prolong my career. But I'm not sure if I want to do that anyway.
"Sometimes I think about it, that I do (want to prolong his career), and sometimes I'm like, really what am I prolonging my career for? I mean, everything that I wanted coming into the NFL, everything I wanted, I've accomplished, whether that's winning a Super Bowl or being an all-star player or being financially secure, I've accomplished all that already, so I'm not sure that that's something I want to continue to do and that's why I elected not to have the surgery because at this point, this year, this season is more important to me and to, I think, the fans than any injury.
"When I look around all I see is negativity and people saying I can't do this and I can't perform and I suck and at the end of the day I still feel like an exceptional player and when I look around and I hear about people saying that this team can go forward – I think we have an exceptional team – so this season right here is the most important, probably the most important year of my life."
Judging by what he said today, Umenyiora enters it with a very good attitude.
*One defensive lineman who did elect to have surgery prior to this season is tackle Rocky Bernard, who hurt his shoulder weightlifting in May 2009. Although he was sore and less than full strength, Bernard played in 15 games last season.
"I just made a decision to play with it," said Bernard, who joined the Giants as a free agent last year after seven seasons with the Seattle Seahawks. "I felt like that was the best thing for me to do, just try and go out and do what I can do with it. But it is what it is. There wasn't any strength in it. I couldn't do a lot of the functional things that you have to do as a defensive lineman."
Bernard finished the season with 35 tackles (21 solo) and one sack.
"It was difficult," Bernard said. "Every day I had to deal with it, but I was trying to do what I could for my teammates. But obviously, I couldn't do very much.
"It was very difficult last year to play with, but I had the surgery. It's definitely back at full strength now and it feels good now. Now I try and go out and do the best that I can and hopefully get back to doing the things that I was doing before I got here."
*Wide receiver Hakeem Nicks hyperextended his right knee at the end of yesterday afternoon's practice. Nicks underwent an MRI in Albany last night and another at Hospital for Special Surgery (HSS) in Manhattan this morning. He was examined by team physician Dr. Russell Warren at HSS. The tests and exam showed nothing out of the ordinary with Nicks' knee. Nicks, who is currently practicing once a day as he comes back from offseason toe surgery, could possibly return to the practice field as early as tomorrow.
*The Giants did not practice today, instead spending the say conditioning and in meetings. They will hold their first full-pads practice tomorrow evening.
*The Giants have three coaching interns working with them in training camp, two of whom played for Tom Coughlin in Jacksonville:
Marlon McCree played for Coughlin's Jaguars in 2001 (when he was a seventh-round draft choice) and 2002 (when he intercepted six passes). McCree also played for Houston, Carolina, San Diego and Denver. While playing for the Texans on Dec. 21, 2003, he intercepted Tennessee quarterback Steve McNair and returned it 95 yards for a touchdown. McCree picked off two passes in Carolina's NFC Wild Card victory over the Giants in 2005. Last year, McCree returned to Jacksonville, but was released on Sept. 5.
Otis Moore is a nine-year veteran lineman of the Arena Football League. He was chosen by the Giants on the 10th round of the 1990 draft out of Clemson, but was cut late in training camp. He also was briefly with the Detroit Lions and New Orleans Saints and spent a season with the Birmingham Fire of the World League of American Football.
Brant Boyer was a linebacker for the Jaguars from 1995 (their first season as an expansion team) until 2000. A product of the University of Arizona, he was selected on the sixth round of the 1994 draft by the Miami Dolphins. After leaving Jacksonville, Boyer played three seasons for the Cleveland Browns.

*Tickets are available for the first Giants Kickoff Luncheon to be held in the New Meadowlands Stadium. The charitable event will be held on Wednesday, September 1, 2010 from noon to 2 p.m. in the Gridiron Club, located between the Pepsi and Verizon gates at the New Meadowlands Stadium.
In addition to introducing the 2010 Giants, the team will honor Amani Toomer with the Giants Alumni Man of the Year Award.
Hackensack University Medical Center and the Giants have begun a partnership that gives fans a unique opportunity to support one of the nation's healthcare leaders while showing support for New York's favorite team. All proceeds from the luncheon and raffle will be donated to a very special program: the Touchdown Fund: Score for Kids, Cardiac and Cancer launched earlier this year by the Medical Center and the Giants and focusing on three core areas of healthcare.
Giants fans can join Head Coach Tom Coughlin and the entire team and the raffle will include a grand prize trip to Super Bowl XLV in Dallas (including round trip airfare and hotel accommodations for four nights).
For more information, call 201-996-3722.
--- ](http://www.nyg2010.com/)**
If you'd like to submit a question or comment to Michael, click here.