EAST RUTHERFORD, NJ - Brandon Jacobs has carved out a successful career as the biggest, strongest running back in the NFL. But after a disappointing 2009 season, he changed his tactics in an attempt to reach the lofty standards he sets for himself.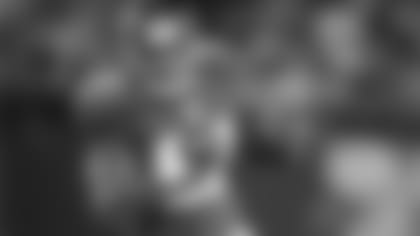 Brute strength is out. Flexibility is in.
"I just realized that all the strength stuff isn't benefitting me - the dead lifts and the power lifts," Jacobs said this week at the Giants' training camp at the University at Albany. "I'm 28 years old, you know. I came out of the womb strong. I don't need that. You can lift weights to a certain extent to maintain your strength, and that's what I did. I didn't look to build strength, I just looked to maintain strength. I just need to be more flexible. My muscles need to be more flexible so it wouldn't be all the pulling muscles. That's the type of stuff that I decided to work on just because it's a long grind, and you have to last."
Jacobs thought a change was necessary after undergoing arthroscopic surgery to repair a knee injury that plagued him most of last season. He rushed for 835 yards after finishing with 1,009 and 1,089 in the previous two years. His average per carry plunged from 5.0 to 3.7. Jacobs did not rush for at least 100 in any of the 15 games he played and he scored five touchdowns, 10 fewer than he had in 2008.
"I didn't have a good year last year," he concedes. "I wasn't explosive, I was hurt and I couldn't plant my right foot in the ground and push off. I didn't have any strength in it at all. That whole year, I never went out and made an excuse, and I'm not doing that now. I'm just saying we had a bad season."
Maybe not bad, but it certainly wasn't up to their standards. Two years ago, the Giants rushed for NFL-leading and franchise record numbers of 2,518 yards and 5.0 yards per carry. Last season, those numbers plunged to 1,837 yards and 4.1 yards a carry.
Tom Coughlin has said repeatedly that reviving the rushing attack is one key to the returning the Giants to the level of play that enabled them to participate in a franchise-record four consecutive postseasons from 2005-08. And getting Jacobs back up to speed is one of the most important factors in getting the ground game back to its former production level.
"He looks good to me," Coughlin said. "Brandon looks good. He's running well, he goes out there every day and he can work and that's a big plus. He looks fast. He would've scored on the goal line (in a goal line drill) if it was just one on one but he got nicked on the side and that kind of let some people get off blocks and keep him out or he would have scored right there."
Jacobs said the rehabilitation and new workout structure enabled him to get into optimal condition prior to training camp.
"I feel good," he said. "My body is good. I feel fast. I'm just coming in and getting some work in, and getting a little sweat going. I'm trying to get ready for the long grind that is coming up."
Though the Giants have done very little full-speed contact – they'll wait until Monday night's preseason opener for that – Jacobs said he is progressing as planned.
"You can tell by, when you get to the point of attack, how fast you react," he said. "When we're out in shells and we're running around, it's more of a mental practice than a physical practice. As a running back, you need to be able to react at the point of attack, faster than the defense."
This is Jacobs' sixth NFL season. A fourth-round draft choice in 2005, he spent two seasons as Tiki Barber's backup (scoring 16 touchdowns in the process). Jacobs has become a fixture in the Giants' record book in only 70 career games. His 3,455 career rushing yards are seventh in franchise history, his 779 carries are 10th and his 40 rushing touchdowns place him fourth. In 2008-09, he joined Joe Morris, Rodney Hampton and Barber as the only Giants backs to rush for 1,000 yards in consecutive seasons.
Jacobs gained many of those simply by using his size and power. At 6-4 and 264 pounds, he is as big as some defensive ends (he outweighs Osi Umenyiora), larger than many linebackers and a mismatch for most defensive backs. When Jacobs starts motoring, no sane defender wants to step in front of him.
This year, Jacobs believes he can be even better, because he has augmented his strength with other attributes.
"I feel better this year than I have felt since my third year in the league," he said. "I feel really good. I've done a couple things this offseason to prepare myself for the season, and doing certain core work and hip flexibilities. Things that I need to do. I don't want to work on too much strength because I'm getting older and I don't need strength. I'm getting older, and I want to keep my body durable and flexible to do this grind."
Perhaps the largest question attached to Jacobs is how much work he will actually get. Ahmad Bradshaw has taken many of the first-team reps in camp, though both Coughlin and running backs coach Jerald Ingram said that is insignificant.
"No one is really the starting running back," Ingram said. "We said we're not going to get hung up on who's the starting running back. It's who does what when that play is called. From that standpoint, if we want an outside play, if we want to be in third down, if we want to be in two tights (ends), or what is the defense's game plan going to be. You're going to put that guy who does what's best in that situation. We're trying to spread it out there. Everybody understands that they have a role in the game plan and we'll just go from there. It will be based on who we play against."
In addition to Jacobs and Bradshaw, the Giants' backfield is staffed by D.J. Ware, Andre Brown and Gartrell Johnson.
"We're going to try to put people in the right situations as best we can," Ingram said. "Obviously, a year ago, we had injuries, we had expectations of certain people that were going to step up. … Brandon Jacobs has been around the offense for some years now so he knows a lot of things. Trying to get some guys to step up, get some reps. Andre Brown missed a lot of football, a whole year of football (after tearing his Achilles tendon in his rookie camp) and we have high expectations for him, too. You see his skills, his athletic ability out there, but he's got to grow within the system. Danny Ware, we lose the first game of the year (with a dislocated elbow that kept him out of the next five games). We have high expectations of him and he misses an awful lot of football out there. We're just trying to progress as we go. We're not hung up on who's the starter.
"There are many times you've probably seen Brandon start off a drill here and there and it's going to be the situation of the day. No matter if it's a four-minute situation or a third down situation. We're going to utilize the best situation that we can with the guys that we have. You look at New Orleans last year in the Super Bowl – they played four running backs all year long, with a great one as Reggie Bush. When you have a group of guys that aren't selfish in what they do and just try to help everybody grow along, have some depth, you start to find out how successful you can be in that situation. We're blessed with that right now, but we have to have guys that grow right now and that's all we're concerned with right now. We're not hung up with who's got what. It's just who's getting the certain the amount of plays as the script goes, as the day goes on and then we'll see how it goes."
The running game will almost certainly go as far as Jacobs and Bradshaw can take it. The training camp roommates have said in this camp that they expect to have comeback seasons on 2010.
"No matter who gets the first carry or what, I'm still there and I'm not dead, so we still have a chance to win it," Jacobs said. "Every night we sit there, we play Call of Duty, and talk about us coming back and being a force that we need to be. We want to be up in the top two or three of the league, where we have always been. We built a house on the top of the hill. We need to go back and knock at that door, and New Orleans better let us in again."
*The Giants have five tight ends on the roster, but only Bear Pascoe was available for practice today. The other four were sidelined with injuries: Kevin Boss (hamstring), Travis Beckum (hamstring), Scott Chandler (hip flexor) and Jake Ballard (hamstring).
Coughlin was able to conduct a full practice by moving offensive lineman Herb Taylor to tight end. Taylor actually had a deep ball thrown to him by Rhett Bomar. It fell incomplete.
"I thought that Bear Pascoe and Herb Taylor did an outstanding job with allowing our team to practice today, are you kidding me?" Coughlin said. "Basically, those adjustments are from this morning. When I picked up the medical (report) today, four tight ends were out. The most frustrating thing, no matter what anyone ever tells you, is that all the planning, all of what goes into your practices, and all you expect to do, and then you hear this part of it. I give credit to both sides. The defense was made aware of what the offense was practicing with, and the offensive team was made aware of how there would be some added circumstances in our practice."
Taylor said he had never played tight end before, but was happy to fill in.
"We just had a couple of guys down and they told me this morning, when we went over some things," said Taylor, who played last season for the Denver Broncos and was awarded to the Giants off waivers on Jan. 12. "You just have to do what you have to do sometimes. The thing they stress here is the more you can do. They asked me to play tight end and I'm trying to do that to the best of my ability. I'm a guard/tackle. But I've been a tackle my whole life, so even playing guard is new to me."
Taylor sounded as if he's in no hurry to return to tight end.
"It's very tiring," he said. "Running routes is tiring."
Now about that long pass…
"I messed up the route," Taylor said. "I was supposed to run a 10-yard out and it turned into a 30-yard flag route. I just wanted to get open and not make a fool of myself. I was supposed to clear out for the real tight end to make the play."
*Wide receivers Steve Smith (groin) and Sinorice Moss (groin) and guard Rich Seubert (hand) also missed practice. All the defensive players were available, though cornerback Corey Webster was limited with a glute strain.
*Ramses Barden had another strong practice, including a long reception on an Eli Manning pass after getting behind Bruce Johnson and Antrel Rolle.
"He's had a couple good days in a row," Coughlin said. "The whole consistency thing was the challenge, but last night and this afternoon's practice were good. Let's hope he keeps it up."
*Derek Hagan made a fantastic sideline catch in the end zone of a Manning pass. Hagan outdueled Aaron Ross for the ball.
*Rookie offensive lineman Jim Cordle briefly left practice with a leg injury, but returned.
*Safety Kenny Phillips had no setback after practicing for the first time yesterday and was again limited to two plays in each period today.
"He came right from yesterday and had no issues from the day before," Coughlin said. "He's trying to get a sense of what he can and can't do. It's about where he is and how is he going to be able to concentrate on the football part of it and forget about everything else. I think that is where he is, and that is where we want him right now."
*The Giants have changed their schedule for this Friday, Aug. 13. They will NOT have a full practice in the morning, but will instead have a jog-thru from 10:30 - 11:15 a.m. They will practice that evening from 6:05-8:05 p.m.
Leonard Marshall, who won two Super Bowls with the Giants, and author William Bendetson will be in camp Saturday from 1-4 p.m. to sign copies of their book, *When the Cheering Stops, about the Giants' 1990 championship season. With interviews from over 50 players and coaches, along with research like viewing Bill Belichick's original defensive game plan in Canton Ohio, fans can relive one of the most memorable teams and Super Bowls in NFL history.
*Tickets are available for the first Giants Kickoff Luncheon to be held in the New Meadowlands Stadium. The charitable event will be held on Wednesday, September 1, 2010 from noon to 2 p.m. in the Gridiron Club, located between the Pepsi and Verizon gates at the New Meadowlands Stadium.
In addition to introducing the 2010 Giants, the team will honor Amani Toomer with the Giants Alumni Man of the Year Award.
Hackensack University Medical Center and the Giants have begun a partnership that gives fans a unique opportunity to support one of the nation's healthcare leaders while showing support for New York's favorite team. All proceeds from the luncheon and raffle will be donated to a very special program: the Touchdown Fund: Score for Kids, Cardiac and Cancer launched earlier this year by the Medical Center and the Giants and focusing on three core areas of healthcare.
Giants fans can join Head Coach Tom Coughlin and the entire team and the raffle will include a grand prize trip to Super Bowl XLV in Dallas (including round trip airfare and hotel accommodations for four nights).
For more information, call 201-996-3722.
*Today's attendance of 1,655 increased the camp total to 20,780.
---
Have you seen TE rookie Jake Ballard at camp? If so,does he have a shot at making the team?
Ballard started camp a bit behind the other tight ends, because he missed some of the spring drills while finishing his academic requirements at Ohio State. He also sat out a few practices with a sore hamstring. Despite that, he has made some nice plays in camp. Ballard is big at 6-6 and 257 pounds and you can't teach size. But Ballard faces an uphill battle. Kevin Boss is entrenched as the starting tight end. Behind him, Bear Pascoe, Scott Chandler, Travis Beckum and Ballard are probably battling for two jobs. Ballard faces an uphill battle, but it's not impossible.
If you'd like to submit a question or comment to Michael, click here.
--- ](http://www.nyg2010.com/)**