EAST RUTHERFORD, NJ - The hours and days after the NFL Draft are normally among the busiest of the year for the Giants' scouts. As soon as the draft concludes in a normal year, the scouts hit the phones to contact players who were not drafted and try to convince them to sign with the Giants.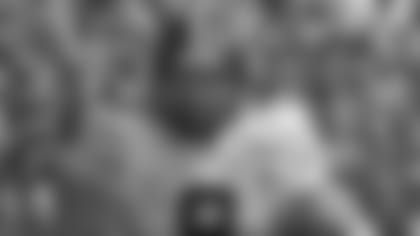 But this, of course, is not a normal year because of the NFL lockout. The three-day draft ended Saturday and no further player transactions are currently permitted. So the Giants scouts have all returned to their homes. General manager Jerry Reese said today that when the NFL gives the go-ahead for teams to contact rookie free agents, most of the Giants calls will be made by the personnel staff in the Timex Performance Center. A scout might get involved if he has a good relationship with a player from his area.
Until then, the Giants and the other 31 teams are in a holding pattern.
"It is a little strange," Reese said in his post-draft news conference. "Everybody's up there looking at each other like, 'What do we do now?' It's kind of a controlled chaos upstairs after the draft with trying to sign free agents and getting guys lined up. We'll re-stack the board to see who the free agents are that we want to target when it's time, when we're permitted to do that. We'll just ride it out and see what happens. When they say go, we'll be ready to go."
The NFL has been crystal clear in communicating to the teams what the rules are regarding rookie free agents.
"No contact at all," Reese said. "No contact. No phone calls after the draft saying, 'We'll talk to you later, you do this, we'll do that.' None of that. No talking to players. No phone calls."
Coach Tom Coughlin and his staff are in a similar state of limbo. When May begins, the Giants are normally five or six weeks into their offseason conditioning program. They would soon begin on-field activities. Coughlin holds a rookie camp soon after the draft. But like everything else, that is now on hold.
"Obviously, there is more work to be done," Coughlin said shortly after the draft concluded. "But there is always more work to be done.  And the very unusual and difficult thing about this draft – finishing this draft up - is there is no college free agency. It has always been the mad scramble at the end of draft to go ahead and fill your roster in with the best available players that were not drafted. That won't happen here. That will get put on hold.  So you will have that aspect of it. You will have the free agency period.  And hopefully at some point in time have an opportunity to put all of these people together on the field before we have to get ready to go to training camp.
"It is just like anything else. You always have contingency plans for everything that you do. The best example I can give you is that we have – I have personally done probably 15 different schedules for this offseason. You can imagine why.  And it is the same kind of thing that we would do with personnel."
Coughlin's only contact with his new players was brief introductory phone calls immediately after each selection.
"What I told them was exactly what I would tell you in that you had better be in great shape," Coughlin said. "Because when this whole thing is completed it will be very, very quickly back on the field and you had better be in shape to be able to come in here and have a camp."
Although the Giants are pleased with the eight players they selected in the draft, they have much work to do. As is their custom, they kept their depth chart out of the draft room and chose the highest-graded players on their board. The Giants have long believed if you draft for need, you will reach for lesser-quality players. Better to accumulate as many good players as possible and fill in needs after the draft.
Reese was asked where the Giants still need to improve.
"We'll look at it," he said. "We'll take a deep breath and take a look at it. There are some positions that we still think we can improve and upgrade. But right now, I'll take the fifth on that and reserve my comments on that."
Of course, the Giants are used to addressing their shortcomings by signing veteran players prior to the draft. But the lockout prevented teams from signing veteran free agents. Whenever the league year does begin, the Giants will join every other team in trying to strengthen their team with veteran and rookie free agents.
"There are a lot of needs," Coughlin said. "Let's face it – it is not like you are shooting for one or two things. We have a lot of needs. The overall objective is to be the best football team you can possibly be. You never accomplish everything you want to accomplish in any one phase.  You have a pretty good start here, I think and I feel.  And as I said, we will be prepared for whenever and whatever comes down the road here with the next decision."