Q: Do you have any timetable on when you think you'll be back on the field?
A: I actually had an opportunity to meet with the doctors. I kind of talked a little bit with the trainers, and so everybody seems to be very optimistic about it.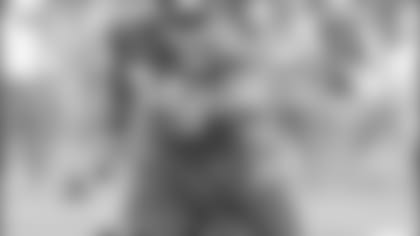 Q: How hobbled are you by it right now?
A: How hobbled by it? Do I seem pretty hobbled when I'm walking?
Q: Looked like in practice like you were in the backfield a lot and making some plays. How frustrating is it now that this had got to take you out when you were feeling good?
A: Yeah. You know it's just one of those things. It's just kind of interrupting opportunity to continue to progress, but like I said we're trying to put this behind us as quickly as possible because I'm just excited about where my game is going. I'm excited about the direction this defense and team is going. As you see from practices, we're working really hard. We're up-tempo so we want to continue to be able to do that and improve.
Q: If the trainers didn't give you any timetable, what does it depend on? Is it a pain tolerance thing or how do they determine when you're ready? A: It's totally up to them. I mean players play with pain all the time, and so it's the point where they want to make sure everything is fine and fundamentally sound before we get back out there on the football field. We get after it in practice, and then obviously the game speaks for itself with that level of competition. We want to be able to get out there and continue to pick up where we left off.
--- ](http://www.nyg2010.com/)**