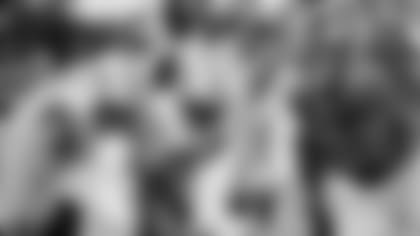 Selected by the Giants in 2011, the defensive tackle needed a strong preseason to even make it to the make-or-break third year as clubs must reduce their rosters to 53 on Aug. 31.
So Austin did everything he could seven days before that deadline and notched his first career sack – preseason or otherwise.
"I feel like I went out there and tried to play the best football I could play and just leave it out there on the field. I have to be more productive," he said after the loss to the Jets in the third preseason game. "I know that to be a part of this team, I have to be more productive. I just want to go out there and have fun, make plays. The guys on the sideline were right there behind my back the whole time. The support from them wanting me to do good means a lot to me."
Austin wrapped up quarterback Mark Sanchez early in the fourth quarter for a loss of nine yards. Six playes later, Giants linebacker Mark Herzlich recovered a Jets' fumble.
On the Jets' next offensive series, Austin delivered another hit on Sanchez that knocked the quarterback out of the game, leading third-string signal caller Matt Simms to enter the game.
Austin did not know right away that Sanchez was injured but felt he got all of his 6-foor-2, 312-pound frame into the hit.
"No, I didn't know," Austin said when he was asked about it after the game. "I was hurt when I hit him. I felt it in my chest. I played it off and tried to run off, but it was a pretty hard hit. Hopefully he's healthy. I don't wish anybody to be hurt. But it was a hard hit."