EAST RUTHERFORD, NJ - For 16 years, Tom Coughlin has been thanking people who attend the annual dinner and golf classic to benefit his Jay Fund Foundation. He has thanked them for their generous donations, for giving their time and their hearts to a charity that does so much for families of children with cancer.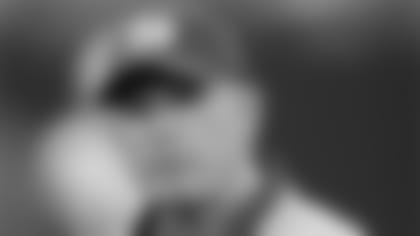 But this year, Coughlin was grateful for reasons that went beyond fundraising.
"I want to thank you for all being here tonight," Coughlin told the crowd Sunday night, "for allowing me to see my players."
Like all NFL coaches, Coughlin has been barred from having contact with his players during the NFL lockout. But because the Jay Fund dinner and tournament is a longtime charitable event, those players who wanted to attend were free to do so. Approximately a dozen Giants players traveled to Ponte Vedra Beach, Fla., where the Sunday night dinner was held in the TPC Sawgrass Clubhouse and the golf tournament took place Monday at the famed stadium course, where the Players Championship had been contested the previous week. The two-day event raised $389,000 for the Jay Fund.
Among the Giants who arrived to support Coughlin were Chris Snee, Brandon Jacobs, Michael Boley, Chris Canty, Terrell Thomas, Michael Clayton, Will Beatty, Domenik Hixon, Kevin Boothe, Zak DeOssie, Sage Rosenfels and Mathias Kiwanuka.
"We have a tremendous number of Giants here, which means a lot to me," Coughlin said. "They share in wanting to give back and they've chosen this vehicle to do it.
"The support we have received from the many celebrities that are here has just been great. In a year I really can't contact (the players), my daughter (Keli, the Jay Fund's executive director) had mailed (them) and got commitments, but you never know. The guys were great; they were all here."
"It's a great cause," Kiwanuka said. "Whenever there are people who take it upon themselves to help other people out, the way the Jay Fund and Coach Coughlin have done, it's a good idea for all of us to be here to help out. Our presence alone is bringing in donations and that's the least we can do for the cause."
Coughlin founded the Jay Fund Foundation in Jacksonville in 1996 to honor the memory of Jay McGillis, a former player of his at Boston College who died at age 21 of leukemia on July 3, 1992. The mission of the Jay Fund Foundation is 1) to assist children with leukemia and other childhood cancers and their families during the course of the child's illness, and 2) to support clinical and laboratory research in leukemia and other childhood cancers that will be of benefit to these children and their families. Since its inception, the Jay Fund has assisted approximately 1,500 families and donated more than $3 million in support those children and their families. Upon re-joining the Giants organization in 2004, Coughlin expanded the Jay Fund to the New York/New Jersey metropolitan area.
The foundation works to improve the quality of life of families by lessening the financial burden and providing emotional support for those going through the crisis of a child with cancer. The Jay Fund helps families pay mortgages and rents, make car and utility payments, buy food and gasoline, or cover a myriad of other expenses that can be so daunting to the family of a sick child. For those that have used it, the Jay Fund can literally be a lifesaver.
The dinner and golf classic is the Jay Fund's largest fundraiser. Coughlin was particularly excited to hold it this year. Because of the lockout, little else this offseason has gone according to plan for the legendarily precise Coughlin.
"It's nice to have something scheduled and have it go off the way it's supposed to go off and be received as well as it has and be successful as it is," he said. "It has been a very unusual offseason. But we still maintain the position that cooler heads and brighter minds will prevail."
Although no players have been at the Timex Performance Center, Coughlin and his coaches have been working diligently to prepare for the 2011 season, though no one knows when the Giants or any other team will convene.
"I made a decision a couple of weeks ago that if anything, we might get the players for two weeks," Coughlin said.  "We did a complete five-OTA schedule, a mandatory mini-camp schedule – I've actually finished the first 12 training camp practice schedules. So we're prepared for basically anything. We still have more office work to be done. The special teams and defense research projects, I've gone through it with them and they've presented to me some of the ideas based on that. Offensively, (we'll do the same) when I get back.
"I think we still have two preseason opponents still to do with game plans. And after that, we've pretty much accomplished what we normally do in the offseason. But the offseasons are split between being on the field and in the office. And this year, we're obviously in the office."
Whenever the lockout ends and the players report for work, Coughlin knows he will be working in unchartered waters.
"I start first of all with the rookies," Coughlin said. "Can you imagine being a rookie drafted in this league with no direction from the people that drafted you? They need that time. They need the time spent with the coaching staff, so that they understand the philosophy, they understand the expectation level, they understand what's acceptable and what isn't. We haven't had any of that. So I miss that part of it.
"I miss being on the field. That's the fun part. As a coach, we spend the spring – yeah, we're inside grinding and game-planning and putting playbooks together and all that, but we're also on the field. And when we're on the field it kind of balances out. We're with the players, we're talking, we're working, we're taking the things that we didn't do well last year and trying to implement them and improve upon them for the new year. So we miss all that."
One of the casualties of the lockout has been the offseason conditioning program. Coughlin is not permitted to have contact with his players on football matters, so he has no idea what kind of physical condition they are in. He is hopeful the players will report to work ready to play football, but will be unable to judge that until everyone is on the field.
"That's the number one thing you don't know," Coughlin said. "You have to trust that they're going to be in shape, because that part of it, as we all know, has much to do with the ability to get through a season uninjured. You have to be prepared for what you are going into.
"If everyone is in great shape, yeah, we can put together a team in three weeks. But if they're not, then that becomes the number one difficulty. And the thing of it is, how do you install (your offensive and defensive systems)? Do you install it at a little bit slower rate because the veterans haven't had an offseason of it. The rookies will not have had any initiation whatsoever. Usually, I try to make training camp the third time the rookies hear about it, hoping that it sinks in."
Although the Giants finished 10-6 in 2010, they did not make the NFC postseason field. Coughlin is eager to return to work with the players, correct last season's shortcomings and establish a new attitude and ethic for 2011, one that will emphasize finishing strong in both individual games and the season as a whole.
But he can't do it alone and he can't do it until the lockout ends. The Giants have a large group of veterans who understand the sacrifices and work required to win in the NFL. Coughlin is counting on them, as well as the assistant coaches, to help the Giants get the most out of what could be a short time frame for preparation prior to the season-opening game.
"Continuity on the coaching staff is a critical thing going into this year," Coughlin said. "That was something very, very important for me going into this offseason, knowing what we were about to run into.
"The veteran core, no question about it, they have to come in and establish the fact that they do have an idea about how we play, what we want and can quickly relate to the problems that we had a year ago."