How big of a role do you see Damontre Moore playing this year? Do you see him as more of a situational pass rusher, or as a guy who can play on first and second down as well? Or do you even see him getting much time at all this year?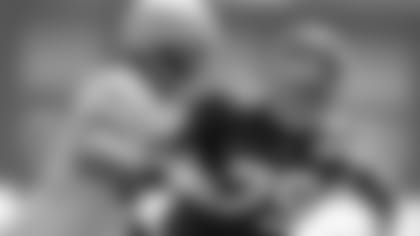 PHOTOS: STANDOUT PLAYERS AT CAMP](http://www.giants.com/photos/photos/Standout-Players-at-Camp/1d8a072a-b862-49bb-a3ae-ff2623311706) Dear Brian:
It's a little premature for me to answer that question, but I have yet to see the young man in person in full pads. My guess is if he plays this season it will be as a situational pass rusher. That's what he did best in college. But it's going to be difficult for him to crack a rotation when Justin Tuck, Jason Pierre-Paul and Mathias Kiwanuka are all seeking their share of snaps.
When will the Giants first practice be with pads on?
Dear Thomas:
They practiced in shoulder pads Tuesday and will be in full pads for the first time today (August 1).
I've been hearing all of these great things about Nicks, Cruz and Randle already. But what about Brandon Myers, what role is he going to play in the offense?
Dear Chris:
The coaches are starting to understand what Myers does best and how they can utilize him. I think he will be another reliable target for Eli Manning and hopefully a sturdy blocker in the run game. We'll now more after the preseason.