Last year, guys in the secondary talked to Perry Fewell about simplifying things, and letting them play to their physical abilities, I believe. The defense perked up after this and finished strong. Will Fewell take this to heart again, especially with the influx of new free agent starters?** -Mike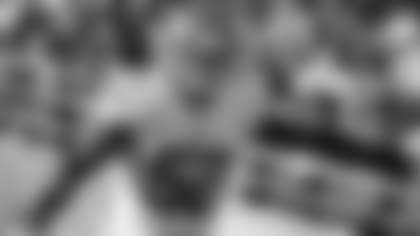 Read More from Eisen's Mailbag Dear Mike:
Fewell is constantly speaking to his players about strategy, opponents and deployment of personnel. I think the so-called simplification of the defense had little or anything to do with the unit's improvement as the season wore on. Jon Beason arrived. Will Hill came into his own. Justin Tuck had some big games. Trumaine McBride was a pleasant surprise at cornerback when given an opportunity. It still comes down to the players making plays. The defensive players made more of them in the second half of the season.
Depending on how the draft plays out. Will the Giants invest a first round pick in a linebacker like Anthony Barr or Khalil Mack? A position they have long neglected.
-David
Dear David:
It's difficult to answer these kinds of questions. If you can tell me which players will comprise the first 11 selections in the draft, the Giants' choice at No. 12 would be clearer. Is a linebacker a possibility in the first round? Of course. So are several other positions. With 30 days remaining, the possibilities are endless. They'll start to narrow in the last few days prior to the draft.
When is the last time the Giants had an All-Pro defensive tackle? Pressure up the middle is the most disruptive tactic in football. It makes your defensive ends more effective. Aaron Donald's ability to get under a block enables him to put pressure up the middle more often than anyone coming out of the draft in a long time.
-Hy
Dear Hy:
The Giants' last two Pro Bowl defensive tackles were actually 3-4 nose tackles – Jim Burt in 1986 and Erik Howard in 1990. Before that, you have to go back to John LoVetere in 1963 and Rosie Grier in 1960. There's no question a run-stuffing defensive tackle is a vital yet underrated position. The Giants lost a good one when Linval Joseph signed with the Minnesota Vikings. They may have his replacement ready to go in Johnathan Hankins, last year's second round draft choice. But that won't preclude them from taking a defensive tackle high in this year's draft if one they like is available.