Which player is more likely to get into the Hall of Fame – Jason Pierre-Paul or Eli Manning?
Dear Mark:
It's much too early to ask this question about either player – especially JPP - but since you asked…at this point it is far more likely that Manning will one day be enshrined in the Pro Football Hall of Fame. He is a two-time Super Bowl-winning quarterback who is one of the most durable players at his position in history. Assuming he plays another, six, seven or eight years, he will return with Hall of Fame-type passing statistics – and, hopefully, another couple of titles. Pierre-Paul has played only three seasons. He had double-digit sacks in one of the three. He'll have to ramp it up for many more years to be considered for the Hall.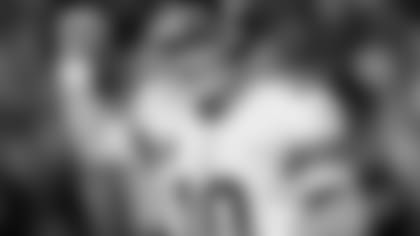 Read More from Eisen's Mailbag
Why haven't the Giants given Laron Scott the opportunity to return kickoffs? Scott was a very talented, productive and experienced kick returner in college. Using David Wilson as a kick returner is sheer lunacy (remember what happened to Jason Sehorn)?
Dear Alan:
Yes, I remember what happened to Jason Sehorn. I was there and remember it vividly. (For those of you who don't now, Sehorn was a star cornerback who tore a ligament returning an opening kickoff in a 1998 preseason game, costing him the season.) But you can't play or coach football scared. Just because Sehorn got hurt 15 years ago doesn't mean Wilson will this year. Wilson proved last year he's a valuable weapon as a kickoff returner. And let's be honest, if all the cornerbacks stay healthy Laron Scott is a longshot to make the team.
Does Terrell Thomas being pulled off the PUP mean he actually has a chance to make the team? He was so good early in his career.
Dear Nina:
Sure – if he stays healthy and stays on the field. No one questions Thomas' talent. He led the Giants in tackles in 2009 and 2010. But he missed the last two seasons after undergoing knee surgery. Thomas has to prove he is healthy and durable enough to contribute. Now that he is cleared to return to the field, Thomas has an opportunity to show the coaches he is still a good player. If he can approach where he was three years ago, Thomas will be one of the Giants' top cornerbacks.