I am so happy to hear the Giants' defense was ranked eighth in the NFL at the end of the 2013 season. The Giants aren't going to let Justin Tuck test the market or leave the Giants, right?
-Bonita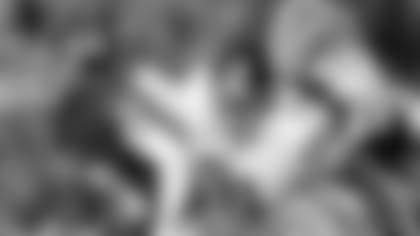 Read More from Eisen's Mailbag Dear Bonita:
They might. Tuck played well, particularly in the final six weeks of the season, when he had 9.5 of his team-high 11.0 sacks. But the Giants have several positions they must improve in the offseason and they're not going to overpay to keep any one player. In his news conference the day after the season finale, Jerry Reese was non-committal when asked if he wanted Tuck back "if the price is right." "I'll leave that up to Justin," Reese said. "Justin had a terrific year and we'll talk about it as we move forward, but I'm happy for Justin that he finally got healthy and he played like the Justin Tuck that we like to see. He had a great year regardless of how the season ended. He played well. I was happy to see him healthy and playing like the old Justin Tuck."
What is the rationale behind seven players being inactive every Sunday? Does that benefit ownership or players?
-Thomas
Dear Thomas:
Neither. The inactive list is one way the NFL attempts to keep the playing field level for all teams. It stems from the inevitability of injuries in the NFL. Every team has a 53-man roster. But if the Giants are playing Dallas and they have several players sidelined with injuries and the Cowboys are comparatively healthy, Dallas has an advantage if each team is permitted to dress all 53 players. The seven-man inactive list usually guarantees that each will have the same number of healthy players in uniform.
I know it's very rare for the Giants to chase a big name in free agency. However, is it feasible that the Giants could take a peek at the rumored free agent running backs that could hit the market? Players like Ben Tate, Chris Johnson, Maurice Jones-Drew come to mind. Would we pull the trigger on one of these guys?
-Josh
Dear Josh:
I'm not permitted to comment on any specific player. All I can do is give you a general stock answer – as of right now, almost every option is on the table. The Giants need to upgrade their personnel at several positions and running back could well be near the top of the list, depending on what happens with David Wilson (scheduled for neck surgery this week) and Andre Brown (unrestricted free agent). But it's too early to mention any specific players, in part because those players can be re-signed by their current teams.