Why don't the Giants give Ojomo and J. Williams a chance to play with the first teamers in preseason? Sink or swim for them?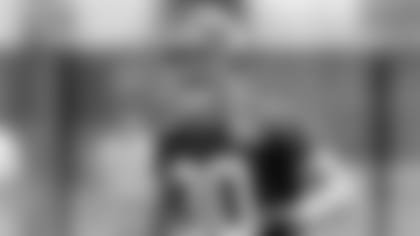 READ MORE FROM EISEN'S MAILBAG](http://www.giants.com/news-and-blogs/eisens-mailbag.html) Dear Eric:
The coaches make playing time decisions based on practice performance and where they think a player deserves to be slotted on the depth chart. Jacquian Williams is ostensibly pushing Spencer Paysinger for the starting weakside linebacker job, but the latter has played with the starters throughout the spring and summer. Williams could further nudge his way into the competition. Ojomo is just too far down on the depth chart to play with the starters. He did have a team-high five tackles vs. the Colts, but it was against lesser competition.
Opposed to the other teams in our division I believe the Giants have good depth in all positions. If you agree, do you think any of our 2013 draft picks are on the bubble because of this?
Dear Nigel:
Cooper Taylor, the safety, hasn't practiced for two weeks nor played in a preseason game because of a hamstring injury. With Antrel Rolle sidelined with an ankle injury, he likely would have had more opportunity to show what he can do. Eric Herman is one of several young candidates for the backup offensive linemen jobs. He still has a chance to prove himself, but right now he's running with the third team.
Placekickers are more important as scorers than most people realize. Can Josh Brown carry the load and do the Giants have any backup at that spot?
Dear Bill:
Josh Brown has scored 1,003 regular-season points in his career. He has been a dependable NFL kicker for more than a decade. The Giants are well aware how important a kicker is – that's why they signed Brown. Brown can and will do the job. No, the Giants currently do not have a backup kicker. Most teams don't. If something should happen to Brown, they'll find another kicker.