The No. 1 passing offense would usually be a badge of honor for a team, but it has been more of an albatross for the unbalanced Giants.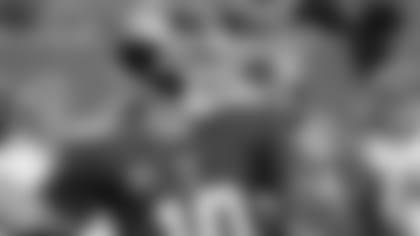 View Photos from Giants Practice The Eli Manning-led offense ranks first in the NFL by netting 390.5 passing yards per game but sits last in rushing. The Giants managed just 73 yards on the ground in their two losses combined to start the season.
"I feel like we've just been one block away or six of the guys are doing a great job and one guy is maybe missing," Manning said of the run game. "We're very close to getting that back on a roll, and obviously you're playing against good defenses. They have good players, and they're going to make some plays sometimes. But I think we are close on a lot of them and we'll get that going."
One of the positives coming from the first two weeks has been the pass protection. The No. 1 net passing rank takes into consideration yards lost on sacks, of which the Giants have given up just four quarterback takedowns despite Manning's 91 attempts.
That's why Manning thinks if the two facets can meet each other, then the offense can take off.
"I think our offensive line has done a good job in protection," Manning said. "I think guys are getting open, so I think it is positive if that's something we need to go to and we have to throw it. We feel very good about it. I think if we can get a mix, it will help us out."
The Panthers might seem like the perfect remedy for the 0-2 Giants – they have outscored them 67-25 in two consecutive wins and have taken four out of the last five – but winless Carolina is just as hungry for its first win.
And while Cam Newton receives a lot of attention, middle linebacker Luke Kuechly is becoming a star in his own right.
The leader of the defense and the ninth overall draft selection in 2012 led the NFL in total tackles as a rookie last season. He currently is second in the NFL this season with 23 tackles and notched an interception last week in the Panthers' 24-23 loss to the Buffalo Bills.
"They're a really good defense, and the first two games, they've played outstanding," Manning said. "They held Seattle to 12 points, and they did really well against Buffalo. The two-minute drive at the end and a penalty was a big part of Buffalo getting into the game in the first place. They've played very well. We've got to go out there and play our best football."
[
VIEW 5 PLAYERS WHO NEED TO HAVE BIG GAMES ON SUNDAY](http://www.giants.com/photos/photos/Players-to-watch-vs-Carolina/87b7bfeb-e40d-43a9-a0bd-30dbb00fc95a)