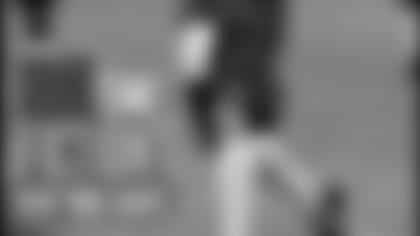 Andre Brown will end up with more carries than David Wilson*
MICHAEL EISEN: Fiction -Nothing against Brown, but Wilson is projected to be the starter and he has advantages in speed, explosiveness and athleticism. Wilson is the kind of player you want handling the ball. The Giants will make sure he does.
JOHN SCHMEELK: Fiction - This will be very close but I think David Wilson will have more carries. To me, Wilson is very similar to Warrick Dunn in terms of size and body build, and Dunn was a very durable player. Brown, on the other hand, has a larger injury history than Wilson. The better question is whether Wilson can maintain his explosiveness when getting 15-20 carries a game.
DAN SALOMONE: Fiction -Brown's injury history aside, the running game starts with Wilson this season. I think the distribution will play out like Ahmad Bradshaw and Brandon Jacobs of 2010 and 2011. Wilson can get you to the goal line, and Brown can punch it in. Remember, for what it's worth, while the yards haven't been as consistent as you might want, the Giants have finished no lower than sixth in the NFL is rushing touchdowns in the last three seasons.
*The Giants will keep 3 QBs on the roster in 2013 *
MICHAEL EISEN: Fact -Assuming Ryan Nassib is too inexperienced to be Eli Manning's backup they'll have to, unless they want to lose their fourth-round draft choice. David Carr or Curtis Painter will be the veteran insurance and Nassib will spend the season learning on the scout team
JOHN SCHMEELK: Fact - The Giants want their backup quarterback to be able to handle the entire playbook so the team doesn't have to make any major adjustments if he checks in for Eli Manning. David Carr is capable of doing that but Ryan Nassib is unlikely to be at that level by the start of the regular season. Carr will be the guy for one more season with Nassib watching both starters.
DAN SALOMONE: Fact -It's not necessarily normal or ideal for Tom Coughlin, but it isn't unprecedented. It seems inevitable at this point because I don't think the Giants would roll the dice with a rookie in case Eli Manning gets injured. David Carr has been around long enough – both in the league and with the Giants – to come in and keep the offense running.
Aaron Ross will be the nickel corner in week one *
MICHAEL EISEN: Fact -It should be a close contest between Ross and second-year pro Jayron Hosley. Ross' experience will clinch it for him.
JOHN SCHMEELK: Fiction -
I went back and forth on this one, but I think Hosley will win the starting job in training camp and be the nickel corner. He struggled at times last year but also flashed his natural ability. I think he takes a fairly large step forward in year two
DAN SALOMONE: Fact -The Week 1 caveat is giving me pause. If you said the majority of the season, I would have gone with fiction, but injuries always creep up at this position. That coupled with Ross' veteran presence may lead to him starting in that role.
*
The Giants will keep 7 WRs on the roster in 2013 *
MICHAEL EISEN: Fiction -Perhaps it would have been possible last season, but with three quarterbacks on the roster, seven wide receivers seems like one too many. Particularly since after the top four – Nicks, Cruz, Randall and Murphy – no one has really stepped forward. One or two might do so in training camp and the preseason. But I can't see three.
JOHN SCHMEELK: Fiction - That's just too many wide receivers and means that in most cases two would be inactive on gameday. I don't see it happening. The top four are Cruz, Nicks, Randle and Murphy. Jerrel Jernigan probably has a small leg-up for the fifth spot. Then you will have a great battle between Brandon Collins, Ramses Barden, and the younger guys like Jeremy Horne, Kris Adams, Kevin Hardy and Keith Carlos. Once you get past the first four, special teams will be a big part of the job.
DAN SALOMONE: Fiction -Seven would be one too many. There probably are seven NFL-caliber receivers heading into camp, but roster spots are just too valuable to use up if someone can't contribute on special teams. Last year the Giants held six for the majority of the season, and I believe it will be five of the same in 2013 with Louis Murphy replacing Domenik Hixon, who now plays for Carolina.
Tell us your thoughts in the comment section below.