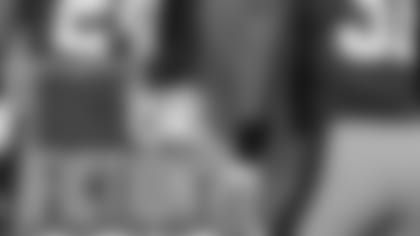 Based on the moves so far this offseason, the Giants secondary looks stronger than a year ago.
MICHAEL EISEN: Fact - Re-signing Terrell Thomas and bringing back Aaron Ross gives the Giants impressive depth at cornerback (assuming Thomas can return to the field after a third ACL surgery). And Ryan Mundy is an under-the-radar acquisition that should pay big dividends. He was a productive, durable player in Pittsburgh. The man he replaced, Kenny Phillips, missed nine games last season. It's hard to be productive when you're not on the field.
JOHN SCHMEELK: Fact - Aaron Ross provides an amount of veteran depth the Giants did not have in the secondary last year. Both Prince Amukamara and Jayron Hosley should improve in their third and second seasons. Kenny Phillips is gone, but he didn't play much last year either. I think there's also a decent chance that Will Hill earns some more playing time in 2013, and he could help make some plays at safety.
DAN SALOMONE: Fact - But it's not as drastic as it may seem in hindsight. A year ago, the Giants were coming off their Super Bowl run, which included stout defensive performances in the final two weeks of the regular season and throughout the playoffs. Throw in the draft and the attempted return of Terrell Thomas, and the Giants seemed deep and talented in the secondary heading into 2012. So it was surprising the way the season folded out defensively. But now with Aaron Ross returning, with the emergence of Stevie Brown, and with another year for Prince Amukamara and Jayron Hosley, the secondary looks even stronger if they can stay on the field.
Dan Connor will start at least four games at middle linebacker for the Giants in 2013.
MICHAEL EISEN: Fact - Barring an upset, Connor will be the Giants' regular starter at middle linebacker. There will be some games in which the Giants will open with a sub defense, but barring injury, he should have four starts by early October.
JOHN SCHMEELK: Fact - Unless they Giants draft a starting middle linebacker early, he will more than likely be the starter in their base 4-3 defense. He is reliable, a young veteran and very good against the run.
DAN SALOMONE: Fact - He's the prototypical middle linebacker in the 4-3. He has the pedigree and can be a tackling machine if he can seize that role with New York. He also has five years of NFL experience, which will go a long way in helping his cause. I like the pickup and think he will contribute immediately.
Newly signed tight end Brandon Myers will catch more passes than Martellus Bennett did in 2012 (55).
MICHAEL EISEN: Fact - But it could be close. If Hakeem Nicks, Victor Cruz and Rueben Randle stay healthy and Louis Murphy is as explosive as advertised, Eli Manning will have plenty of targets to choose from. Myers, who caught 79 passes with Oakland last season, is a proven receiver. If he earns Manning's trust, he could exceed Bennett's total.
JOHN SCHMEELK: Fact - Myers might not be the total package as an athlete that Martellus Bennett was (or the blocker) but he is a natural pass blocker with good hands that kind holes in the middle of the defense. He is a cerebral player and has the speed and length to get separation and then catch the ball in coverage. I believe he will quickly develop a rapport with Eli Manning and become on of this most reliable targets.
DAN SALOMONE: Fiction - It's not that I don't think Myers is capable of catching that many -- considering he racked up 79 catches last season in Oakland – but it's just a matter of the Giants' system. Bennett's 55 catches were the most by a Giants tight end in a season since Jeremy Shockey had 57 in 2007. Tight ends are required to be blockers first with the Giants, and I just don't know if enough opportunities will be there. But, like any system with a good quarterback, talent rises to the top and balls will find him if he's open.
MICHAEL EISEN: Fiction - I think you can't make a blanket statement on that. It depends on the players involved. In some cases, one or two players can make a great draft. In others, the depth five or six players provide wins out.
JOHN SCHMEELK: Fiction - As great as superstars can be in the NFL, I will take the draft that gives you five starters over the one that gives you one great player and no one else. The one exception is quarterback, since a great starting quarterback can turn around a franchise. The NFL is a team support and the way you build it is through the draft. A player like Lawrence Taylor is unstoppable but if he doesn't have help around him it won't matter.
DAN SALOMONE: Fact - Maybe I'm guilty of over-idealizing the Hall of Fame, but if you draft a player who makes it to Canton, what more could you ask for? Even Lawrence Taylor aside – he's on a level of his own – I think I would take one Hall of Fame career over a group of solid starters from the same draft class. Maybe we should have a challenge on Giants.com to answer this issue once and for all?
Let us know your thoughts in the comments section below.