As we prepare for Fantasy Football Week 5 in the NFL - it is important to know that even if you are sitting at 0-4, you are NOT OUT OF IT! It just means from this point forward you need to be a brilliant coach and GM in deciding who to activate, as well as who to pick up on the waiver wire and possibly trade.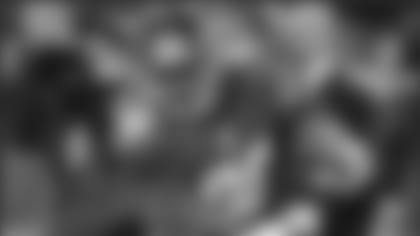 There are some fantastic match ups this week...one being the NY Giants offense facing a Texans secondary that is ranked 31st in the league. I'm expecting a HUGE day for Eli, Steve, Hakeem, and Mario...
We kick it off with some news and notes from around the NFL:
·  P. Thomas continues to sit out
·  Hillis limited by thigh injury
·  Favre could have elbow tendinitis
·  Collie could be out with foot injury
·  Seahawks, Pats talking Branch trade
·  Delhomme's ankle injury progressing
·  McFadden likely out this week
·  Andre hopes to play after practicing
·  Bradshaw misses practices again
·  Moreno questionable after no practice
·  Collins, not Cutler will start for Bears
·  RB Jackson will start for Bills
·  Sims-Walker expresses frustrations
·  Martz takes blame for Week 4 debacle
·  Cowboys want Felix more involved
·  Hill will start for Lions yet again
Hopefully you are VERY ACTIVE on your waiver wire...a BIG KEY to winning your championship!
If so - below is a list of players you should be targeting as we approach Week 5 and beyond:
1.   BenJarvus Green-Ellis (RB, NE)
2.   Fred Jackson (RB, Buf)
3.   Marshawn Lynch (RB, Sea)
4.   Ryan Torain (RB, Was) – Best upside.
5. * *Lance Moore (WR, NO)
6. * *Louis Murphy (WR, Oak)
7. * *Brandon Lloyd (WR, Den)
8. * *Brandon Tate (NE) – Randy Moss to Minnesota obviously increase his value.
9. * *Michael Bush (RB, Oak)
10. Davone Bess (WR, Mia)
11. Mark Sanchez (QB, NYJ)
12. Bruce Gradkowski (QB, Oak)
13. Matthew Stafford (QB, Det)
14. Sam Bradford (QB, Stl)
15. LeGarrette Blount (RB, TB)
16. Danny Woodhead (RB, NE)
17. Mike Bell (RB, Phi)
18. Danny Ware (RB, NYG)
It is about that time in the Fantasy Football season where you should be looking to trade and make some moves... Players whose values are HIGH right now but will decrease soon, you want to unload.
Now is the time to make the deal!
Suggestions as to which players to trade for and trade away:
Trade For:
RB Chris Johnson
RB Jamaal Charles
RB Ryan Mathews
RB Felix Jones
WR Marques Colston
QB Eli Manning
RB Ahmad Bradshaw
WR Pierre Garcon
QB Joe Flacco
RB Knowshon Moreno
RB Fred Jackson
Trade Away:
WR - TO
RB DeAngelo Williams
RB - MJD
TE - Dustin Keller
WR - Mike Sims Walker
WR - Percy Harvin
RB Cadillac Williams
Studs / Duds / and Sleepers
STUDS:
Drew Brees vs Zona - Arizona secondary still giving up big plays and should have trouble with their WR corps
Peyton Manning vs KC - Chiefs lack a pass rush and Garcon expected back so start him as usual
Aaron Rodgers vs Redskins- Redskins still giving up 316 passing yards per game so keep using him
DUDS:
Vince Young vs Dallas - Not playing well at all and Cowboy defense could give him a lot of trouble
Kevin Kolb vs 49ers - Concerned with him playing on the road & national TV as the Niners get up for home games
SLEEPERS:
Eli Manning vs Texans - Texans giving up a whopping 355/2 to QBs so a good start
Joe Flacco vs Denver - Completed 80% of his passes against them last year and Denver's pass rush isn't that great
Sam Bradford vs Detroit - Lions giving up 4th most FPG to QBs and he's playing very well so start him if you need him
STUDS:
Stephen Jackson vs Lions - Rushed for 149/1 against them last year so get him in your lineup
MJD vs Bills - Actually only put up 66/1 against them last year but Bills giving up 4th most FPG to RBs thus far
DUDS:
Cadillac Williams vs Bengals - Is going to give way to others for carries and this certainly isn't a great match up
Shonn Greene vs Viks -Unlike last week this would not be a week to use him against very solid run defense
SLEEPERS:
Peyton Hillis vs ATL - Falcons about average against the run but he's getting volume and doing a lot with it so keep starting him
Fred Jackson vs Jags - Definitely a beatable match up as Jags giving up 9th most FPG to RBs
STUDS:
Roddy White vs Browns - Brown secondary giving up 3rd most FPG to WRs and he's been on fire
Reggie Wayne vs KC - Chief CBs are actually decent but he was all kinds of active last week and must start every week but check knee injury
Calvin Johnson vs Rams - Ram defense isn't terrible but they do give up 10th most FPG to WRs so keep using him
DUDS:
Johnny Knox vs Panthers - Not the greatest match up for their passing offense and no Cutler is a major problem
Michael Crabtree vs Eagles - Not seeing much happening downfield against solid pass rush and secondary
SLEEPERS:
Hakeem Nicks vs Texans - Great match up as Texans' young secondary giving up 5th most FPG to WRs
Mark Clayton vs Lions - Gets it done every week and very good match up as Lions giving up 8th most FPG to WRs
STUDS:
Antonio Gates vs Raiders - Raider safeties are vulnerable and he's been a beast so keep starting him
Jermichael Finley vs Redskins - Redskin secondary overall can be had so keep using him
Dallas Clark vs KC - Chief safeties can be beaten and giving up 9th most FPG to the TE
DUDS:
Owen Daniels vs Giants - Not a good match up and doesn't look like himself just yet
SLEEPERS:
Zach Miller vs Colts - Put up 11/148 against them in 2 games last year and on fire
Marcedes Lewis vs Bills - Put up 3/70 against them last year and Bills giving up 2nd most FPG to the TE
STUDS:
Saints vs Zona - Have definite potential against rookie Hall plus this team fumbles
Eagles vs 49ers - Alex Smith's protection is poor and Eagles have very good pass rush and secondary
DUDS:
Redskins vs Packers - No way to use them against Rodgers even though they have protection issues
Ravens vs Denver - Orton has been pretty solid and they're just not doing much for fantasy
SLEEPERS:
Bears vs Panthers - Clearly the rookie QB Clausen is not ready for prime time
Colts vs KC - Have a chance to tee off against poor QB if they have a big lead at home