EAST RUTHERFORD, NJ - Each week Giants.com will feature a blog written by one of our members. This week we take a look at jlriley1's blog. To be considered for a featured blog in the future, sign up to be a Giants.com member .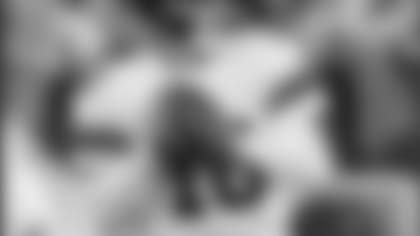 The Fat Lady Hasn't Sung Yet!!!
Wake up people! The fat lady isn't singing!
After reading all the "woe is me" and "doom and gloom" over the past couple of weeks I can't help but think the focus is being misplaced.
Yeah, Yeah I know the G-Men no longer control their own destiny, but it also isn't quite over. There is still a very good opportunity here to write a successful end to this season. The Super Bowl is still within reach!
Maybe you haven't noticed, but Chicago has a really good football team....one that is fully capable of beating the Packers Sunday. Maybe you haven't noticed, but the Giants are still capable of beating the Redskins if they get their head out of their...ok, maybe I am a little bitter too.
What I'm trying to say is, it is not inconceivable that this team can still go on a hot streak and make us proud....IF they can correct one little problem. TURNOVERS!!!!!
I keep hearing That Eli is pressing. I don't think that is the issue at all. I think he has developed a GUNSLINGER attitude. He said as much in a recent interview when asked about the importance of eliminating the interceptions. Basically, he said "yeah, but you still have to push the ball down field and score points too". I'm not sure where that attitude comes from. Whether it be Kevin Gilbride or from Eli watching too many Brett Favre highlights, it must change. Tom Coughlin said it best..."there is no way a team wins in this league with that many turnovers".
Last week against the Eagles I really do believe miscommunication in the coaching ranks caused the "Meltdown in the Meadowlands". If Coughlin really did give the instructions he said he gave in the waning moments of that game, then there was obviously some disconnect between him and the players.
In the game against the Colts I really think it was just poor defensive scheme that put us so far in the hole. Poor defensive play and execution also helped doom us in the game last week against Philly.
Other than those two games, the main problem has been turnovers, turnovers, turnovers. The turnovers MUST stop! If this season ends Sunday against Washington it won't be because of too little talent or too many injuries or just plain bad luck. It will end only because not enough care was given to not giving.
Look....maybe it is just my Midwest optimism or my Southern hard head. Maybe I'm just not accustomed to the New York "realism" I keep seeing in the media up there and on the blogs here. Whatever! Let me live in my delusions a bit longer....at least till my ex starts singing.