EAST RUTHERFORD, NJ -The Giants don't know how good a pro safety Chad Jones will be, but they can say with some certainty that they selected the best baseball player available in this year's NFL Draft.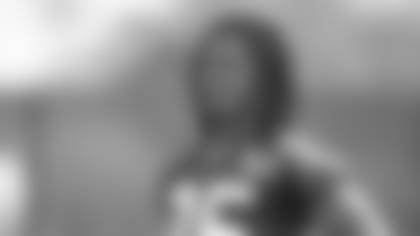 Jones, the Giants' third-round selection in the draft two weeks ago, was a two-sport star at LSU. He believes he could have been a successful major league player. But football is his only game now, and Jones is confident he will be a star with the Giants.
"I'm strictly football and I'm glad to be a Giant," Jones said at the team's rookie minicamp last week. "I'm focusing a hundred percent on football. I have a job now."
Exactly what his role will be in his rookie season is unclear. Jones will compete for playing tie with veterans Kenny Phillips, Antrel Rolle, Deon Grant and Michael Johnson. He could be in the mix as a punt returner. But first he must impress Coach Tom Coughlin, who was reserved in his praise of Jones.
"I think he is a little heavy and he has some conditioning work to do," Coughlin said. "He has made some mental errors, which is not surprising for anybody back there. I think he will be very cognizant of the weight and the conditioning aspect when he comes back (when the rookies join the veterans in workouts later this month)."
Jones expects to make big strides both physically and mentally before training camp, because for the first time he is a one-sport athlete. Throughout high school and college, he was a football player only during football season. When his teammates were enduring the rigors of offseason training, Jones was hitting and throwing baseballs.
"I've never done a full spring of football and I've never done a full summer," Jones said. "The only thing I've done is a full fall season, because I was traveling with summer baseball. In the spring it was baseball season, so I had a pretty busy schedule. In the fall I was strictly football, but in the spring and in the summer, baseball took over.
"This is the first time in my life (he will focus solely on football). I've been doing two sports all year round, mostly baseball, all my life. So this is going to be a big turning point in my life."
He's already passed through at least one of those. At Southern University Laboratory High in Baton Rouge – where his family moved after being forced from New Orleans by Hurricane Katrina – Jones was an all-state player in both football and baseball. In the former he was perhaps the best safety prospect in the country. In the latter he was an outfielder who hit .500 and a pitcher with a 91 mile-an-hour fastball.
In 2007, Jones was selected by the Houston Astros on the 13th round of the Major League Baseball draft, the 411th overall pick. The Astros reportedly offered him a $745,000 bonus to join their organization.
"I almost signed," Jones said. "There was definitely a big thought (of signing with them), especially coming out of high school. But we didn't agree to terms, so I made the best decision, which was to play football at LSU. My family comes from a big tradition of getting degrees, so it was in my best interest to go to college."
And the perfect school for Jones was right in his hometown. His older brother, Rahim Alem, was a defensive end at LSU. They were teammates for three years and Alem recently signed with the Cincinnati Bengals. Jones' father, Al Jones, was an All-America football player at Tulane.
"Coming out of high school, I definitely preferred baseball," said Jones. "But playing in front of that big crowd at LSU, I kind of turned over to football. I had a pretty good go in baseball and I gave that up to play football and I'm happy with the decision I made."
Jones excelled in both sports for the Tigers. Before making himself eligible for the draft following his junior season, Jones played in 40 football games for LSU, starting 19 – including all 13 in 2009. He totaled 157 tackles (84 solo), five interceptions and 31 punt returns for a 10.8-yard average. In 2008, the LSU defense ranked 73rd in the country in pass defense, allowing 215.8 yards per game. Last year, with Jones starting, the Tigers advanced to 29th, giving up 194.2 aerial yards a game.
The free safety had a team-high three interceptions and was selected as a second-team All-Southeastern Conference choice by the league's coaches and the Associated Press.
Jones also provided a spark in the return game. He was named SEC Special Teams Player of the Week for his performance vs. Mississippi State, when he returned a fourth quarter punt 93 yards for a touchdown. It was the second-longest punt return in school history. Jones' nickname at LSU was "The Dreadlocks of Doom."
In 2007, Jones was a reserve on the LSU team that defeated Ohio State in the BCS national championship game.
But he was no less successful in baseball. In two seasons, he hit .292 in 48 at-bats – he hit .343 last year - and had a 2.69 ERA in nine pitching appearances. Jones pitched 1 2/3 scoreless innings in the final game of the 2009 College World Series vs. Texas, with no walks and two strikeouts.
Jones and Jared Mitchell, teammates on LSU's 2007 football team and 2009 baseball team, are the only two players in NCAA history to capture a BCS football title and a College World Series crown.
"I believe I could have made it as an outfielder or a pitcher, but my interest is football," Jones said. "I grew up in a football family. We ate, slept and breathed football. I just so happened to be able to do baseball, because I started playing all sports when I was young and I kind of excelled at both. So I just kept playing both. But I grew up in a football family. My dad was an All-American at Tulane University. My brother played football all his life."
When interviewing Jones before the draft, NFL teams wanted to ensure that Jones was similarly committed to the game.
"I got that question two or three times from each team and I got it right before the draft," Jones said. "It was a pretty big deal, but I guess they got the drift that I'm a football player. The Giants selected me and I'm happy with that decision."
Jones, whose favorite baseball player is Albert Pujols, listed the late Sean Taylor, Baltimore's Ed Reed and Indianapolis' Bob Sanders as safeties he admires. One of his mentors is Giants cornerback Corey Webster, another LSU alum.
Although he is taking the first steps on a long road, Jones is beginning his NFL career with a healthy dose of confidence.
"I don't mold my game after any safety," Jones said. "I believe I'm an elite safety, just like all the other players in the NFL. I see myself as an elite player myself. So I think I can be my own role model and be a role model for somebody else.
"I'm definitely going to get better. I'm focusing in on football all year round, putting all the time in meetings and in the weight room. The sky's the limit."
If you'd like to submit a question or comment to Michael, click here.