EAST RUTHERFORD, NJ - As they selected players in the 1987 NFL Draft, the Giants discussed and then rejected the notion of taking Timmy Smith, a running back from Texas Tech. Smith was chosen in the fifth round by their division rivals, the Washington Redskins. He concluded his rookie season by running wild in the Redskins' Super Bowl XXII victory over Denver. Smith rushed for 204 yards – a Super Bowl record that still stands - and two touchdowns.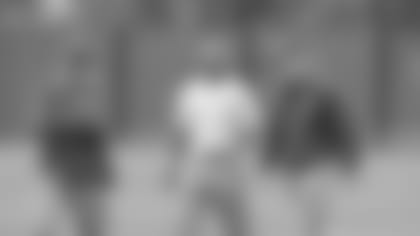 Not even those heroics caused the Giants to second-guess their decision to bypass Smith. Ronnie Barnes, then the team's head trainer and now its Vice President of Medical Services, believed Smith was a long-term medical risk. He proved to be correct. Primarily because of knee and ankle issues, Smith played in only 22 NFL games and was out of the league for good in 1990.
Barnes' diagnosis had helped the Giants avoid making a costly mistake on draft day.
"I have a long history of looking at players and making assessments and we think we do an excellent job with this," Barnes said recently. "Timmy Smith played for only two years. So those issues that the Giants were concerned with caught up with him. I didn't have any regret (about not selecting him) because I really believed in our grade and with the information that we accumulated regarding his risk. And there, longevity played a role in what we thought should be his grade."
The 2011 NFL Draft begins tomorrow and as he has for decades, Barnes will again be in the Giants' draft room with a thick notebook filled with the medical information on every draft-eligible player. After General Manager Jerry Reese, Coach Tom Coughlin, Director of College Scouting Marc Ross and the team's scouts and coaches discuss the merits and liabilities of each player, Barnes provides an assessment of the player's health that could significantly influence who the Giants choose.
Barnes meets those players during the week he spends at the scouting combine each February in Indianapolis.
"I think it is very exciting to help select new Giants," Barnes said. "And it is very exciting to see the new pathology, new injuries. We watched these young men play on television, read newspaper accounts about their injuries. And to actually see them and be in the same room with them, and get the details of what the real story is, and be able to look at their X-rays, their MRI's, and see their scans and put together the puzzle, is very exciting.  And I always say to almost all of the players when they leave the room where we examined them, 'Good luck,' because I do wish them a lot of luck. It is exciting to see them, even if we don't draft them – to see them play the next year. And we do see them all."
The Giants and all NFL teams have much more detailed medical information on prospective draftees than they did 30, 20 or even 10 years ago. When Barnes started working for the Giants in 1976, the tests weren't as comprehensive or sophisticated and the teams didn't put as much emphasis on obtaining medical information as they do now.
The catalyst for change was when the New York Jets drafted Wesley Walker, a wide receiver from California, on the second round in 1977. Walker had an outstanding career that included 438 catches, 71 touchdowns and a Pro Bowl appearance. But when he joined the Jets, the team did not know he was blind in his left eye.
"NFL teams have always had an opportunity to understand the health status of players prior to actually bringing the players in and giving them a physical examination because scouts would collect medical information," Barnes said. "They interviewed the athletic trainer at the universities. That was somewhat problematic because sometimes the information was inaccurate. The athletic trainers and the physicians that they spoke to often gave them inaccurate information, particularly as it dealt with specific ligaments of the knee or certain illnesses. So the information was incomplete. But for many years that is where they obtained the information.  And then if there were some questions arising from that, individual players would have been brought in to be examined by the local team. We exceed 350 players now and … that was because of the eye. (Walker) was blind in one eye. And it was missed. Obviously, he went on to be an excellent NFL player, but they felt that there were probably too many things lurking out there that we didn't know about."
The Walker incident crystallized the fact that NFL teams had no means to get honest and comprehensive medical information on the players they were considering in the draft.
"Schools cooperated, but as people realized that revealing information about that player's health affected their draft status, they became more and more reluctant to give out information," Barnes said. "So you would have to ask the strength coach, ask the athletic trainers, rely on newspaper reports. There was always research into health data, but there was no real organized way in which to collect this kind of data."
The NFL teams set out to remedy that. Quadra, a scouting service used by several teams, began conducting physicals of draft-eligible player. Two other combines, National and United/Blesto, started to do the same.
"Teams really didn't start to do it in groups until about 1982," Barnes said. "We went to St. Louis with a group of teams and other teams went to Detroit. Until 1985 we went to St Louis first and then to Tampa, where we did physical exams and workouts at (the Buccaneers' facility).
"In 1985, all 28 teams in the NFL got together and decided that they were going to share the costs of performing these physical exams and workouts," Barnes said. "And I would assume that the term 'Combine' came from the fact that the scouting organizations came together in a combined effort. And so for a lack of a more original name, they called it the 'Combine.' Later it has been called 'The National Invitational Camp' because invitations are extended to players to come, selected by the various scouting groups to which teams belong – and the independent groups, for that matter."
New Orleans was the first site of such testing until it became too difficult to book the Superdome. So the league tried Arizona. "We had to change the venue because it rained during timing and testing outdoors," Barnes said.
In 1987, the combine moved to Indianapolis and has been there since. Players arrive and the night before their exam they are interviewed for past medical and orthopedic history. X-rays and MRI's are obtained for each player. The following morning, they get lab tests, urinalysis, drug testing and then visit each team for orthopedic and medical exams.
Teams work in groups, but each team is allowed to directly examine the player. The Giants' athletic trainers and doctors work with their counterparts from Green Bay, New Orleans and
Carolina.
Barnes said virtually all prospects run the same drills and undergo the same exam. They include: a 40-yard dash, bench press, vertical and broad jumps, 20 and 60-yard shuttles, three-cone drill, position specific drills, height and weight measurements, medical and orthopedic exams, drug screening, EKG, echocardiograms with stress test, functional movement screening, Cybex/ Isokinentic knee testing and vision testing.
"We are trying to establish the health risk of each individual player, and we do that," Barnes said. "We have certainly added more tests. Medical technology has advanced. For instance, when we started there were no MRI's.  Now the MRI certainly is one of the most utilized tests in the whole physical exam process. So the advancement of technology has changed quite a bit in the way we collect the data.
"There are an incredible amount of resources that go toward this. First of all, each team has several physicians that go. We have three orthopedic surgeons who go, two orthopedic fellows, a medical doctor, and often we will bring specialists either in spine or foot and ankle. And each team is allowed to bring the medical resources they need to examine these players. It has to be done in a place where we can readily have X-rays. So it is usually coordinated with a hospital. And imagine that you have to do it in a way in which the medical care of that community is not interrupted. So that if someone needs an MRI in Indianapolis, obviously their medical system has grown to accommodate (the combine). We found a way to do that in a way that doesn't interrupt with their care, including bringing in mobile MRI units. Certainly a significant number of X-rays and CAT scans are done, so all of these resources are brought together. Of course, you have to have a large enough place to accommodate an average of four medical people per team where all of these exams can be conducted.  Non-medical personnel are not allowed in the area where the medical exams take place, so the scouts are not wandering through."
When the testing is complete, Barnes and his staff assign each player a medical grade. The Giants use an "ABCDF" grading system to establish risk. A, B and C grades are for draftable players. Those assigned a D can be considered as free agents on an individual basis. And Fs are medical rejects.
When Reese or Ross asks for medical information in the draft room, Barnes will recite several key points, including the player's injury history and the grade assigned to him by the staff.
"There are always reasons why players may fail their medical and orthopedic exam," Barnes said. "There are always players who for some particular reason – either they haven't had successful surgery, they continue to have problems with extremities that have been operated on previously or they have arthritic conditions.  I think over the years sports medicine has improved through fellowship, training and education. So we are seeing fewer problems that might have been missed in the early '80's and '90's. In particular, navicular fractures, which is a bone in the wrist. When we first started doing this we would take X-rays and we would see a lot of those that were missed. Now that sports medicine is a clearly defined body of knowledge with a significant number of resources players can be diagnosed properly and treated properly. And so I think generally the health care of NFL players and at colleges and universities and even at the level below that has improved every decade – the standard of care and the quality of care.
"There are no specific injuries that totally cause a player to be rejected. There are areas, like the cervical spine as it relates to cervical discs and injuries that have occurred to the cervical spine or neck, that require some intensive investigations and a series of tests to determine whether it is indeed safe for that player to return to activity. The lumbar spine – low back injuries, particularly say in offensive linemen because of the way they have to play and how they perform their jobs. Lumbar spine is given particular scrutiny in that position. And then, of course, we are always faced with knee issues. In our game we run quite a bit, and it is important to have healthy knees. So that is an area we always look at. And just because someone has had an ACL reconstruction in their sophomore year at a university or college, that does not mean that they would be disqualified to play. They essentially get the surgery, go through a rehab program and often have a stronger knee on the affected side than they do on the unaffected side.  So each case and each individual is assessed on his own merit, on his own physical attributes."
Barnes and his staff have completed their assessments and are ready for the draft. The scouts and coaches are clearly vital in the evaluation process prior to the draft. So is Ronnie Barnes.
"I think the health status of players is very important in terms of longevity," Barnes said. "I see myself a little bit as a protector of the team's resources and to help us pick the healthiest player.  I also see my role as protecting the player coming into the draft with something that he probably shouldn't play with – some cardiac issue or some medical condition.  And this has happened – we have actually advised the players not to continue to play because it posed a serious risk to their health beyond football.
"I think that often players have issues that have been publicized in the media that aren't nearly as bad as what the reports have been, or they are great players who the team has to decide whether the risk outweighs the rewards that might come from drafting that player. So the risk/reward ratio is applied in situations where the player has a concerning medical history, and when we have to make a decision, that is the hard job. Some of that is done based on his previous performance at his college or university withstanding the injuries that he may have sustained.  And then I think longevity becomes a major factor – whether this player can play for more than one year – or more than two years. Is this a player that can be a Giant for four years or longer? Most importantly, I feel that I am playing a significant role in helping draft a healthy player who has an opportunity to play for a long time."