Patterson played all 16 games at defensive tackle in his first year with the Giants last season and recorded 35 tackles (22 solo). Prior to joining Big Blue, Patterson spent eight seasons with the Philadelphia Eagles, who originally drafted him in the first round out of USC in 2005.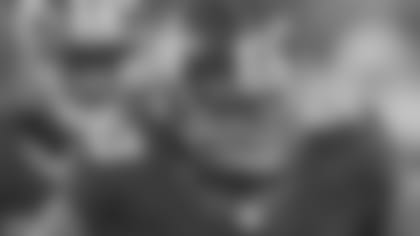 Giants.com Free Agent Central 2. In 2013, Patterson started at defensive tackle against his former team (10/6) in place of Linval Joseph, who missed the game due to ankle and knee injuries. It was his first start since Dec. 24, 2011 as a member of the Eagles and he finished the game with two solo tackles.
While starting all 16 games in six of his nine NFL seasons, Patterson has played in 131 career games, recording 361 tackles, 16.5 sacks, and an interception through the 2013 season.
Patterson, 6-1 and 300 pounds, returns to a defensive line which lost starters Justin Tuck (Oakland Raiders) and Linval Joseph (Vikings) in free agency. In addition to Patterson, the depth at defensive tackle includes Cullen Jenkins, Johnathan Hankins, and Markus Kuhn.
During a training camp practice for the Eagles on Aug. 3, 2011, Patterson suffered a seizure and was rushed to a hospital. He was soon diagnosed with an arteriovenous malformation (AvM), a tangle of blood vessels on his brain. Patterson visited with 4 doctors who specialize in AvM cases, as well as a seizure specialist. The doctors cleared him to return to football, which he did only 17 days after the seizure and chose to delay any procedures until after the season. Because of what he overcame, Patterson was named the team's 2011 Ed Block Courage Award recipient in a vote by his teammates. On Jan. 26, 2012, Patterson endured a 6-hour surgery to repair his AvM. The procedure, performed by Dr. Robert Spetzler in Phoenix, consisted of drilling open his skull to get behind his right eye to untangle the nerves that caused the AvM and the seizure. Patterson was placed on the Reserve/Non-Football Illness list on Aug. 27, 2012 and missed the first 7 games of the season.