1)** Jayron Hosley put his stamp on Tuesday's indoor practice at the Quest Diagnostics Training Center. The second-year cornerback had one of his best days at camp, beginning with his interception of Curtis Painter during 7-on-7 drills. Hosley baited the throw and jumped in front of the pass, taking it the other way for a would-be touchdown. Shortly after, Hosley poked away a long pass from Eli Manning intended for Victor Cruz. This is the second big practice Hosley had in the field house. When he gets in the zone, it's tough to get anything by him.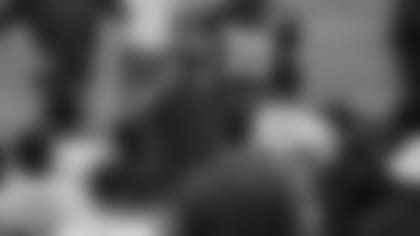 Photos: Training Camp Practice 2) Hosley shared Tuesday's highlights with Prince Amukamara. Like we've seen all of camp, Amukamara is growing into a playmaker on the Giants defense. His confidence just keeps building with every practice, and we saw that again on Tuesday. He made the play of the day with an over-the-shoulder interception of Eli Manning, who was trying to hook up with Hakeem Nicks down the sideline. There have been some good battles between Amukamara and Nicks in recent practices.
3) Kevin Hardy has quietly put together a solid showing at Giants training camp. The undrafted wide receiver out of The Citadel has some serious speed. He has worked his way into the rotation on kickoff return in practice, and showed his burst today in that department. He also connected with rookie quarterback Ryan Nassib for a long touchdown late in practice. More about him below.
4) "Sound" seems to be the word to describe Ryan Mundy. That's what the coaches have been saying about the safety, who is the next man up after Antrel Rolle suffered an ankle injury on Monday. Mundy grabbed an interception off Manning on a pass intended for Rueben Randle. The two were tangled up on the play, and somewhere in the somersaults, the ball exchanged hands and Mundy came away with the turnover.
5) Coaches this week have said the backup quarterback job is a legitimate competition, and Nassib, the Giants' fourth-round draft choice, made his case on Tuesday. As mentioned before, he connected on a perfectly-thrown deep ball to Hardy. Earlier, he made a quality throw on the run to wide receiver Marcus Harris, the newest member of the Giants. The throw was exactly where it had to be, and Harris did a good job of hauling it in. Harris was signed yesterday after the Giants waived/injured wide receiver Kris Adams, who underwent surgery after fracturing his ankle in Pittsburgh.