EAST RUTHERFORD, NJ - Former Giants linebacker Brian Kelley has been selected to the National Football Foundation & College Hall of Fame (NFF) 2010 Divisional Hall of Fame Class.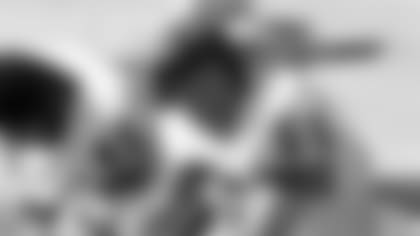 The divisional class consists of players from the NCAA Football Championship Subdivision (formerly I-AA), Divisions II, III, and the NAIA (National Association of Intercollegiate Athletics) for induction. Kelley starred at California Lutheran University.
The chair of the NFF is Archie Manning, the father of Giants quarterback Eli Manning.
Also included in the six-man class is Willie Jeffries, who coached Giants Hall of Famer Harry Carson at South Carolina State. Carson and Kelley are former Giants teammates and close friends.
Kelley is the first College Football Hall of Fame inductee from Cal Lutheran, where he played from 1969-72. A hard-hitting linebacker, he led the Kingsmen to the 1971 NAIA Division II National Championship and earned MVP honors in the title game victory.
As a senior in 1972, Kelley was named an NAIA First Team All- America. The team co-captain and MVP was also selected to the NAIA District III Defensive First Team and the All-Lutheran College Defensive First Team as a senior. He finished his career with 17 interceptions, then a school record, and also contributed as a punter, averaging 34.6 yards per punt. He was also named the 1970 NAIA District III heavyweight wrestling champion.
Kelley was inducted into the CLU Athletics Hall of Fame in 2003.
With the Giants, Kelley was a member of one of the most successful linebacker crops in NFL history, the famed Crunch Bunch. The group included Carson, Lawrence Taylor and the late Brad Van Pelt. Carson and Taylor are members of the Pro Football Hall of Fame and Kelley joins Carson and Van Pelt in the College Football Hall of Fame. Kelley was the Giants' leading tackler from 1974-76.
He now works as a financial advisor and resides in New Jersey.
In addition to Kelley, the other players in the 2010 Divisional Hall of Fame class are halfback Emerson Boozer, Maryland Eastern Shore (1962-65); wide receiver Troy Brown, Marshall (1991-92) and tight end Milt Morin, Massachusetts (1963-65).
Jeffries, who was selected by the Divisional Veterans Committee had a career record of 179-132-6 (.574) at Howard (1984- 88), Wichita State (1979-83) and South Carolina State (1973-78, 1989-2001). Carson, who considers Jeffries one of his mentors and major influences in his life, was selected by the Giants on the fourth round of the 1976 NFL Draft. He was selected to nine Pro Bowls and was inducted into the Pro Football Hall of Fame in 2006.
In addition to Jeffries, coach Ted Kessinger of Bethany College in Kansas from 1976-2003 was elected. Kessinger was 219-57-1 (.792).
"The 2010 Divisional Hall of Fame Class consists of players and coaches who have defined excellence in our sport," said Manning, a 1989 Hall of Fame inductee from Ole Miss. "We share the pride felt by their families, friends and schools and look forward to immortalizing their achievements in college football's ultimate shrine."
The NFF launched its Divisional Hall of Fame program in 1996 during its annual enshrinement festival. A total of 124 players and coaches, counting this year's class, have been inducted from the divisional ranks, including Terry Bradshaw (Louisiana Tech), Walter Payton (Jackson State), John Randle (Texas A&M-Kingsville), Jerry Rice (Mississippi Valley State), and coach Eddie Robinson (Grambling State). Of the 4.72 million who have played college football since 1869, the newest class of inductees joins only 866 players and 186 coaches in the College Football Hall of Fame.
If you'd like to submit a question or comment to Michael, click here.