JERSEY CITY, N.J. –** Super Bowl XLVIII is a double homecoming for Sam Garnes, who might be happier than any member of the Denver Broncos organization that the game will be played in MetLife Stadium.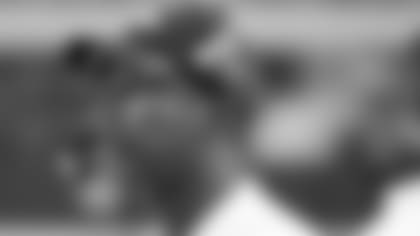 Garnes, the Broncos' assistant secondary coach, was born and raised in the Bronx. His parents now live in the Bergen County community of Teaneck, a short drive from the stadium, in a house Garnes bought soon after joining the Giants in 1997. He played five seasons for the Giants before spending his final two seasons with the Jets.
Personally and professionally, Garnes is excited to return to the metropolitan area.
"This is big time for me," Garnes said. "Once we found out the Super Bowl was going to be in New York, that's something I selfishly felt like I had to be a part of, because this is where I'm from. That's something you never thought would happen, because of the weather and all that stuff. The league was able to get it done. I'm excited, I'm excited to be here. I just knew it was something I wanted to be a part of, selfishly."
Garnes has prior Super Bowl experience, though he prefers not to dwell on it. He had five solo tackles as the Giants' starting strong safety in their 34-7 loss to Baltimore in Super Bowl XXXV. The Giants' defensive coordinator then was John Fox, now Denver's head coach.
Like many coaches who have lost a Super Bowl, Garnes has stressed to his players that merely participating in the game is not a cause for celebration.
"That was very tough," Garnes said of the loss. "That's what I speak on as well. I told them that I'm not interested in being happy for two weeks between the AFC championship and the Super Bowl. I want to be happy for several months after that, at least."
Garnes' career path took him from he Bronx to the University of Cincinnati, where he had 318 career tackles and blossomed into a star safety. The Giants selected him on fifth round of the 1997 draft (the 136th overall pick) and he earned a starting job in his rookie training camp. Garnes made an immediate impact in his first NFL game, intercepting a Rodney Peete pass and returning it 95 yards for the final score in the Giants' 31-17 victory over Philadelphia (in Jim Fassel's first game as head coach on Aug. 31, 1997).
The ball he picked off is in his parents' home in Teaneck.
"I talk about that play all the time," Garnes said. "I'm joking. Fox always brings it up, teasing me, telling that I almost passed out on my way to the end zone. I remember that was the first game of my career, first official game, and to kind of plant that seed in my teammates' heads that I'm not just a rookie and I want to help win, that meant a lot to me."
Garnes was a dependable and versatile player. In five years, he missed only six games and started 77 of the 78 games in which he played (including playoffs). Garnes was credited with more than 250 tackles and intercepted six passes. He also started all 34 games he played for the Jets (two in the postseason).
"When I played, I was kind of old school," Garnes said. "I fought through injuries, I didn't want anyone to see anyone practicing in my spot. I tell that to my players all the time. I think that kind of hurt me as far as my longevity, because my body just broke down. But I wouldn't trade it for the world. I definitely got the most out of myself.
"Now I tell my guys it's all about playing. I try not to tell them how to conduct themselves as far as their personalities. Have your own personality, but just make sure we're focused on playing and anything you say, you have to back up.
Like most former Giants, Garnes holds the franchise in high regard.
"The Giants organization is great," Garnes said. "I'm with a great one now as well and have been fortunate to be with the New York Giants, two great organizations. I got to see the Giants as a player and it was definitely great. I have many, many great memories. We had a great bond as teammates. All of my teammates, we had such a great bond. We were great together on the field and off the field.
"It was a great time in my life. It's culture shock when you go from New York City to Cincinnati. And then to be able to come back home and play for the Giants and end playing for the Jets was a dream come true. The only think that would have been just as good would have been if I played for the Yankees. But I couldn't hit that curveball."
Garnes knew early in his career he wanted to coach. He has climbed the ladder, starting as the defensive coordinator at Emerson (N.J.) High School in 2005 before coaching the defensive backs of the Cologne Centurions in NFL Europe in 2006 and the Las Vegas Locomotives in the UFL in 2009 (Fassel was the team's head coach and general manager). Fox hired Garnes to be the Carolina Panthers' assistant special teams coach in 2010 and brought him to Denver the following year.
"I always felt like I wanted to coach," said Garnes. "I always felt that naturally that would be my next step. I didn't even think anything else."
"I saw very early on as a player that he was a good student of the game, studied the game, understood the game and could relate to players," Fox said. "He's been a tremendous addition to the whole staff. I'm very proud and happy he's with us."
Garnes is just as thrilled. His ultimate goal is to be a head coach. But right now he couldn't be happier coaching the Broncos' defensive backs and participating in the Super Bowl in his home region.
"I love it," Garnes said. "As I player, I always considered myself a leader, so it was a natural progression for me just to get into coaching. I love football, I love the atmosphere, I love the ambiance of being in the football locker room and all that stuff. This is what I want to do."