Eagles QB Coach John DeFilippo got his start as the Giants' offensive quality control coach in 2005: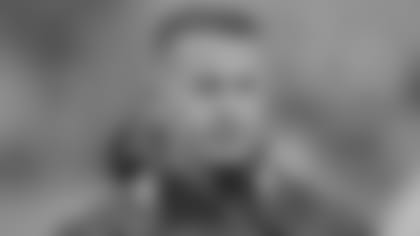 BLOOMINGTON, Minn. – John DeFilippo still carries the lessons he learned with the Giants, 11 years after he was last on the team's coaching staff.
Now the Philadelphia Eagles' quarterbacks coach, DeFilippo got his start in the NFL as the Giants' offensive quality control coach under Tom Coughlin in 2005-06.

"I take a lot of what coach Coughlin has taught me in terms of the organizational part of it," said DeFilippo, who is busy this week preparing backup quarterback Nick Foles to face the New England Patriots in Sunday's Super Bowl LII. "I learned from coach Coughlin the detail it takes to run a football team. Getting up in front of the football team and explaining your opponent. All those traits that he does, and that I thought he did so well, I still carry on."
When DeFilippo joined the Giants, his only previous coaching experience was as a graduate assistant at Notre Dame and quarterbacks coach at Fordham and Columbia. He left to become the Oakland Raiders' quarterbacks coach and has since held that position with the Jets, San Jose State (where he was also offensive coordinator for a season), and the Raiders again. DeFilippo was the Cleveland Browns' offensive coordinator in 2015 and joined the Eagles the following season.
DeFilippo recently interviewed for the Chicago Bears' head coaching position that went to Matt Nagy, and is expected to be a popular candidate in the next sequence of coaching hires. He is also reportedly being considered to replace Giants coach Pat Shurmur as the Minnesota Vikings' offensive coordinator.
No matter where DeFilippo is, the ideals he learned from Coughlin and the Giants remain part of his football soul.
"Coach Coughlin, I thought at that time, got a really bad rap for being a disciplinarian," DeFilippo said. "But as long as you did your job and you did it to the best of your ability, no one ever had a problem with coach Coughlin. He was totally 100 percent fair. As a coach, he would never get after you in front of the players. If he had a problem with what you were doing in terms of running a drill and getting things set up, he always pulled you aside and said, 'Hey, you need to do better at this.' I learned a ton from coach Coughlin. I'm very, very thankful I started off under him and under a great ownership group like the Mara family and the Tisch family."
Quality control coaches are at the bottom of the NFL coaching hierarchy, but DeFilippo said the grunt work he did in that job helped give him a foundation to grow as a coach.
"I was there until midnight in May, and it gave me a perspective that there is a lot of work to do in the NFL," he said. "You need to grind and you need to be all in on football. If you are not all in on football in the NFL, you are not going to last very long. The importance of detail I learned from coach Coughlin, the importance of accountability, discipline, all of those things I've carried on with me in and how I personally coach our quarterbacks."
Including Foles, the backup turned starter he is counting on to help bring the Eagles' their first Super Bowl victory.
"He's a great coach," Foles said. "I know he's focused on us right now, but I also know he's going to be a great head coach someday, and I'm excited for his opportunity."
No matter where it occurs, DeFilippo will carry a little piece of the Giants with him.