JERSEY CITY, N.J. –** Eric Studesville was in limbo following a four-game stint as the Denver Broncos' interim head coach at the end of the 2010 season. A connection he made a decade earlier while working for the Giants rescued him.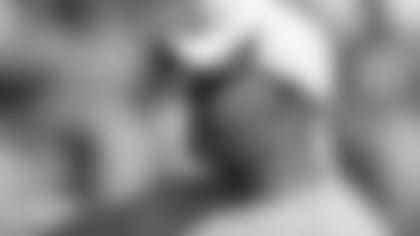 Studesville had been elevated from this position as the Broncos' running backs coach to lead the team when head coach Josh McDaniels was fired. He went 1-3 as the Broncos finished a dismal 4-12 season. A new coaching staff was coming, and Studesville didn't know if he'd be a part of it.
The new head coach turned out to be John Fox, who was the Giants' defensive coordinator in 2001, when Studesville began a three-year stint coaching their running backs. Studesville had succeeded Jim Skipper, whom Fox hired when he became the Carolina Panthers' head coach in 2002. Fox retained Skipper as his running backs coach for his entire nine-year stay in Carolina, and Studesville figured he bring his longtime colleague to Denver.
He figured wrong. Fox retained Studesville and the former Giants assistants hope to win their first championship on Sunday, when the Broncos face the Seattle Seahawks in Super Bowl XLVIII in MetLife Stadium.
"I talked to Fox as soon as he got hired and he said he wanted me to stay," Studesville said this week. "It meant a tremendous amount to me. Jim Skipper has been with him forever. They're close friends and I know how much Foxy values friendships and people that he knows. So for him to ask me to stay meant a lot.
"I talked to my wife, we went to dinner and we just started talking about some things – was it leaving, was it going somewhere, was it staying? The more we kept talking and the things that we liked so much about Denver, we finally at once point said, 'Why are we even thinking about leaving? We like it so much here, it's good, the kids like it here, they're doing so great in school. If they want us to stay, why would we leave?"
Studesville said Fox hasn't changed since he led the Giants' defense.
"He's exactly the same as he was when I was here," Studesville said. "He has great energy, a smile, passion for the game, all those things that you love and that translate down through the coaching staff and down through the players. I think it lets them play with a confidence, but also an enjoyment of the game."
Studesville now coaches a group of backs (Knowshon Moreno, Montee Ball, C.J. Anderson and Ronnie Hillman) that is overlooked because of Peyton Manning's greatness at quarterback. But the running backs have been vital components on the highest-scoring offense in NFL history.
"All of them come to work and want to get better," Studesville said. "They want to work, they like the game of football and that makes it fun for me to go into a room where they're still receptive to learning and they're not real caught up in all the extra stuff.
"It's an amazing experience. It's been a great season to be a part of this offense with what's happened with this team and what they've done. It's been pretty cool."
That Studesville was able to coach this year is a testament to his strength. He endured a horrific tragedy on June 4, when his parents, Al and Jan Studesville, were killed when an 18-wheeler struck their motorcycle head on in Texas.
"I think it was tough to go back in the door the first day, just to go back because there were so many things that I had to try to take care of," Studesville said. "But coaching is what got me back through it. Getting back to the routine of what I know the best, what I do the best. I think that really gave me a lot of structure, occupied some of those down times when I needed it, early on especially."
Studesville said he heard from several of his former colleagues in the Giants organization, including John Mara, Jerry Reese and Ronnie Barnes, the senior vice president of medical services.
"During that time it means everything to you, because you realize really how many people have touched your life along the way and you're so glad for it," he said. "It lifts you up at a time when you're struggling a little bit."
"I have such tremendous respect for the Giants organization and certainly Mr. (Wellington) Mara, who was still alive when I was here, and now John as he's taken over. It's the quality of the people in that building that has always been special. The people made that building what it is and made that organization what it is and they're great. They've been great to me even since I left the Giants. Even this year when we played here early in the year I saw John and Jerry Reese and Pat Hanlon, just so many people that have reached out in support for us. 'If you need anything, you let us know what you need. We're here for you." You still feel a part of the extended Giants family, which is awesome."
Studesville left the Giants with Jim Fassel and most of the coaching staff following the 2003 season. He coached the Buffalo Bills' running backs for six years before moving to Denver. In 2008, Marshawn Lynch, now Seattle's star running back, made the Pro Bowl playing for Studesville.
His long-range goal is to be a head coach. But right now, Studesville is just trying to help the Broncos win the Super Bowl. Fox lost this game as a Giants assistant in 2000 and Carolina's head coach three years later and has stressed that it's no fun to get this far and lose.
"A lot of people have said that to us," Studesville said. "A lot of people have said that. It's said more as a reminder that we have preparation to do and time to work on our opponent. So let's make sure we don't waste the opportunity that's right here in front of us."
*Three this morning from Peyton Manning:
On whom he ranks as the top three quarterbacks of all time:
"Me and my buddies don't discuss that (laughter). We have other things to talk about. I don't have a list. I think I could describe the perfect quarterback. Take a little piece of everybody. Take John Elway's arm, Dan Marino's release, maybe Troy Aikman's dropback, Brett Favre's scrambling ability, Joe Montana's two-minute poise and, naturally, my speed in there (laughter). I could take a piece of everyone, of some of my favorite quarterbacks, and I could take 30 traits from different guys, and put them in that perfect quarterback. That is how I like to look at it. I don't have the list. I know a lot of people have lists. 'Anytime,' as John Elway once said, 'you might be kind of in the conversation of someone talking about some of their favorite quarterbacks, that's a nice compliment in itself.'"
His reaction to Seattle cornerback Richard Sherman's criticism of his arm strength. Sherman said Manning throws "ducks."
"I believe it to be true (laughter). They say he is a smart player, and I think that's a real reach with what he is saying there. I do throw 'ducks. I've thrown a lot of yards and touchdowns 'ducks.' I am actually quite proud of it."
On whether he could name the other two quarterbacks who started Super Bowls for two different teams):
"I can name them. Do you want me to help you with the answer (laughter)? (Kurt) Warner and Craig Morton were the two. I saw Kurt this week. Craig Morton did it with Denver and Dallas. That to me is a special accomplishment in itself. I know how hard it's been for me to transition to a new organization. To try to get comfortable with the new culture you are playing in and surroundings, just to get comfortable, is hard enough. To actually turn it into some production and help your team get back to this game, it's hard to do. I'm proud what this team has accomplished this year. That's not a goal of mine to have that type of recognition. My goal is to help the Broncos win because of what it would mean for this organization and what it would mean to Champ Bailey and so many people that are trying to win this game. I want to be a part of that, and help this team win for many, many reasons."