For the first time in his career, Eli Manning will call a foreign set of signals next season under new offensive coordinator Ben McAdoo.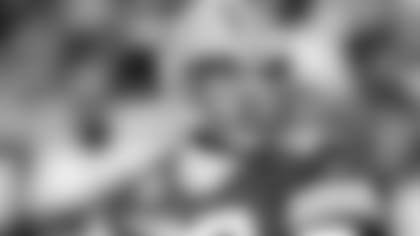 The two-time Super Bowl MVP quarterback spent the first decade of his career under the tutelage of Kevin Gilbride, who retired earlier this month after three years as Manning's position coach and the last seven as offensive coordinator.
Now McAdoo will do what any incoming coach must and try to mesh his own philosophy with the strengths of his incumbent players. Former teammate of Manning and current football analyst Sage Rosenfels knows what those are. [
](https://email.nfl.net/owa/redir.aspx?C=6e25307ac7a54d0fbe0b1195ffb6605a&URL=https://twitter.com/SageRosenfels18)"I think that they'll rely on Eli's strength, which is the X's and O's of the game," Rosenfels told Giants.com. "I think in the past those West Coast systems have been more 'call and run it.' But I think over the more recent years, Green Bay is probably the first of those West Coast teams that has been more of an audible-style team to the quarterback's best advantage. I think that's really one of Eli's strengths."
Rosenfels spent the 2010 season in the quarterbacks room with Manning, who passed for a career-high 31 touchdowns that year. With East Rutherford being the fifth stop of his 12-year NFL career, Rosenfels became accustomed to what Manning is not: change.
The coordinator-to-quarterback relationship will be important in moving forward.
"The quarterback is the coach on the field in a lot of ways, and he's sort of the messenger of what the offensive coordinator's and head coach's game plan is," Rosenfels said. "It's his job to go out there and run it as close as possible to what the coordinator would want to run. And Eli has always had some flexibility in the past of changing plays to get into a better play, and I'm sure that this coach will take advantage of that skillset that Eli has."
While never directly playing for the Packers or head coach Mike McCarthy, Rosenfels has admired the system that McAdoo comes from in Green Bay.
"The Green Bay offense has been one of the better, more consistent offenses in the league," he said. "Obviously having a star quarterback like Aaron Rodgers helps, but they've always been explosive both in the run and pass game. I think that Mike McCarthy has been really, really good at both. And with all his experience, he trusted McAdoo to be in the position that he was in at quarterbacks coach. He probably had a lot of faith in him that he knew what he was talking about."