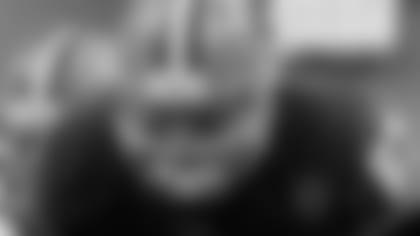 **HEAD COACH TOM COUGHLIN
We are excited about this pick.  We had an opportunity throughout the course of our meetings here to sort of analyze the players that we thought would be available to us at this particular spot in the draft if something didn't happen to shock us out of that position.  There was a run on the tackles early, as you know.  It kind of backed off - Fluker was taken and then it kind of backed it.  There was a trade right in front of us.  We didn't think San Francisco would take an offensive lineman.  We didn't know for sure, but we didn't think so.  And so in the group of players that we really liked that we hoped would be available to us at 19, we had this young man right at the top – Justin was the guy on the board who was on top.  So we are real happy to get him.  I have been asked, 'Do you think it is time for you to take a hard look at your offensive line in terms of young talent?'  Well, there always is.  Some years it is just not available to you.  So we do feel like the addition of some young talented players in our offensive line is going to help us going forward in the future.  We think we have a young man who has demonstrated the ability to learn.  He is a very technically sound player.  He has performed at the left tackle position. We think he can play right tackle.  We have even talked about the versatility that he presents because he has big hands and perhaps he is even a guy that could be considered as a center if we thought we needed that.  So versatility – smart – technically sound – a guy that we think can grasp the system right away and be in a position to help us out as a young player in a position that is not easy to play right away.  And that is the offensive line at the professional level.Q: Would you like him to wind up on day one at right tackle?**A: Well, that is probably what will happen. But we will look at the rest of the draft and see what happens to come our way. And at the end of that we will assess our depth and see where we think we should start him out. He has been a tackle. I would expect him to stay there. Whether he goes over to the right side or not, and how fast he goes over there – we will have to decide.
Q: Could he be an opening day starter?A: I'm sure that competitively he will have that opportunity. If he wins the job, then he would be the starter.
Q: You and others in the organization talked a lot this offseason about fortifying the trenches on both sides of the line.A: Very important.
Q:  How big a priority…top of your list?A: Well, it certainly was a strong consideration. I have always believed that if you are strong in the offensive and the defensive lines, you have a great chance to be competitive. And this is certainly consistent with that theory. We have got good young players here that are going to compete. We have veteran leadership here as well. It is a good situation to be in. Let's let them compete. As best we can, we would like to be competitive and have challenges at all positions. As more competition as we can place, no matter what the position is, the better off as a team we are going to be.
Q:  Did you have a chance to talk to him?A: I did.
Q:  What impressed you about him?A: His first answer; the first question he was asked.
Q:  Which was?A: 'Who is the Syracuse alum that you are most familiar with?' He didn't say Jim Brown, he said 'Coughlin.' He passed the IQ test right away at the Combine. That was a Marc Ross (question) – you knew that was coming when Marc took the floor. I knew something was coming.
Q:  Was his run blocking what jumped out at you in watching the Syracuse offense?A: Run and pass. We certainly saw the bowl game in which they did a tremendous job of rushing the ball. But there have been numerous games where that good young quarterback up there had big days as well. So we have been able to see Justin as a pass protector and as a run blocker and have been equally impressed.
Q:  The way the defense struggled last year, was it hard to go with an offensive player with your first pick?A: It wasn't hard, but if you know the way that we conduct our business, it is going to be the best player. You may think that there is a need – a greater need somewhere else – but the history of this organization has always been as far back as you can remember, take the best available player. And I think that was consistent with the first pick of the 2013 Draft.
On First Round Selection Justin Pugh, April 25, 2013**
We've got offensive tackle (Justin) Pugh from Syracuse, terrific football player. We think he's really versatile. The Giants, we like guys that can do multiple things. We think this guy can play left tackle, right tackle, either guard, and actually (offensive line coach) Pat Flaherty thought he could even play center. He thought he had that kind of skill set. It's hard to pass up those kinds of guys, really good football player. People ask about his arm length and that wasn't an issue for us. We looked at him and when you see guys with 32-inch arms playing the offensive line, especially the tackle the position. I looked at tape after tape after tape and I never could see the arms come into play because I was looking for an excuse to downgrade him but you can never find that. This guy is really productive against the run, against the pass and he was too good of a value. As a matter of fact, he was the highest guy on our board, so we got value and the highest guy on our board. You guys think I'm joking when I say that, but it's absolutely true, the highest guy on our board.
Q: What position do you think he's going start out at?
A: I think he's a tackle. I think he's going to start out at tackle but I think he is one of those guys during a game that you can plug him in anywhere. He'll play and he'll play good for you. Smart, big, smart, high test score, team captain, all those things. Those are the things you like, our kind guy, clean.
Q: Any concerns with the shoulder he had in college?
A: No concerns, our medical staff saw him and they have no concern over the shoulder. He did miss four games early in the season.
Q: Do you think that he can start week 1?
A: We'll see. I think it's going to be a lot of competition and that's what we try to do. We try to create competition and I think he will definitely come in and create competition.
Q: Did you get any calls to move up or move down?
A: There are always some calls and some thoughts about moving up and down. We had some calls to move up, some calls to move down, but nothing really materialized. Nothing really came close to being materialized for us to move.
Q: Did you expect a lot of offensive lineman to be drafted early?
A: Well, there were a lot of good offensive linemen in this draft up there at the top of the draft. Obviously you see them come off the board really quickly. Everybody predicted that this would be an offensive line big boy draft and it kind of held true to form. The big boys came off early.
Q: What do think George Young would think about the pick?
A: George, I'm sure he'd smile about it. George (said) you win with big people. You win with big people and you've got to have them. We are going to have another young guy in our offensive line fold that we really like. Again, when people talk about the short arms a little bit I think about Rosie Brown, who was a great player here and Hall of Famer and was a scout for a long time. One thing Rosie said to me one time was that you can never find a perfect player and so he's not perfect, but he's a really good football player and we're glad to get him.
Q: He's not a huge guy; can he be a right tackle?
A: Yeah, he can be a right tackle. He played left tackle for them. He's not a little guy. He's a big man. He's a big football player. He's not little by any stretch of the imagination.
Q: Did you plan on taking an offensive lineman at some point early in the draft?
A: Obviously, we could see that the offensive line is aging a little bit as well, but we go into the draft like always and we look for the best player and we got that combination. We were sitting there at 19, and really sweating it a little bit because those guys were coming off pretty quickly and he came right to us, right where we had him and a good player for us at that spot.
Q: Were you surprised to see Sharrif Floyd drop?
A: Nothing surprises me in the draft. That's one thing that I learned as young scout, don't be surprised by anything in the draft so I'm really not surprised.
Q: So the 49ers jumping up really didn't affect you at all?
A: No, not really. It didn't affect us, no.
Q: Was there a particular game that you saw that made you think he was a possible draft pick?
A: I watch a lot of tape. I can't pinpoint a game that I watched but I watched a lot of tape on him though because again I saw the 32-inch arms and I was like 'I'm going to find something wrong with this guy,' and there's nothing wrong with him.
Q: Does it excite you that he seems to be a good run blocker?
A: The thing about him is when I make my notes: productive. This guy is really productive. He's productive in the run game. He's technical in the run game. He plays a like a high test score. He's high percentage on pulls, on second blocks, on downfield blocks. You get excited about a guy that brings all that to the table because a lot times when you get offensive lineman they are little bit one-dimensional. This guy is technically sound on all levels. At the point of attack he's technically sound. He's got that finish ability that you like in your offensive linemen and in the second level he's a high percentage getting out on the pulls. He's a high percentage on the second level in the linebacker area and even downfield he's a high percentage productive run and pass-blocker.
Q: What's the one thing that he needs to improve on when you get him in?
A: All young players can get stronger when you bring them into the National Football League. When you start in the offensive line, all young players can get stronger and they do get stronger. They get here and they get in a pro weight program. Their bodies mature a little bit more so they get stronger as they mature as get older in the league.
Q: You said he was "our" kind of player and you also said he was "clean"…
A: Yeah, clean player. He doesn't really have any warts on him like off-field issues or he's not a good athlete. He was a clean guy. He had everything you look for. He's not an aircraft carrier. He's not that guy but he's a big solid football player and you win with those kinds of guys. I think you win with solid football players. We've won a couple Super Bowls with David Diehl, a solid football player, with Kareem McKenzie on the other side, a solid football player. You win with those kinds of guys, our kind of guys.
Q: Could you have waited until a later round to take a solid player?
A: It is hard to wait when a guy is sitting right there – the highest guy on your board. We always try to wait a few minutes and see if somebody wants to come up there and knock us over with a trade that we can't refuse. We always do that. But he was sitting right there so there really wasn't a lot to wait for with respect to him.
Q:  Was he the last offensive lineman in your first round?
A: I can't tell you that but he was – along with some of the guys that got picked ahead of him – he was right in the pack with those guys.
Q:  How much time did you spend with him pre-draft?
A: Same amount of time as we spent with all of them. It is not a significant amount of time. You have heard this from me before – you don't have to spend a lot of time with guys that are clean. Those guys – clean guys – there really wasn't a lot to spend time with him for. We did spend some time with him but there wasn't a lot of digging that we had to do with this player.
Q:  You said "32-inch arms" – what should a lineman's arms be?
A: Well, it depends. If you play inside, if you play center, if you play guard you could have shorter arms; you have shorter arm length. People like for your tackles to have longer arms. When you start talking about 33-inch arms it is really what I think about when I think about arms being long enough on the outside. I think about 33 inches. And so you are talking about this much. But it is just the way it is. We have our standards – what we like – and again, Rosie said there was not perfect player. He is not perfect. If there is anything wrong with him, that is it. But again, I looked at a lot of tape and wanted to see his short arms come into play – I never did; I never did.
Q:  What do you see in the second round?
A: It will be interesting. With the draft you see players - the value seems to be similar in a lot of different positions. So you will see players coming out all over the board. We think we will get --- there are still a lot of good players left on the board. We think we will get a couple of more really good players to come in and contribute for us right away. And we will get guys in the fourth and fifth round as well that we hope can hit on some guys in those rows. But there are still a lot of good players up there.
Q:  What is the next position you plan to address in round two?
A: A good football player – that is what we would like to address; good football player.**
GIANTS DIRECTOR OF COLLEGE SCOUTING MARC ROSS
Q: What were your general impressions of Justin Pugh?**A: Justin just is, I'm sure Coach and Jerry have said, is clean – is just a clean player. For us that means he was productive on tape, he plays hard, he's smart, he's athletic, he's physical, he's a great kid, he doesn't have any issues and he has a lot of upside. When you go down the checklist of positives that you look for, he had most of those attributes.
Q: Did you think some of the tackles that were taken earlier in the draft were going to be available at 19?A: No, we thought pretty much that some of those guys were going to go quick, that the four who went were going to go pretty much where they did, and even the guards.
Q: Is it a strength that he can play a number of positions?A: For us, I think he has the skillset to play anywhere along the line, and whatever our coaches feel is the biggest need to put him at next year, I think he can do that – from left tackle to center to right tackle to guard, he really has… because he's so smart, so technique-sound and so athletic, it's definitely a positive to be able to do that.
Q: Do you normally see a guy like that go in the first round?A: No. Most of these guys are what they are – they're a right tackle, they're a center. This guy is the most versatile offensive lineman in our eyes. Other teams may feel differently, but that's the way we felt, that he was the most versatile.
Q: Why did you like this kind of player?A: Because in a year who knows what our needs will be. Just having a guy that even during a game, if your center goes down, he can go in there and move wherever you want him to go. And there's nothing wrong with having a top notch left tackle, if that's what he is. This just added to it. This isn't the only reason why we liked it. It just added to him.
Q: Jerry Reese said he needs to get stronger, but there are a lot of players like him. Is there a goal in mind?A: That's up to our strength coaches once they get here. And he was coming off a shoulder injury earlier in the year. He missed the first four games. We don't think this year was a true indication. He kept getting better, getting stronger throughout the year and into his whole career, I think his body will fill out more and get stronger once he can fully workout with the shoulder. But even in today's game, those top tackles that got taken, power's not really their game. [D.J.] Fluker was the power guy, but those other guys were more athletic types of tackles.
Q: What makes you confident that he can play multiple positions?A: He did it at the Senior Bowl. He played a bunch of different positions at practice and during the game. And then his intelligence, he had one of the higher test scores this year. Just talking to him, communicating with him at the combine, it will be an easy transition for him.