PITTSBURGH – A few months apart did not weaken the connection between Eli Manning and Victor Cruz.
The Giants' stellar quarterback and leading receiver the last two seasons did not get to work together at any team activities during the spring, as Cruz stayed away during his lengthy contract negotiations. But the invaluable duo is together again and Saturday night, they teamed up to make the game's biggest play in the Giants' 18-13 preseason-opening victory over the Pittsburgh Steelers in Heinz Field.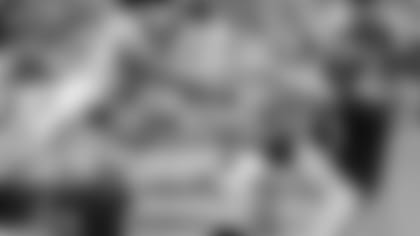 Gameday Photo Gallery](http://www.giants.com/photos/photos/Gameday-Giants-vs-Steelers-Game-Photos/5707cfd6-4833-4d46-871b-ea5eaaabcb1a) Manning unleashed a long pass that Cruz caught at the Pittsburgh 30-yard line. The receiver didn't stop running until he reached the end zone for a 57-yard touchdown that gave the Giants a lead they never relinquished at 10-3 with 1:10 remaining in the first quarter.
"Obviously, we've hooked up on a lot of passes over the years," Manning said. "It's good to get off to a good start. He ran a great route and the safety was a little aggressive and lost the ball over the top and he made a good catch. So it's good to know that we can get back to making plays when we need to."
"Anytime that happens, we're over there cheering," coach Tom Coughlin said.
Last year, Cruz caught 86 of Manning's passes for 1,092 yards and 10 touchdowns.
"He gives me feedback on how he sees things and how he wants things run and I give him feedback on what I see," Cruz said. "So we have a good rapport and I think it pays off on game day."
A reporter suggested to Cruz it seems like he never missed an offseason practice.
"A little bit," he said. "Eli and me have such a great rapport, that I can go out there and we can be on the same page; he can tell me what he's thinking immediately and I can apply it. In this circumstance, we were on the same page, he saw the route I was running and hit me right on the button."
So is it true Cruz will never again show up for an OTA?
"Absolutely false," he said. "As long as I'm under contract, I will be at every OTA and every obligated team activity."
*The Giants did not allow an offensive touchdown. Pittsburgh's only six-pointer was scored by linebacker Adrian Robinson, who recovered the ball in the end zone after Matt McCants' shotgun snap sailed over the head of quarterback Ryan Nassib.
"I felt bad with the snap," Coughlin said. "We should have never let that happen. It was just one of those things. You try a lot of people at the center position. We were okay except with the shotgun snap, which wasn't really something that had been mastered by Matt McCants."
EISEN'S TWO-MINUTE GAME DRILL >>
*Each of the four quarterbacks played a quarter. David Carr and Curtis Painter followed Manning before Nassib, the rookie fourth-round draft choice, played the fourth quarter. Working with an untested group, Nassib completed one of his four passes, a 29-yarder to Julian Talley.
"We'll have to let Ryan play some," Coughlin said. "He was chased all over the place. He made the one play down the sidelines. We thought he might have gotten another one but he didn't have a whole lot of time. We need to work on that."
*Rookie Michael Cox led the Giants with 33 rushing yards on nine carries…Starter David Wilson ran for 16 yards on five attempts…Wilson, Da'Rel Scott and Jerrel Jenrigan caught a team-high two passes apiece.
*Safety Tyler Sash had four solo tackles and made two big plays. He tackled rookie quarterback Landry Jones in the end zone for a safety and recovered David Gilreath's fumble on a punt return. Sash also deflected a pass.
*Weakside linebacker Spencer Paysinger led the Giants with five tackles (four solo).
*In his Giants debut, Josh Brown kicked field goals of 23, 30 and 47 yards, but was wide left on a 38-yard attempt.
*The following Giants did not travel to Pittsburgh for the game: offensive linemen Chris Snee (hip), Justin Pugh (concussion) and James Brewer (concussion); defensive linemen Justin Tuck (back), Jason Pierre-Paul (PUP-back) and Markus Kuhn (PUP-knee); wide receivers Hakeem Nicks (groin) and Brandon Collins (hamstring); running back Ryan Torain (concussion); defensive backs Terrell Thomas (knee/hamstring) and Cooper Taylor (hamstring); and fullback Henry Hynoski (PUP-knee).
*In Tuck's absence, Cullen Jenkins moved over from right tackle and started at left end. Shaun Rogers started at right tackle…Jenkins and right end Mathias Kiwanuka switched sides on some plays.
*Wide receiver Kris Adams, who had been getting a lot of reps in camp, suffered a fractured lower left leg on the second play of the third quarter…Reserve offensive lineman Chris DeGeare suffered a knee injury.
*The Giants' game captains were Stevie Brown, Kevin Boothe and Steve Weatherford.