EAST RUTHERFORD - The Giants stayed on the defensive on the final day of the NFL Draft.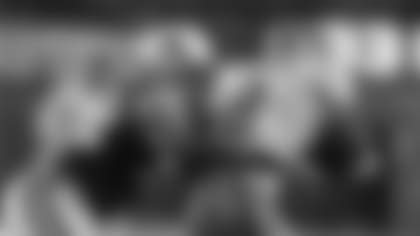 Two of their four selections today were linebackers – including one expected to compete for the vacant middle linebacker job - giving them five defenders among the seven players they secured in the three-day draft. The Giants also selected an offensive guard and a punter, as Jerry Reese and Tom Coughlin revealed Jeff Feagles might retire because of physical considerations.
With their fourth-round choice, the 115th overall, they secured middle linebacker Phillip Dillard from Nebraska. In the sixth round, the Giants chose Adrian Tracy, an outside linebacker from William & Mary with the 185th selection. Their fifth-round choice, the 147th overall pick, was guard Mitch Petrus from Arkansas. In the seventh round, the Giants selected punter Matt Dodge of East Carolina.
Dillard was the fourth consecutive defensive player taken by the Giants at the top of their draft. He joined South Florida end Jason Pierre-Paul, East Carolina tackle Linval Joseph and LSU safety Chad Jones, the players selected in the first three rounds.
This is the first time since 1986 the Giants selected defensive players with each of their first four draft choices. That year, the Giants went with defense on each of their first six selections – Eric Dorsey, Mark Collins, Erik Howard, Pepper Johnson, Greg Lasker and John Washington. All of them played on the Giants Super Bowl XXI championship team, and all but Lasker contributed to the Giants when they won Super Bowl XXV.
No one is guaranteeing another Lombardi Trophy, but the Giants believe they upgraded their defense in this draft as they did in that one.
"We think we helped our defense," Reese said. "Obviously, we drafted a lot of defensive guys. Offensively, (Petrus), we think he's going to go in and compete right away, because he has a vicious nature about him. He's a strong, strong kid.
"We think we've improved defensively. We think we've drafted good players to add to our team. With our first two or three picks, you hope you can get contributions out of those guys right away. You might even get a starter or two out of your first two or three picks. We think we added some depth to the team and we added some athletes who can help us on special teams. We added some versatile people."
The Giants entered the draft determined to upgrade their defense. As has been well-documented, they allowed 427 points in 2009, the NFL's third-highest total.
"Obviously, we went defense with most of the picks," Coughlin said. "Some years when you're interested in solving some issues, it doesn't work out that way. You don't get the match between the quality, the way the player is evaluated and his grade, and what your needs are. It just doesn't work out. This year, for the most part, it did work out.
"I feel good about the players that were selected and the way that they will add to our team, what we have done in the offseason. I didn't mention (Deon) Grant a few minutes ago but Grant is there as a veteran safety as well. So I do feel good about this. I think that this is exactly what is necessary for us. It gives us competitiveness at a lot of spots and some depth at the same time and reinforces our numbers at some positions where there are some questions. So I feel good about that."
Dillard will get a long look at the middle linebacker spot that is wide open after the release of Antonio Pierce. Dillard, 6-0 and 245 pounds, played in 45 games with 17 starts and played both weakside and middle linebacker for the Cornhuskers. He finished his career with 173 tackles (90 solo) with 3.5 sacks for minus-33 yards, 15.0 stops for losses of 57 yards and six quarterback pressures. He also deflected six passes and intercepted another for a nine-yard return.
"Phillip Dillard is a linebacker that really fit a need," Coughlin said. "(He) had the grade at the time in the fourth round to take him. The scouts were very impressed. (They) had an opportunity to watch the career of Dillard and the way he performed in his last year in terms of being an outstanding special teams player. He's a guy that has the ability to play coverage, but also was physical. He has the size, so we feel he can stand up in there against the run."
In 2009, Dillard was an All-Big 12 second-team selection and the recipient of the Tom Novak Award, an honor which "best exemplifies courage and determination despite all odds in the manner of Nebraska All-America center Tom Novak," presented annually at the Outland Trophy Award dinner.
Dillard sat out the team's first two games vs. Florida Atlantic and Arkansas State, but played in the final 12 contests with nine starts, including eight on the weak side. Despite his early absence, he finished second on the team with a career-best 83 tackles (45 solo), just two shy of team leader, Ndamukong Suh, the second player chosen in the draft. Dillard registered 11.0 stops for losses of 45 yards, including three sacks for minus-27 yards, as he also collected four quarterback pressures. He broke up three passes and intercepted another and helped the Huskers rank ninth in the nation in rush defense (93.1 yards per game), seventh in total defense (272.0 yards per game), second in sacks generated (3.14 per game) and first in scoring defense, allowing just 10.4 points a game. In eight of the games in which Dillard played, Nebraska held its opponent to under 100 yards rushing.
"Phillip is a rugged inside linebacker, tough, instinctive, smart, hard hitting inside middle linebacker," Reese said. "We had him targeted for a while and we are happy he was still up there in the fourth round for us. We talked about him a little bit earlier, but there were some more guys up there who we thought had the value that, at the time, was better. So, we rolled the dice and we came out with the guy we wanted at middle linebacker. We feel like he can come in and start competing right away for that job with some of the guys we already have."
Petrus, 6-3 and 310 pounds, played in 49 games at Arkansas with 25 starts at guard - 12 at left guard in 2007 and 13 at right guard in 2009 (he was academically ineligible in 2008). He also played fullback, tight end and on kickoff coverage for the Razorbacks. He was credited with 167 knockdowns/key blocks with 21 touchdown-resulting blocks as a starter on the offensive line. He set an NFL Combine record with 45 bench presses of 225 pounds.
In 2009, Petrus was selected All-Southeastern Conference first-team by the league's coaches.
"(He is) a tough, rugged, in-your-face guard," Reese said. "He is hardnosed, aggressive. He can pull and do all the things we ask our guards to do. We like his skill set for what we do with our guards."
"(He's) powerful, the guy that set the stage with the outstanding number of reps out at Indianapolis," Coughlin said. "(He's) a strong, physical player, a guy who gives us some added depth inside. He was the right pick at that time for us."
Tracy, 6-3, 248, started every game in his career, a school-record 47, at defensive end. He finished with 283 tackles (151 solo), 31.0 sacks, 62.5 tackles for losses, nine passes defensed, four forced fumbles and a fumble recovery.
As a senior in 2009, he was named to the All-CAA first team for the second consecutive sea­son, as well as five All-America teams, including the Associated Press. A team captain, he played in the Texas vs. the Nation All-Star Game. Tracy posted career-high totals of 78 tackles (50 solo), 12.0 sacks and 22.0 tackles for losses.
"Even though he played with his hand on the ground a great deal of the time, the projection was to linebacker," Coughlin said. "He played linebacker in the all star games and there wasn't any question on the part of the scouts that had seen him play that he could play from a standup position and be a linebacker at this level."
"We are going to play him at outside linebacker on the strong side," Reese said. "He's a projection. He was a defensive end and he had a bunch of sacks out there. We worked him out as a SAM linebacker and we think he can project to a SAM. He is a really good athlete, really smart kid and big kid. We think he has upside to project to a SAM linebacker and give us some depth at that position as well."
Dodge, the punter, joined Joseph as East Carolina players selected by the Giants in this draft. It's the first time the Giants took two players from the same school in one draft since 2002, when they chose two players from the University of Miami – tight end Jeremy Shockey in the first round and wide receiver Daryl Jones in the seventh.
Dodge played in 41 games at East Carolina, punting 220 times for 9,583 yards (43.6-yard average) with a long of 73 yards, 31 touchbacks, 27 kicks that resulted in fair catches, 68 punts that were downed inside the 20-yard line and 22 others for 50 yards or longer. Including his freshman season at Appalachian State, Dodge played in 53 collegiate games and punted 261 times for 11,209 yards (42.9-yard average), 34 touchbacks, 34 fair catches, 73 downed inside the 20-yard line and 73 more for 50 yards or longer.
In 2009, Dodge was a second team All-America selection by Sports Illustrated and The Sporting News, as well as first team All-Conference USA choice. He led the league and ranked second in the nation with a 45.8-yard average, the third-best single season mark by a Conference USA punter. Dodge punted 67 times for 3,069 yards to become just the second punter in league history to generate more than 3,000 yards punting three times in a career.
"Big legged, powerful, I mean this guy can hit some moon shots," Reese said of Dodge. "There are some inconsistencies which most young punters have that we feel like he can come in and our special teams coaches can get him on the right track. I think he can be a good punter for us."
*Jones, the safety from LSU chosen by the Giants on the third round, was also an outstanding baseball player at LSU. He is looking forward to focusing on football only.
"I wouldn't say (I'm) behind, but I didn't get as much football maybe that I think would make me a better player," Jones said on a conference call. "I think now that I'm focusing on football year round, I think you're going to see the best of me. I feel that the best is yet to come. I think I had some good games at LSU and I had some strong points. But I think there is so much more to see what I have."