EAST RUTHERFORD, NJ - The Giants today announced the signing of seven players to reserve/future contracts, increasing the number of players who have been added to the roster since the end of the season to 13.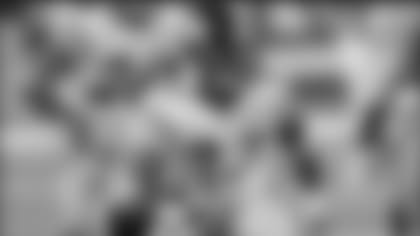 The players signed today are quarterback Ryan Perrilloux of Jacksonville State, defensive backs Joe Burnett of Central Florida and Cary Harris of USC, running back Martell Mallet of Arkansas-Pine Bluff, offensive lineman Ikechuku Ndukwe of Northwestern, defensive end Ayanga Okpokowuruk of Duke and wide receiver Todd Watkins of BYU.
Perrilloux, 6-2 and 213 pounds, played this season for the Hartford Colonials of the United Football League. In eight games – the Colonials' entire season -- Perrilloux completed 33 of 69 passes for 394 yards and two touchdowns for a 75.4 passer rating. He did not throw an interception. Perrilloux also ran 10 times for 35 yards and a touchdown. Perrilloux played at LSU before tranferring to Jacksonville State.
Burnett, 5-9 and 194 pounds, was a fifth-round draft choice by the Pittsburgh Steelers in 2009. He played in 15 games that season and had three defensive and 13 special teams tackles. Burnett was waived on Sept. 4, 2010.
Harris, 5-11 and 187 pounds, was a sixth-round draft choice by the Buffalo Bills in 2009. He spent most of that season on the Bills' practice squad before joining the active roster on Nov. 20. Harris played in four of the final six games, including a start at safety vs. Indianapolis on Jan. 3, 2010. He intercepted two passes, including one off Peyton Manning. Harris was waived on Oct. 22, 2010 and spent time on the practice squads of the Minnesota Vikings and Cincinnati Bengals.
Mallett, 5-10 and 199 pounds, spent the 2009 season with the BC Lions of the Canadian Football League. He rushed for 1,240 yards – including a franchise-record 213 in one game – and six touchdowns, and added 43 catches for 342 yards and two scores. He was signed as a free agent by the Philadelphia Eagles and was waived on Sept. 3, 2010. Mallett was on the practice squads of the Eagles and Cleveland Browns last year.
Ndukwe, 6-3 and 350 pounds, has played in 33 regular season NFL games with 18 starts and two postseason games with one start. He joined the league as a rookie free agent with New Orleans in 2005. He spent time with Washington (2005-06), Baltimore (2006-07) and Miami (2007-08) before being traded to Kansas City on Aug. 24, 2009. That year he played in 12 games, with three starts at right tackle. Ndukwe was cut on Sept. 4, 2010.
Okpokowuruk, 6-3 and 250 pounds, was on the Giants' practice squad for the last two weeks of the 2010 season. He was originally signed as a rookie free agent by the Giants on April 25, 2010. Okpokowuruk was waived on July 30.
Watkins, 6-2 and 191 pounds, has played in 21 games – all with Oakland in 2008 and '09 – with one start and has eight receptions for 90 yards with a long catch of 28 yards, plus six special teams tackles. Watkins was a 2006 seventh-round draft choice by the Arizona Cardinals. He has also spent time with the Atlanta Falcons.
The Giants had previously signed offensive lineman Jim Cordle, wide receiver Sam Giguere, defensive lineman Dwayne Hendricks, linebacker Kenny Ingram, running back Charles Scott and defensive back Woodny Turenne.