EAST RUTHERFORD - The Giants significantly upgraded their secondary tonight with the acquisition of safety Antrel Rolle.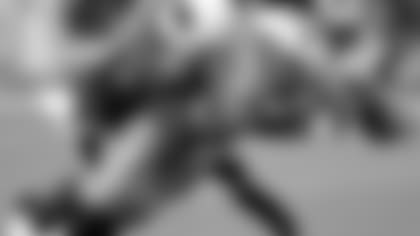 Rolle, 6-0 and 208 pounds, spent his first five seasons with the Arizona Cardinals, who released him on Thursday. The eighth overall selection of the 2005 NFL Draft, Rolle has been an outstanding all-around safety the last two years after playing his first three seasons at cornerback.
"Antrel is a young, ascending veteran player, and he is an outstanding person who will bring leadership, versatility and more big play ability to our secondary," general manager Jerry Reese said.
Rolle visited the Timex Performance Center on Friday and met with Reese, head coach Tom Coughlin and the defensive coaches.
"I'm ecstatic," Rolle said after signing his contract around 11:15 p.m. "Words can't really express how I feel now. I had five great years with the Cardinals organization. But I felt it was time for a change. The Giants are a first-class organization all the way. There are great opportunities for me, and I am excited to be working with the players I'll be working with. I think the sky's going to be the limit as to what we can do.
"I'm extremely excited for the opportunity, and I feel truly blessed. They have the confidence I can come in and be the player that they expect me to be, and I will live up to everything they expect and go beyond."
Rolle, 27, has played in 68 regular season games with 59 starts. His career totals include 337 tackles (296 solo), 12 interceptions (including four he has returned for touchdowns; three in 2007), 36 passes defensed, three forced fumbles and 1.5 sacks.
In 2009, Rolle started all 15 games in which he played and was credited with 72 tackles (61 solo). He also intercepted four passes, the second-highest total of his career. One of those was on an Eli Manning pass with 1:08 remaining in the fourth quarter on Oct. 25, sealing the Cardinals' 24-17 victory over the Giants. Rolle had eight tackles (six solo) in that game.
The previous year, Rolle switched from corner to safety and finished with a career-high 89 tackles (78 solo) and an interception that he returned 40 yards for a touchdown.
The Giants entered the offseason seeking help at safety. Their best player at the position, Kenny Phillips, missed the final 14 games of the 2009 season with an arthritic condition in his knee that required surgery. The Giants are hopeful Phillips will return at full strength, but the team's other safeties – Michael Johnson, Aaron Rouse and C.C. Brown – did not perform as well as the Giants had hoped.
In four seasons at the University of Miami, Rolle was credited with 183 tackles, five interceptions and also doubled as a return man, returning 13 punts in 2003 for 202 yards and one touchdown. He was also selected as Miami's ACC Male Scholar Athlete of the Year and received his bachelor's degree in Sports Administration in May 2005.
After the Cardinals selected him with the eighth pick of the 2005 draft, Rolle was impressive in the first three games of his rookie season before suffering a left knee injury which required surgery and kept him on the sidelines for nine games. With his knee finally healthy, he came back and started all 16 games in 2006 and played in all 16 games (eight starts) in 2007 before switching to safety in 2008.
Rolle has missed only one game in the previous four seasons.