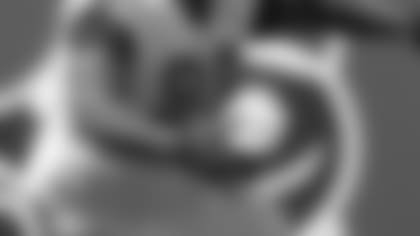 EAST RUTHERFORD, N.J. –** The Giants today announced several roster moves following the conclusion of the on-field portion of rookie minicamp.
They signed six players, including three veterans: linebacker Aaron Curry, whose addition was revealed yesterday, defensive tackle Frank Okam and tight end Michael Palmer. The latter two impressed at the camp as veteran tryouts.
Okam entered the NFL as the Houston Texans' fifth-round draft choice in 2008. He has played for the Texans (2008-10) and Tampa Bay Buccaneers (2010-2011). He was a standout at the University of Texas.
Palmer, a Clemson product, played in 43 regular-season games with five starts and in three postseason games with one start for the Atlanta Falcons the previous three seasons. He caught 21 passes for 123 yards and three touchdowns, all in the regular season.
The other players joining the Giants today were rookies who stood out in camp: wide receiver Jeremy Horne of Massachusetts, defensive backs Junior Mertile of Florida International and John Stevenson of Georgia Southern.
To create room on their roster, the Giants waived six players: tackle Levy Adcock, wide receiver Marcus Davis, defensive back Buddy Jackson, linebacker Charleus Dieseul, defensive tackle Bobby Skinner and kicker Jake Rogers.