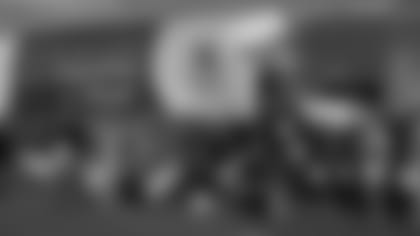 The New York Giants will host their nineteenth annual food drive at MetLife Stadium when they host the New England Patriots on Sunday, November 15th, 2015. Fans are encouraged to bring canned or non-perishable foods and deposit them at any of the Community FoodBank bins at the Pepsi and MetLife entrance gates to the stadium. You can also donate to our Virtual Food Drive by visiting www.cfbnj.org/giants.
All food collected during the drive will be donated to the Community FoodBank of New Jersey (a member of Feeding America) for distribution to local partner charities in the area. This year more than ever we need your support. Jobs are scarce, wages are low and poverty in New Jersey is at a 52-year high.  It is getting harder all the time for our neighbors in need to put food on the table.
Since 1997, the New York Giants have hosted an annual food drive and helped feed thousands of hungry families during the holiday season. Thanks to the generosity of our fans, about 5,000 pounds of canned or non-perishable food is collected each year. Three years ago, in the wake of Hurricane Sandy, our friends and fans rallied, donating more than 38,000 pounds of food and more than $18,000 to help struggling neighbors. This year, we ask our Giants family to join the team and once again, assist those in need.
For more information about this event, contact the Community Relations Department of the New York Giants at (201) 935-8111.